An incredibly abrupt change is in store for Southern Manitoba as a powerful low pressure system is set to blast the near-record warmth out of the region and replace it with unquestionably fall-like weather. As it often is in the shoulder seasons, though, it's going to be quite the spectacle.
Temperatures have soared into the mid–20's quickly this morning, rapidly approaching the record high for Winnipeg of 26.1°C set in 1941. A powerful low pressure system to our northwest is approaching, though, and it is going to pack a mean cold front.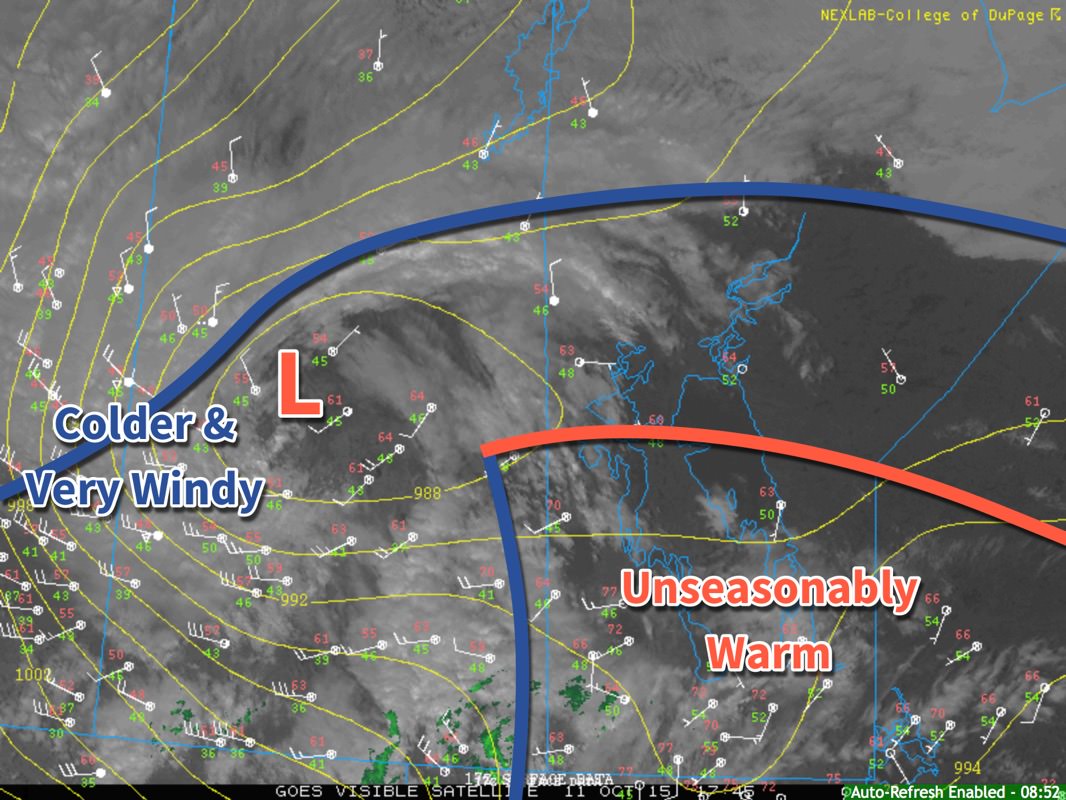 The midday surface analysis shows us three primary features. The first is the frontal wave with warm front across the northern Interlake and cold front draped southwards along the Manitoba/Saskatchewan border. To the southeast of these fronts is the unseasonably warm air mass that is bringing very warm temperatures to the region. The second feature is a low pressure center over central Saskatchewan. The last is a broad cold front that stretches from Central Alberta into Northern Manitoba.
Important to note is that the low pressure centre has occluded[1] and that there is a trowal developing (visible on the satellite image). This lonely low will trundle along for a little bit, until it can re-attach to the cold front slumping down behind it. The temperature gradient along the northern front is actually quite significant, and as the low re-attaches to that frontal wave, it will rapidly intensify. This low will move east-southeast as the steering flow amplifies and digs the upper-level trough.
While we may warm another degree or two, it's more or less all downhill from here. Wind will continue to pick up out of the west-northwest late this afternoon to around 30km/h as an area of showers blossoms over Southern Manitoba. Widespread shower activity is likely much of the night as strong cooling aloft results in persistent destabilization of the atmosphere. Winds will remain around 30km/h with gustiness on top of that.
The real story will be when the cold front slams through early tomorrow. More rain is likely with the passage of the front, but winds will be the primary issue. As the cold front passes, winds will shift to be out of the northwest and pick up in speed significantly. Sustained winds will likely reach around 55–65km/h, but very strong gusts are possible; it's highly likely that Winnipeg & the Red River Valley will see wind gusts to 90km/h, however with very strong winds within the conditionally unstable layer and precipitation very likely, it's possible that wind gusts exceed 100–110km/h. Winds at these speeds can be hazardous when driving and cause damage to buildings (especially roofs) and trees.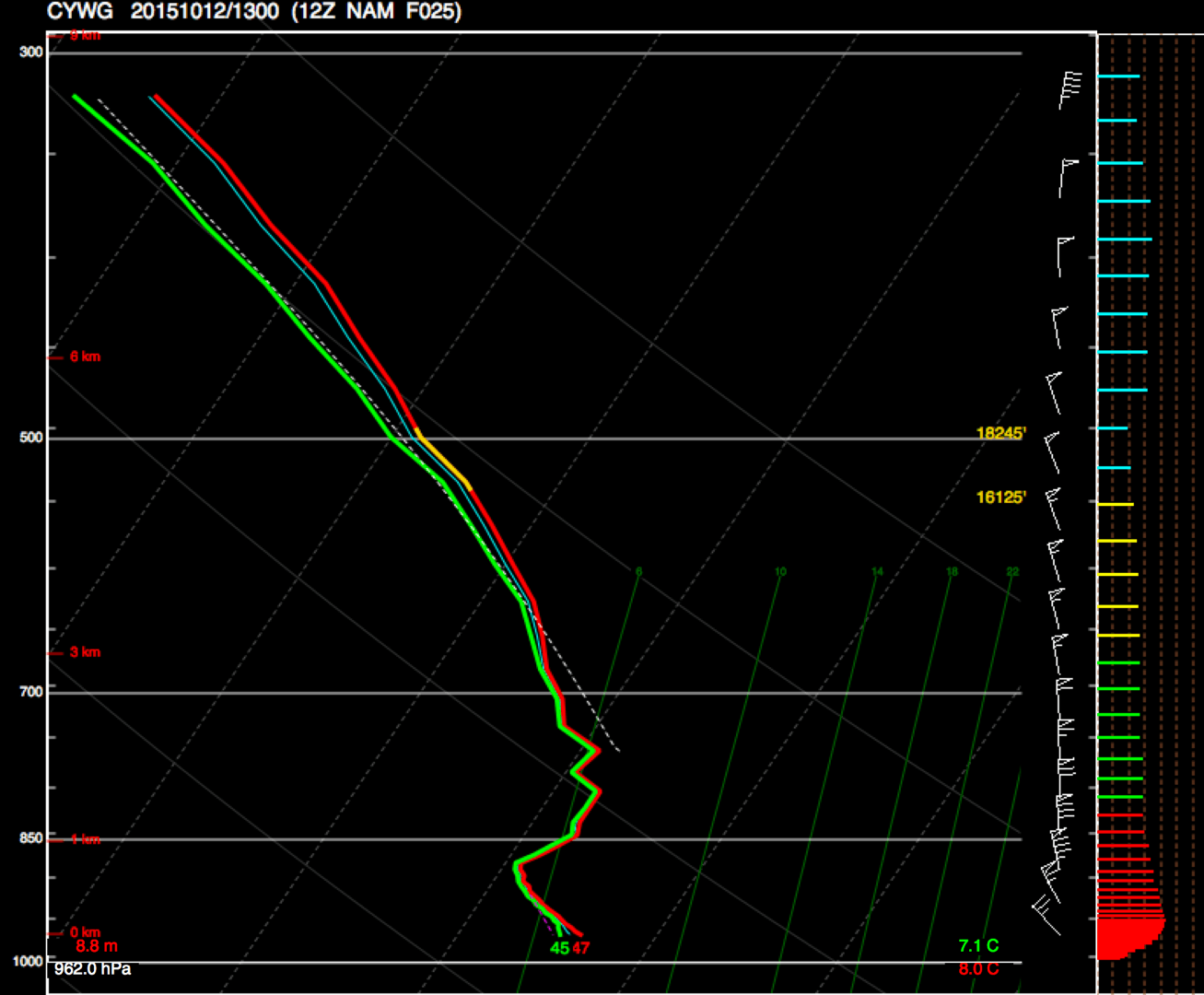 This forecast sounding for Winnipeg from the NAM shows very strong winds near the surface, with up to 60kt present at the top of the low-level instability.
The strongest winds will begin to subside mid-to-late morning, but strong northwesterly winds of 50km/h gusting to 70km/h will likely be in place for the remainder of Monday. The day will start of with a temperature around 9 or 10°C and see it drop to around 4°C by the end of the day. The bulk of the precipitation should taper off with the winds mid-morning, and when all is said and done, this system will likely produce around 5–10mm of rain over the Red River Valley, although for the northern half, there's a slight chance of seeing more along the lines of 10–15mm.
Environment Canada has issued a wind warning for the Red River Valley regarding this system with the following discussion:
An intense low pressure system will track across central Manitoba tonight and Monday morning. A strong cold front extending southward from this low will sweep across southern Manitoba tonight. Very strong northwest winds will develop in the wake of this cold front with the strongest winds in the Red River Valley as winds will funnel down the valley. Sustained winds of 60 to 70 km/h with gusts over 90 km/h are likely beginning late tonight and lasting until early afternoon on Monday. Winds will gradually subside Monday afternoon from west to east as this system heads off into Ontario.

Damage to buildings, such as to roof shingles and windows, may occur. Loose objects may be tossed by the wind and cause injury or damage. Be prepared to adjust your driving with changing road conditions due to high winds. Avoid wooded areas to prevent injury from falling trees or branches. Campers should move to sturdy shelters.
Be sure to tie up any loose objects and remove fabric canopies from gazeboes. Bring in any objects that could catch the wind, and maybe flip your trampolines over so the wind doesn't do it for you. It's going to be a bit of a busy night and a wild Monday morning, so batten down the hatches!
---
Occlusion is a part of the natural life-cycle of low pressure systems. In simple terms, it means the low has "detached" from the fronts.  ↩