Milder weather is pushing into the Red River Valley to round out October, making for a comparatively pleasant Halloween evening compared to some of the years past. There will be several chances for precipitation, though, as the same pattern that is bringing the warmer weather to our region will also bring several disturbances rippling through as well.
Today will be a fairly pleasant day for Winnipeg & the Red River Valley as temperatures begin to climb above seasonal values thanks to a warm front pushing eastwards through the province. Here in Winnipeg, temperatures should climb to around 9°C under mixed to mainly cloudy skies with winds increasing out of the south to around 30km/h. There will be a very slight chance of a shower this afternoon, although for the most part, it looks like things should stay north of the city.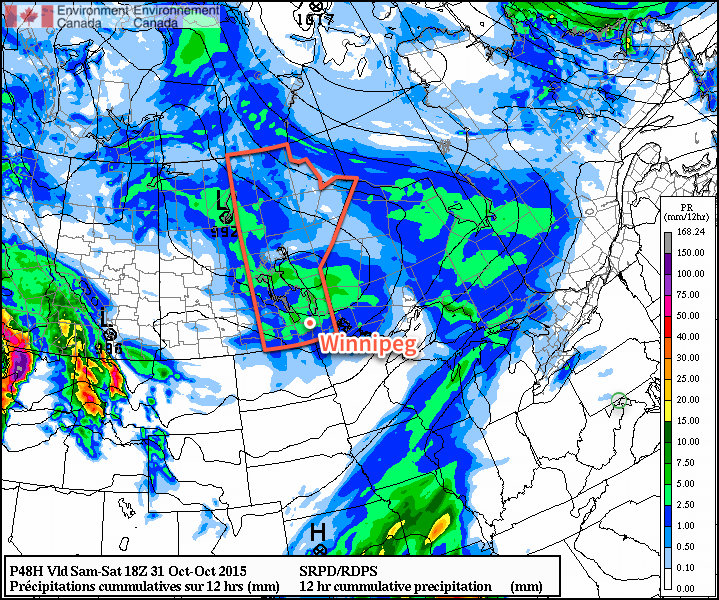 Skies will clear this evening and temperatures will dip to a low near 3°C. More clouds will begin pushing in overnight as a low pressure system moves towards the province from Alberta.
Rainy Halloween Clears Out In Time For Trick or Treating
Saturday will be off to a cloudy and rainy start as an area of showers moves into the region alongside a low pressure system moving through. The cloud and showers will stick around through much of the morning and into the afternoon before finally tapering off sometime mid-to-late afternoon. Winds will start out of the south at around 20km/h, shift to the west-northwest late in the afternoon to 25–35km/h, and then diminish overnight.
The high temperature will be around 10°C. Total rainfall expected will be low at just a couple of mm.
Conditions for trick or treating will be great this year. There may be a few showers lingering around late in the afternoon or early in the evening, but they should clear out fairly quickly in the evening. Temperatures will be mild, hovering between 8–10°C through much of the evening, while the winds will be a bit breezy from the west, but diminishing as the evening wears on. All in all, it will be quite a pleasant evening!
More Showers Possible Sunday
Sunday will see another chance for shower activity, thanks to a low pressure system zipping along the international border. It will be another mainly cloudy day with highs near the 10°C mark and relatively light northeasterly winds for much of the Red River Valley. Precipitation amounts are expected to be fairly minimal, so despite the somewhat gloomy-seeming forecast, it could end up being a relatively pleasant day, especially considering that we're talking about +10°C highs in November!
Daylight Savings This Weekend
Just a friendly reminder that this weekend we set our clocks back an hour! Daylight savings time ends this Sunday, November 1st at 2AM, so remember to set your clock back an hour on Saturday night before you head to bed!