Today will be off to a chilly start as rain showers or flurries move through the Red River Valley alongside near-freezing temperatures and a gusty northwesterly wind. Fortunately, this brief outbreak of colder weather will be short-lived as above-normal temperatures gradually build back into the region for the weekend.
Cool & Soggy Wednesday
It will be cool and soggy today for Winnipeg & the Red River Valley as a brisk west to northwesterly wind carries flurries & showers through the region. Much of today's precipitation will fall as rain, however for several hours this morning snow will be possible. No significant accumulations are expected since temperatures (and the ground) will be above zero, but it could be enough to dust grassy areas and cars.
Temperatures will be below-normal today with the high temperature topping out at just 6°C.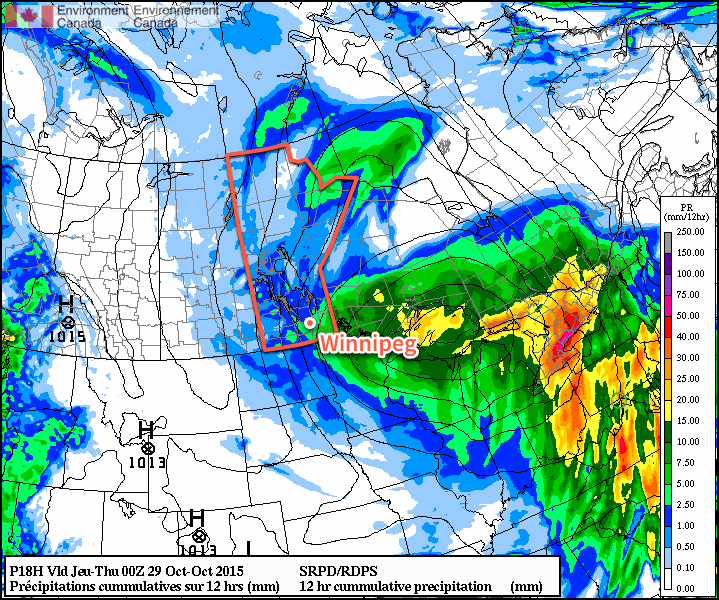 The wind will be out of the north to northwest for much of the day at around 30km/h with some gustiness on top of that, however as an inverted trough passes through late in the afternoon & the pressure gradient straightens out, winds will increase to 40–50km/h this evening for several hours before tapering off as a ridge of high pressure pushes in overnight. Temperatures will drop to around 2°C overnight.
Warming Trend for Second Half of the Week
Thursday and Friday will be slightly more pleasant days with temperatures gradually returning to seasonal values. Both days will see a fair amount of cloud through the Red River Valley, although Thursday has the potential for a few more sunny breaks than Friday does. Daytime highs will be just above the seasonal value of 6°C on both days with a high of 7°C expected on Thursday and a high of 9°C on Friday. No precipitation is expected on either day and overnight lows will sit near the freezing mark both Thursday & Friday nights.
Well Above-Normal Temperatures Return for the Weekend
Snow suits will be absent for Halloween this year as temperatures some 6°C above normal will result in a relatively mild end to October.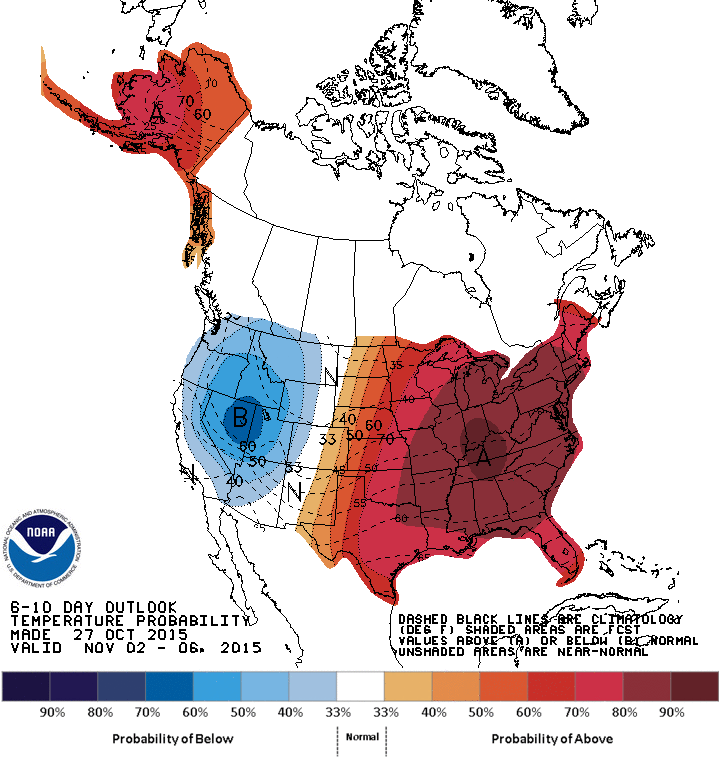 Daytime highs in the low teens are expected this weekend and into the beginning of next week thanks to a broad zonal flow that will develop aloft, keeping the colder Arctic air in the north and spreading milder Pacific air across the southern Prairies.
There's a bit of uncertainty as to precipitation; most models show a dry weekend ahead, however the GFS wants to push a disturbance through midday Saturday bringing a shot of rain to the Red River Valley. We'll keep an eye out as that situation develops and be sure to have a complete Halloween evening forecast in our Friday forecast. Other than that, it does look like we'll head into a more unsettled pattern next week, with potentially the first "real" snowfall of the season, so enjoy the coming mild weather while you can!