Grey and drizzly weather return today as a surge of moisture from the south generates an area of low cloud over southern Manitoba. It looks like we may see the sun again by midweek.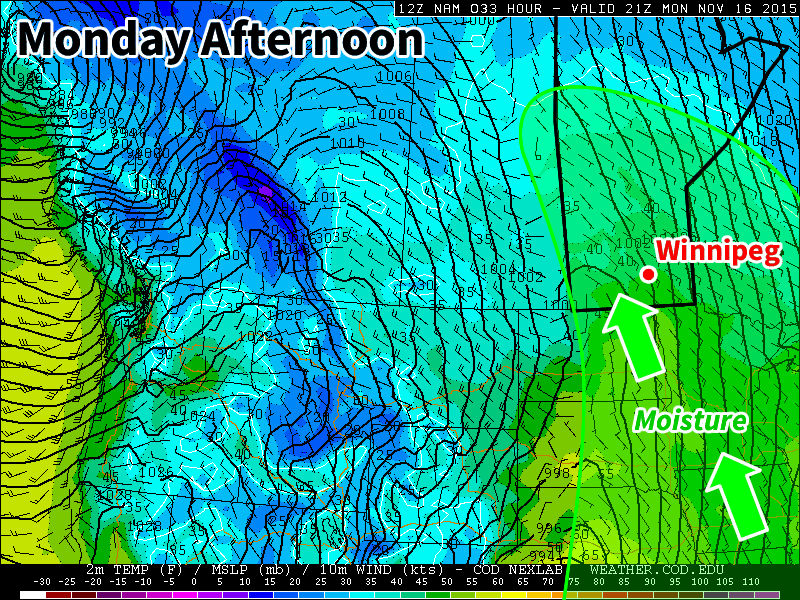 Monday
Today will be a grey, dreary day in southern Manitoba. A strong push of low-level moisture from the south will generate a broad area of low-cloud, bringing periods of drizzle to southern Manitoba throughout the day. Temperatures will remain relatively mild, in the mid single digits, but with the drizzle and wind it won't feel particularly comfortable. Wind speeds will be gusty, at 30km/h gusting to 50km/h, out of the south-east.
Tuesday
Tuesday will see generally cloudy skies stick around in southern Manitoba, but we may see some clearing by late in the day. The flow will shift to westerly on Tuesday, allowing a drier airmass to move into the region. However, it doesn't look like this drier air mass will arrive in time for us to see clear skies before sunset. Winds will be westerly at 20km/h with temperatures in the mid single digits.
Wednesday
We should finally see sunnier conditions on Wednesday as we sit between two approaching low pressure systems. Current forecast models suggest we'll remain in a dry airmass for most of Wednesday, before the risk of precipitation increases again on Wednesday night. Winds should generally be light, with temperatures in the mid single digits.
Long Range
It looks like we'll see a fairly stark change in the weather on Thursday as a powerful cold front ushers in a more arctic-like airmass. Very strong winds are expected on Thursday in the wake of this front along with decreasing temperatures. Unfortunately, we may see some accumulating snow with this system, though it's too early to say how much can be expected. It still appears that the overall pattern will remain above normal for the foreseeable future, but as we move further into the winter season snow and cold are inevitable.