With the 2015 Grey Cup taking center stage in Winnipeg on Sunday, one of the most pertinent questions fans heading to the game must be—or should be—wondering is what do you wear to an outdoor event, in Winnipeg, at the end of November? Fortunately, while you'll still need to bundle up a little bit, the weather will be far more pleasant this year than it has been in many Novembers past.
Heading into the weekend, we'll see a traditional "transition back towards milder weather" day. This means a day of it feeling quite a bit worse than the basic forecast might imply. Although temperatures will climb to around the –6°C mark today, it will do so with a fairly unpleasant southerly wind blowing down the Red River Valley, likely to around 35–45km/h with gusts up to the 60km/h mark by early this afternoon. This will make it rather unpleasant outside and hide any benefit the warmer temperatures have. It is, however, the unfortunate necessity of bringing warmer weather into the Red River Valley with an Arctic high pressure system to our south.
Saturday will bring seasonal temperatures with highs around –5°C and much lighter winds. The fairly sunny skies will make it an all-around nice day for the end of November. Temperatures will dip to about –10°C overnight.
For Grey Cup Sunday, it looks like temperatures will sit around the seasonal mark of –5 with increasing cloud cover through the day. For kickoff at 5PM, the temperature should be around –4 to –5°C with a light southerly wind of 10–15km/h. The temperature will gradually fall through the remainder of the evening, but should stay within the –5°C to –9°C range. The wind will also taper off as the evening progresses. No snow is expected at this point.
Long Range
For the coming week, conditions look very nice for Southern Manitoba.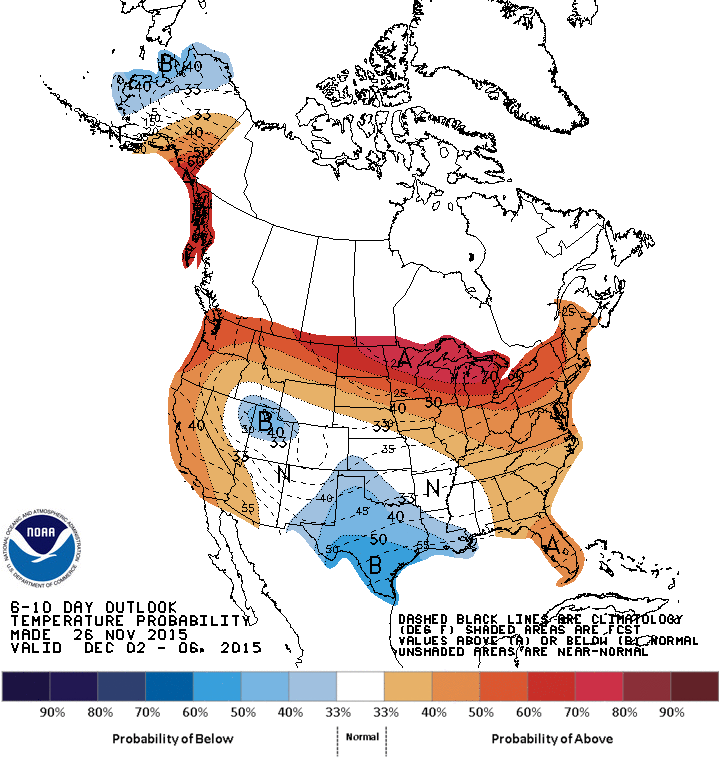 Warmer than seasonal temperatures are expected to spread across much of southern Canada, thanks to a combination of a positive cycle in the Arctic Oscillation (AO) as well as a high over low block that is expected to develop over the west coast of North America.
The positive cycle of the AO means that there is lower than normal pressure over the northern pole, which results, generally speaking, in stronger westerly winds through the higher latitudes. This works to "bottle up" the Arctic air and make it more difficult for it to spill southwards.
The high over low block that is expected to develop over the west cost of North America serves as a powerful "block" in the weather pattern. This feature will remain stationary for several days at a minimum, and will result in benign weather over the Prairies with little precipitation as any significant weather-producing systems are deflected far north or south of our region.
This means that we should expect, in general, seasonal to above seasonal temperatures, little precipitation, and very limited duration to any colder outbreaks should they occur.
---
Clear skies could mean a daytime high of a degree or two warmer, while temperatures cool off more quickly in the evening.  ↩