While the cold snap that settled into Winnipeg for Boxing Day was incredibly short-lived with temperatures returning to seasonal values just 3 days later, that didn't stop many from wondering where the nice weather went. Good news for those that didn't want to even deal with a few days of (relatively easy-going) Winnipeg winter: a big warm-up is on the way for the start of 2016.
The weather today and tomorrow will be defined by the passage of a slow-moving upper-level low pressure system that is tracking through North Dakota. This system will spread plenty of cloud across Southern Manitoba, some will be higher-level cloud, while there will also be low-level cloud that will have fog patches along its edges and some light flurry activity under it. The sun may make a few appearances through the day, but overall it will be mainly cloudy.
Temperatures will be fairly similar both today and tomorrow with daytime highs of -9 and -8°C and overnight lows both nights around the -12 or -13°C mark.
Thursday will bring a bit more sun than Wednesday and less chance of any flurry activity.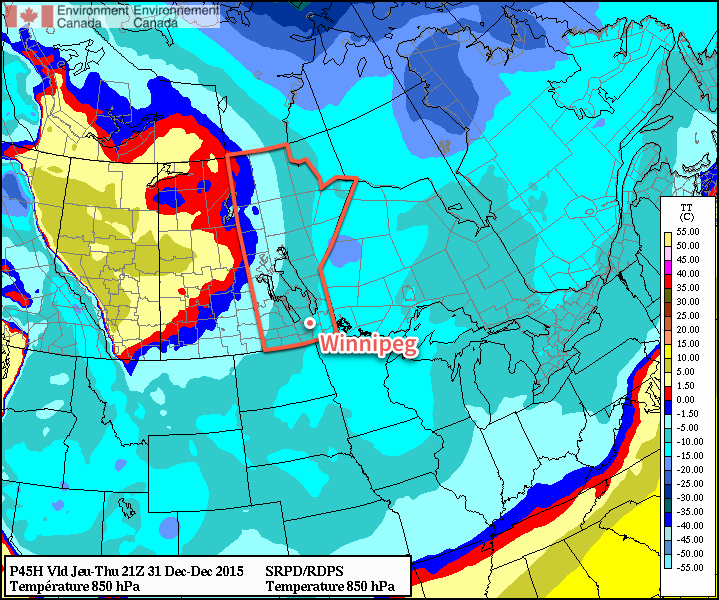 By Friday, the warm air begins surging over the province. The set-up for this delivery of warmth is a rather odd one; over the past couple days, an upper-level ridge has been building northwards over the B.C. coast, pushing warm air into Alaska and the Yukon. This upper-level ridge is forecast to spill eastwards over the Rocky Mountains and then build into the Central Prairies. This will release the built up warmth over the western Arctic and allow it to spill southeastwards across the Prairies. It's certainly a rarity that Winnipeg sees warm advection in a northwest flow, especially in January of all months. The leading edge of the warm air should help temperatures climb to around -5 or -4°C with a bit of a westerly to northwesterly breeze. Skies should be fairly clear for the most part. Expect temperatures to dip down to the low minus-teens again on Friday night.
Long Range
Warm weather should persist through the weekend. A brief shot of cooler air on Sunday night could result in a few flurries on Sunday morning, but no significant snowfall is expected. Daytime highs through the weekend will likely sit near -3°C, although if everything were to happen perfectly, then a high near 0°C could be possible. Saturday looks mainly sunny at this point, while a bit more cloud is in store for Saturday night and Sunday.
Monday still looks quite mild with daytime highs close to the freezing mark, but then more seasonal air works its way back into the region mid-week.
Seasonal daytime highs for Winnipeg at this time of year are near -13°C. Seasonal overnight lows are near -23°C.