Winnipeg will be ringing in 2016 with temperatures 5-10°C above normal as a surge of mild Pacific air sweeps across the Prairies.
A gorgeous holiday Friday and weekend is on tap for Winnipeg thanks to a surge of warmer air that swept into the province overnight. Today will bring mainly sunny skies and breezy westerlies at 20-30 km/h. Temperatures will climb to around -4°C for the afternoon with a chance of some cloudiness as a bank of stratus cloud passes mainly to the east of the Red River Valley. Winds will persist out of the west-northwest at about 20 km/h as temperatures dip to to around -10°C.
Tomorrow will bring some afternoon cloud as a weak cool front approaches, but not before temperatures climb to the -3 or -2°C mark! At this point, it doesn't look like there will be too much cloud on Saturday afternoon as once again, the main area of cloud is forecast to pass east of the Red River Valley. Temperatures will dip to around -12°C on Saturday night before moderating slightly as cloud cover begins building into the Red River Valley.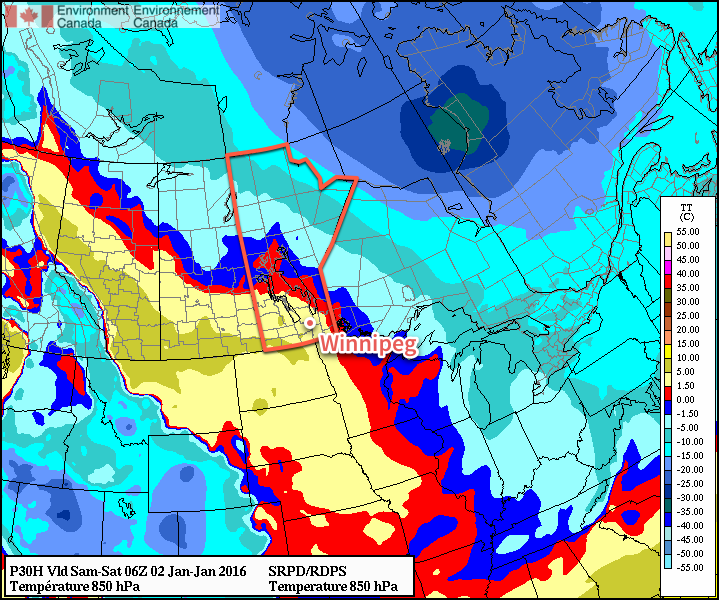 Sunday looks like the weather takes a bit of a turn for the worse, but the mild weather persists. The cloud that will be tied up to our east over the next couple of days is forecast to finally spill westward and push into the Red River Valley. With that happening, it looks like Sunday will be mainly cloudy, but still mild for early January, with a high near -7°C. The cloud will keep things warm on Sunday night with a low near -10°C.
Long Range
Conditions will remain mild through the week with daytime highs in the -5 to -10°C range. No significant precipitation is expected until possibly the end of the week, so all in all it's looking great!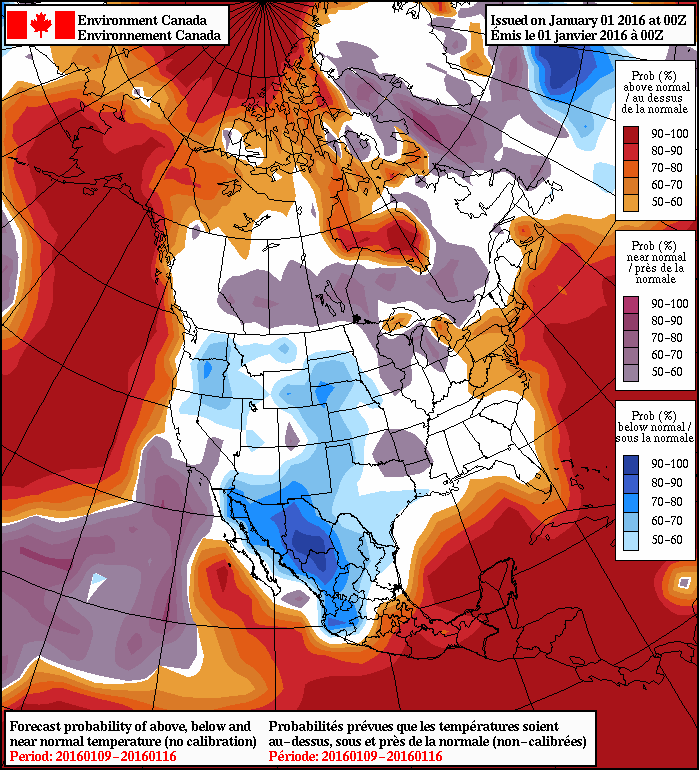 In the longer range, models are converging on seasonal temperatures for the region. This would mean occasional snow and highs in the -10 to -15°C range and lows between -20 to -25°C.