Winnipeg will be re-introduced to winter this weekend as a major pattern shift will usher in one of the coldest outbreaks of the season as bitterly cold air surges out of the Arctic and plummets much of North America into below-normal temperatures.
The next few days will see Winnipeg socked in under extensive cloud cover. While the lack of sun will be a little disheartening, the thick blanket of cloud will moderate temperatures substantially, staving off the cold weather for a little longer.
Both today and tomorrow will be mainly cloudy days with daytime highs around -7 or -6°C and overnight lows in the -10 to -12°C range. A weak ridge of high pressure anchored through the region over the coming days will also keep winds fairly light. All in all, it looks like a relatively pleasant couple of January days.
On Thursday night, a disturbance rippling through the region aloft will help deepen an inverted trough extending to the north-northwest from a low pressure system moving through Iowa. These two things combined will help support an area of light snow that will spread across the province from central Saskatchewan.
Snow will begin through Thursday night from west to east and will be fairly light, with just 2-4cm total accumulation expected by the time it tapers off on Friday afternoon.
Temperatures will be fairly steady throughout the snowfall on Friday, either remaining near Thursday's overnight low or perhaps recovering just a degree or two. As the snow tapers off in the afternoon, gustier northwesterly winds will build into the region—at this point it looks like they'll be around 30km/h—and begin ushering in colder air.
Skies will clear on Friday evening allowing temperatures to plunge to about -21°C by Saturday morning.
Long Range: Cold Weekend
This weekend will see bitterly cold weather settle in over the province as the core of the coldest air on the continent rotates over the region. [1]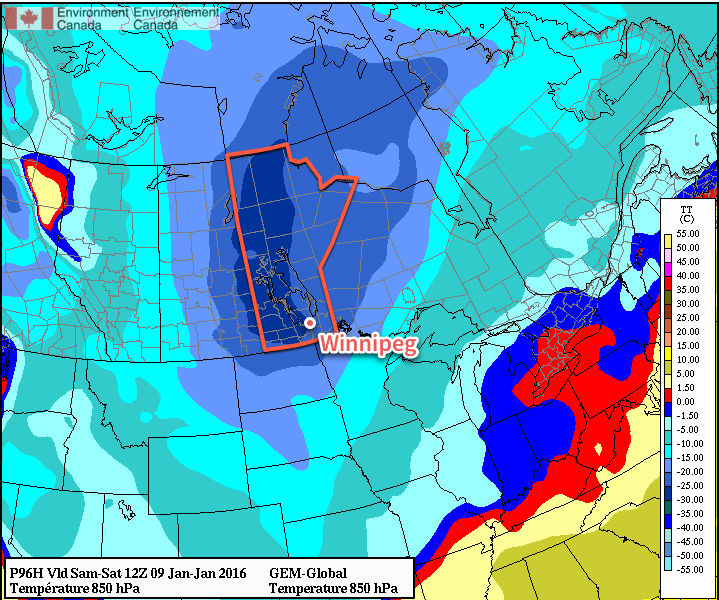 This very cold air mass will result in temperatures steady near around -20°C on Saturday, but quickly dropping into the lower -20's on Saturday night. Sunday will likely see a high near -21 or -22°C with temperatures remaining fairly steady on Sunday night as some warmer air begins working into the region. Skies will be mainly clear through the weekend with little wind.
Looking further ahead into next week, near-seasonal temperatures to slightly below-seasonal temperatures are expected. Seasonal highs are near -13°C for this time of year.
---
Some may wonder why the coldest air mass on the content won't result in the coldest temperatures on the continent, and the answer to that is complicated. The most basic reason is simply that compared to our Arctic neighbours, we actually have sunshine at this time of year. There are a host of other reasons, too, rooted in prior conditions.  ↩