We'll finally see a warming trend this week after a nasty weekend of cold, windy, and snowy weather. The persistent trough over central North America will finally lift, allowing warmer air from the west to spill into southern Manitoba.
Today will be relatively nice compared to the nasty weather of the weekend. While temperatures will still be cooler than normal, today's highs near zero will be pleasant since skies will be sunny and winds will be light. Not a perfect April day by any means, but definitely an improvement.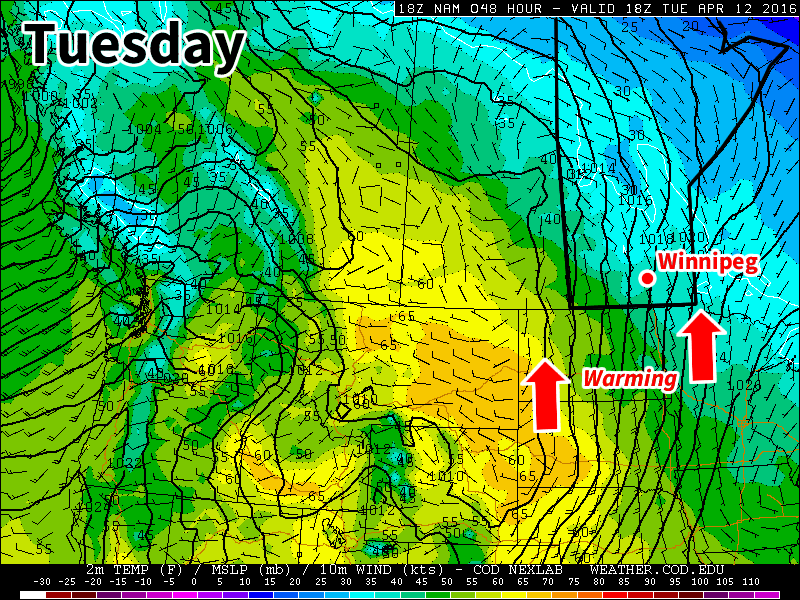 Tuesday's weather will see us warm closer to seasonal values, with high temperatures in the mid to upper single digits across southern Manitoba. However, skies are expected to turn mainly cloudy as a weak upper disturbance passes through. Winds will also be gusty from the south at 30 km/h gusting to 50 km/h.
Wednesday is expected to be the first really nice day in awhile, as temperatures climb up around 10C under mainly sunny skies. Winds are also expected to remain light, making for a very pleasant day.
Long Range
There is still some uncertainty as to how warm it will be for the rest of this week. Some models put us close to 20C by Thursday, while others keep us down in the single digits. Time will tell exactly how warm we'll get this week, but the general trend calls for warmer than normal conditions for the second half of the month.