The end of week in Winnipeg will be wet as a complex series of disturbances bring several waves of precipitation to the region. Storm-total rainfall amounts of 25-75mm are possible with this system, however the amount any one place receives will be highly dependent on the exact location these features line up, which at this point, is quite uncertain.
Rainfall
A few showers or thunderstorms are possible tonight as a mid-level warm front pushes northwards through North Dakota, aided by a 45kt low-level jet. The chance for rain over the Red River Valley will be mainly before 3AM, with the bulk of any shower activity moving northwards into the Interlake.
Friday will be a wet day over most of Southern Manitoba as a broad area of rain spreads across the Province along the northern edge of a low pressure system tracking through North Dakota into the Red River Valley and areas east. The main area of precipitation will blossom tonight in eastern Montana and then spread east-northeastwards into southwestern Manitoba near midnight, through the Interlake overnight, and then into the Red River Valley proper early Friday morning.
The rain will taper off through the afternoon over the southwestern portion of the province, and in the late afternoon and evening through the Red River Valley. By the time this area of rain tapers off, general amounts will be 10-30mm over southwestern Manitoba and between 5-20mm over much of the Red River Valley & Interlake.[1]
For the southwestern portion of the province, this will mark the end of the main event. Further east here in Winnipeg and the Red River Valley, things become more complicated. After a brief break on Friday evening, rainfall will re-develop on Friday night along a deformation zone[2] ahead of another disturbance pushing northwards out of the central Plains of the United states. The deformation zone will lie along a line approximately NNE-SSE through the Red River Valley & this will result in a fairly persistent band of rain that abruptly tapers off to the west of this feature.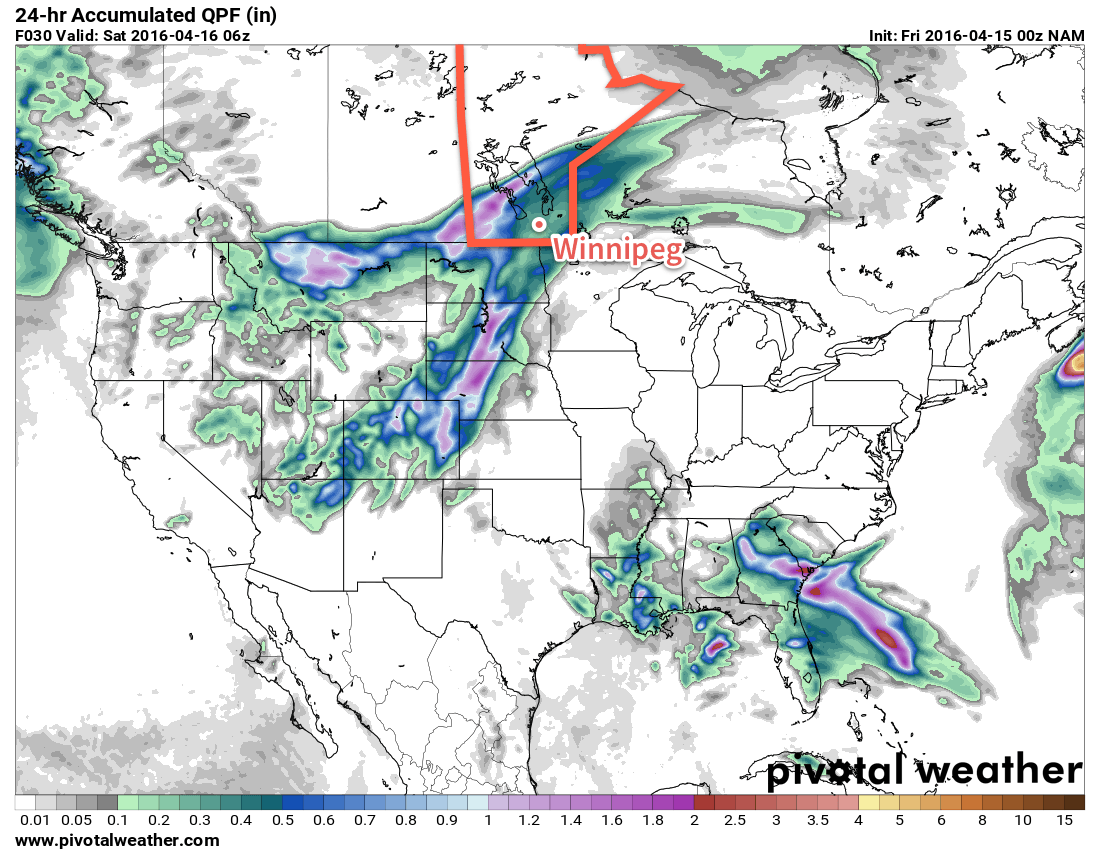 Saturday will bring cloudy skies and more rain to the region. For much of the day, rainfall will be confined to the east of the deformation zone, however by late in the day, a low pressure system will push through SE Manitoba, pushing rainfall further west into the Red River Valley before everything moves off to the east on Saturday evening. For areas along and to the east of the deformation zone, rainfall totals on Saturday will likely end up in the 15-30mm range, while areas west of the deformation zone in the Red River Valley end up with 5-15mm.
Forecast Rainfall Totals by Area — April 15/16, 2016
Location
Rainfall Total (mm)
Friday
Saturday
Total
SW Manitoba
15-35
Trace-5
15-40
Red River Valley
15-25
Trace-35
15-60
SE Manitoba
10-20
15-40
25-60
Interlake
15-25
Trace-10
15-35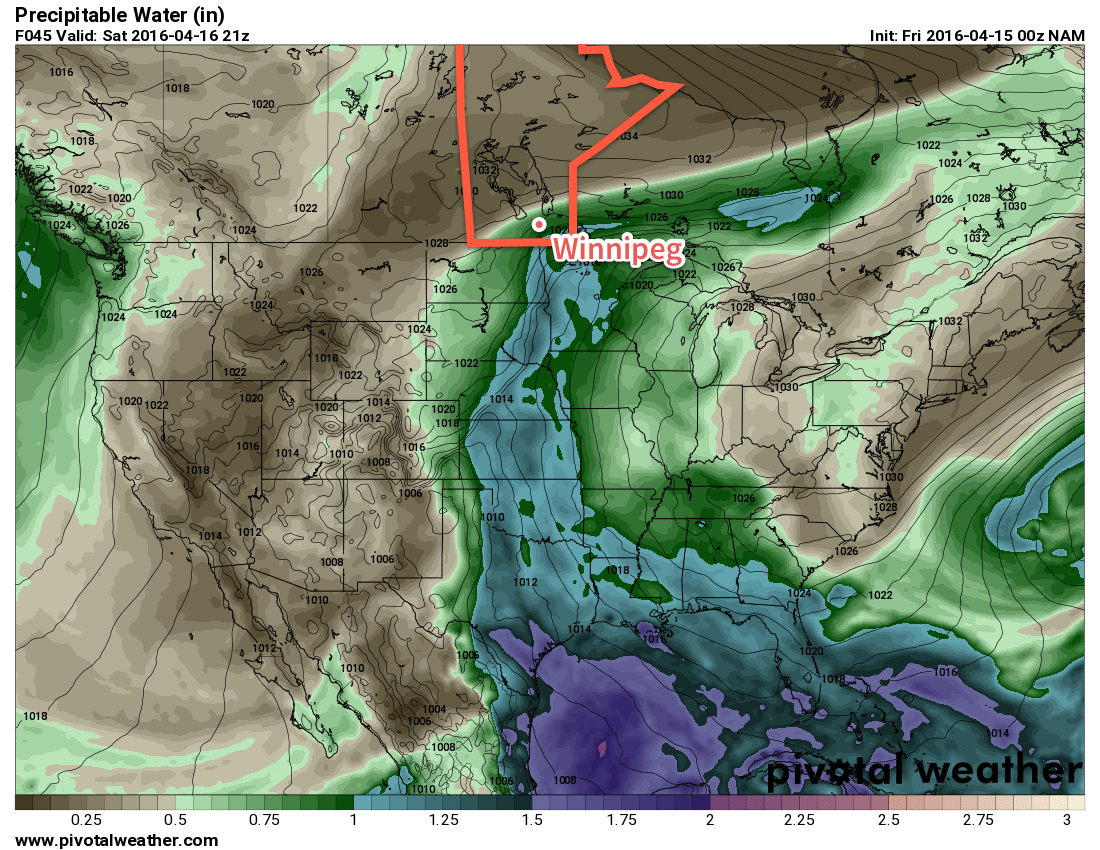 Throughout the duration of this event, it's expected that all the precipitation will fall as rain, except for the higher terrain of the Riding Mountains & Turtle Mountain, where it may be mixed with periods of snow or freezing rain.
Unfortunately, at this point it's practically impossible to refine rainfall amounts to anything more precise than these broad categories. As such, I've refrained from producing a rainfall forecast graphic as it's simply too difficult to represent this spread in possible outcomes in a visual manner. We'll try to provide updates as these systems continue to develop and mature.
The Rest of the Weather
Temperatures will be mild Friday with a daytime high near 12°C, however as the first impulse moves off to our east, cooler air will begin slumping southwards into the Red River Valley as northerly winds increase to 30-40km/h in the evening. Temperatures will dip to around 2°C on Friday night.
Saturday will be considerably cooler with a high temperature near 5-6°C in Winnipeg. The gusty northerlies will continue throughout the day. The wind will begin tapering off overnight as temperatures once again head to a low near 0°C.
Update: Sunday Switches to More of the Same
While originally we forecast that Sunday would bring clearing skies and warm temperatures, however dreams of sunshine will have to wait as this very complicated weather system's evolution over the past couple days has changed the forecast towards a cooler and wetter variety.
This morning, much of the Red River Valley is still seeing some remnant showers or drizzle from the disturbance that moved through last night. This light precipitation will ease a little bit through the morning, but another disturbance moving into the region midday will spread more rain into Southern Manitoba. Currently entering North Dakota, another area of rain will push north-northeast and then shear out along a southwest-to-northeast oriented deformation zone, allowing rain to push into the southern Red River Valley. Most models indicate that much of the rain that develops will fall through Steinbach and areas eastwards, while areas west and north see little to nothing. Looking at this morning's satellite imagery, however, and it appears that the deformation zone that will delineate today's precipitation is a touch further north and west of most model placements.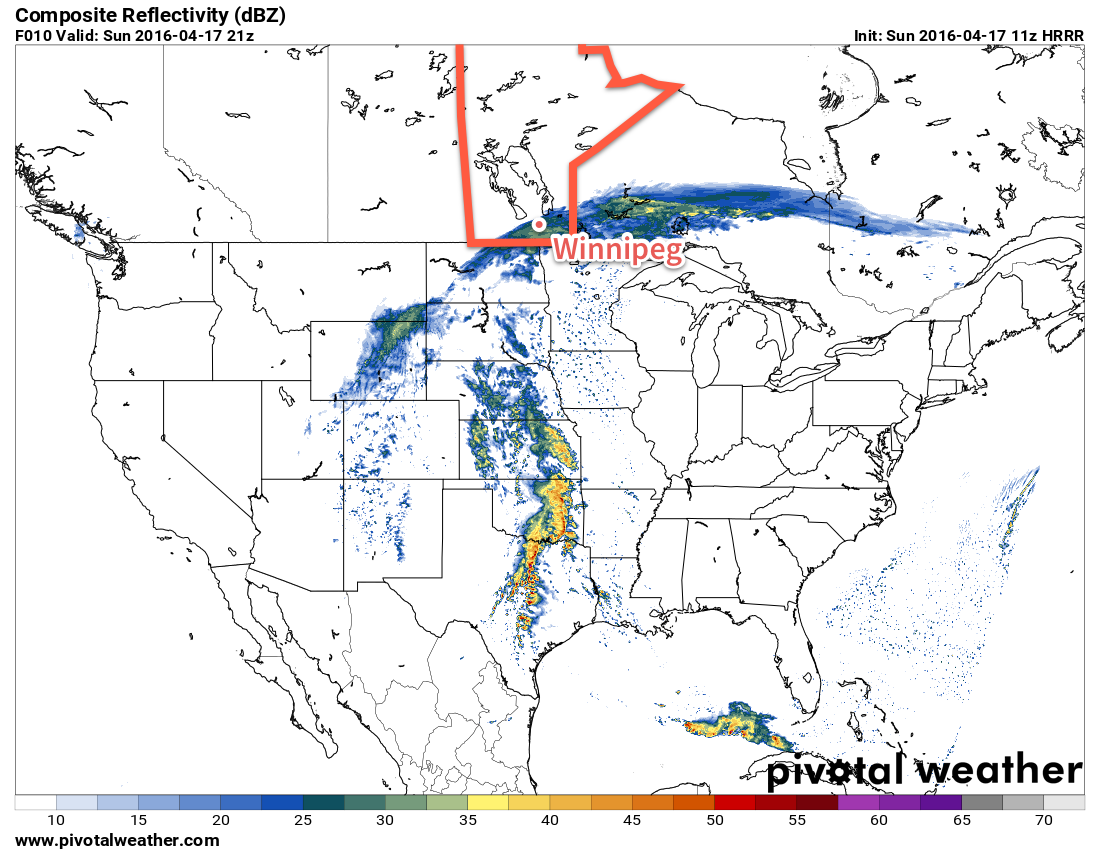 Some of the high-resolution short-range models such as the RAP and the HRRR are catching onto this fact and, as pictured above, are beginning to shunt the precipitation further to the northwest. So rather than clearing skies, we'll likely see some shower/rain activity redevelop this afternoon for Winnipeg, the Red River Valley and points eastwards. Amounts will be quite a bit less than the past couple days, with just 2-5 mm for most places and local accumulations in the 5-10 mm range. Any rain activity will taper off overnight.
Other than the rain, it will be cool with a daytime high near 5°C and chilly winds out of north at about 20 km/h. Temperatures will dip close to freezing tonight and we should see clearing and warmer weather begin to work back into the region on Monday.
Winnipeg's seasonal daytime high is currently 10°C while the seasonal overnight low is -2°C.
---
Higher amounts that this are possible, but will likely be confined to small regions impacted more heavily by any convective elements that develop within the synoptic rain area.  ↩
The deformation zone is a feature in the mid- and upper-atmosphere that firmly separates the warmer, more humid air associated with a low pressure system and the drier, colder air moving in behind it.  ↩