After a couple windy and seasonably cool days, temperatures are set to warm slightly towards near-seasonal values. Unfortunately, the sun will end up rather elusive through the weekend as a low pressure system lifting northwards out of Texas pushes towards Manitoba and spreads cloud into the region.
Despite a rather cool start to the morning, temperatures will rebound nicely today as the ridge of high pressure responsible for the cool, windy weather the past few days begins pushing off to the east. With light winds, Winnipeg will warm up to a high near 18 or 19°C under plenty of sunshine for much of the day. By mid- to late-afternoon, cloud cover will begin to push into the region from the south, spread northwards from a low pressure system heading towards Minnesota from Texas.
Winds will remain light on Friday night as temperatures drop to a low near 7°C under mixed to mostly cloudy skies.
Saturday will bring mostly cloudy skies to Winnipeg and the Red River Valley with temperatures climbing to a high near 18°C. Winds will remain light once again, making for a relatively pleasant day despite the lack of sunshine. Temperatures drop back down to around 8°C on Saturday night under cloudy skies.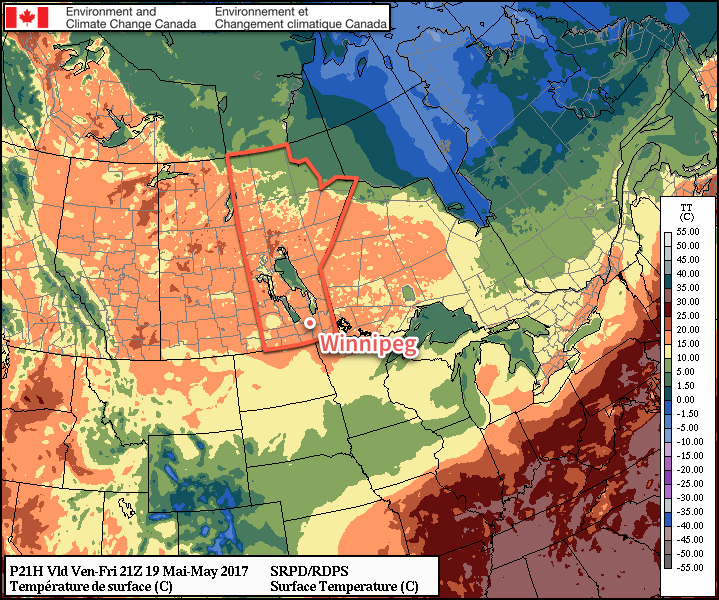 Sunday will finally bring southern Manitoba under the influence of the low pressure system from Texas as pushes northeastwards through Minnesota. This system has a high chance of bringing some rain to southeastern Manitoba, but further west in the Red River Valley there exists a bit more uncertainty.
The bulk of the precipitation associated with this system will fall in Ontario, however it's quite likely there will be a band of rain wrapping around the back-side of the low that impacts southeastern Manitoba. The biggest question is how far west that rain will be able to wrap around. The best indications at the moment is that the Whiteshell, Sprague, and areas primarily south of Steinbach and east of the Red River will see some rain, with areas further west in the Red River Valley having just a chance of showers. For the areas that do see rain, amounts should be light, with just around 2-4mm expected.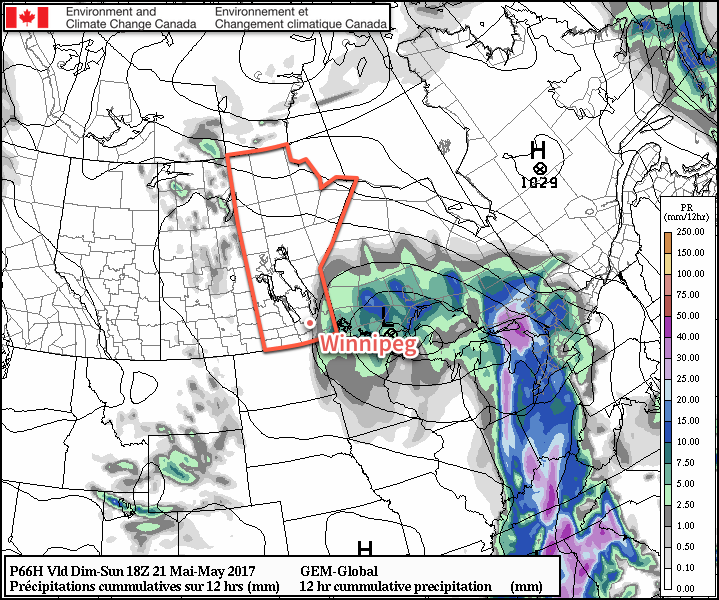 Otherwise, temperatures will rise to a high near 17°C in Winnipeg while winds increase out of the north to 20-30 km/h. The chance for rain will taper off through the afternoon, then Winnipeg will head towards an overnight low of 8°C on Sunday night under mixed to cloudy skies.
Long Range
Much of the same is expected into the first half of next week. Monday will likely continue to bring fairly cloudy conditions with a very slight chance of a shower as temperatures climb to a high in the 15-20°C range. Tuesday into Wednesday should see things settle down with near-seasonal temperatures, but then the pattern may switch to slightly more unsettled, bringing in some chances for precipitation through the latter half of the week into the weekend.
Winnipeg's seasonal daytime high is currently 20°C while the seasonal overnight low is 6°C.