A ridge of high pressure building into Manitoba will usher in breezy northerly winds for Winnipeg and temperatures sightly below normal for mid-May.
Today will start off with overcast skies as a deck of stratus cloud pushes southwards through the region. The cloudy conditions will be made worse by northerly winds strengthening to 40-50 km/h with gusts to around 60 km/h. Skies will clear out in the afternoon, letting some sunshine through and helping temperatures reach a high near 14°C. Any remaining cloud will clear out tonight as temperatures drop to a low near +2°C with breezy northerly winds of 30-40 km/h.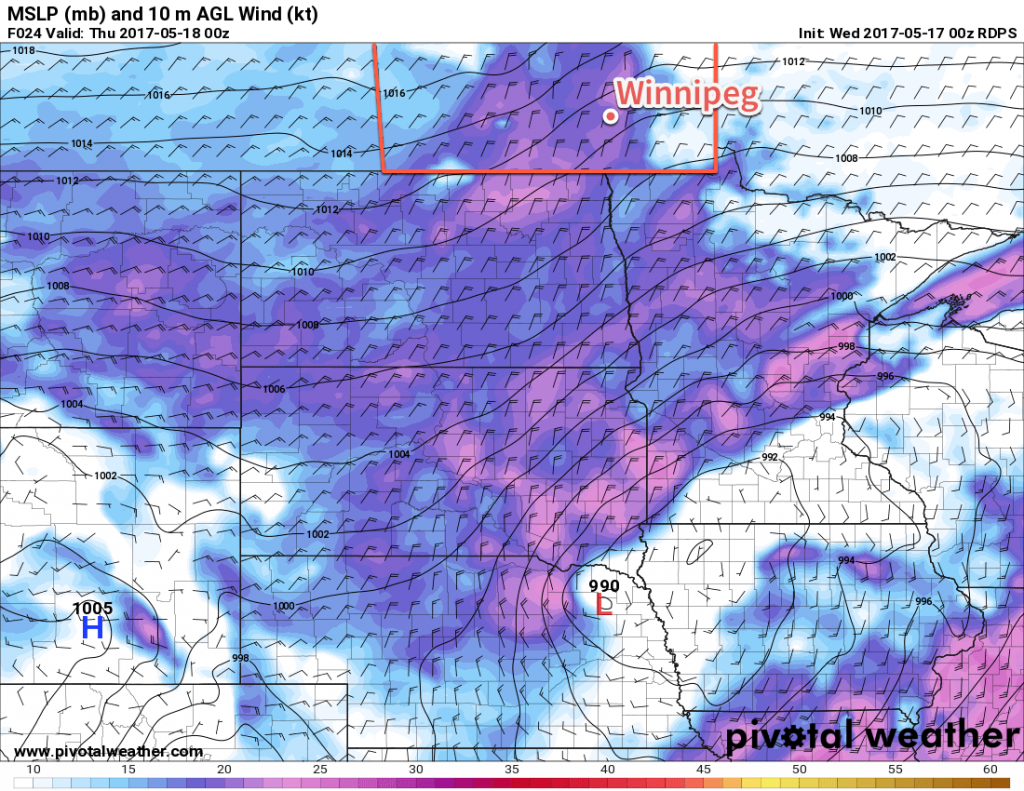 Thursday will see the centre of the high pressure system move into southern Manitoba. It will bring sunny skies and cool temperatures with a high near 14°C once again in Winnipeg, but those northerly winds will continue into the afternoon across the Red River Valley at 30 gusting 50 km/h.1 The winds will quickly taper off in the evening as Winnipeg heads to an overnight low near +2°C once again under clear skies.
On Friday, the ridge of high pressure will start departing off to the east, taking the colder air and breezy winds with it. This will allow temperatures to rebound back towards near-seasonal with Winnipeg seeing a daytime high near 18°C. While the day will start of sunny, some cloud cover will build into the region in the afternoon. Friday night will bring mixed to cloudy skies, light winds and a low near 6°C.
Long Range
The weekend is looking fairly pleasant with variable cloudiness and near-seasonal temperatures. There are some indications in the long-range models that the next chance for rain will arrive early next week, but confidence at this point is quite low. Otherwise, the weather will be consistent, if nothing else, over the coming week, with continued near-seasonal temperatures and variable cloudiness.
Winnipeg's seasonal daytime high is currently 20°C while the seasonal overnight low is 6°C.
---
Southwestern Manitoba will see relief earlier, with winds tapering off to around 15-20 km/h midday Thursday. ↩