The threat for severe thunderstorms exists today across the Red River Valley as a cold front pushing in from the northwest clashes with a hot and increasingly humid air mass. Once the cold front moves through, conditions will settle with a fantastic weekend ahead.
Today will see temperatures soaring across the Red River Valley as a southerly wind strengthening to 30 gusting 50 km/h brings in hot, humid conditions. Temperatures will climb to a high near 30 or 31°C in Winnipeg and the Red River Valley today with a comfortable morning quickly turning muggy as dew points climb up to the 19-20°C mark by late afternoon. The heat and humidity together will combine to make it feel more like the mid- to upper-thirties, so be sure to minimize prolonged exposure to the heat and stay hydrated.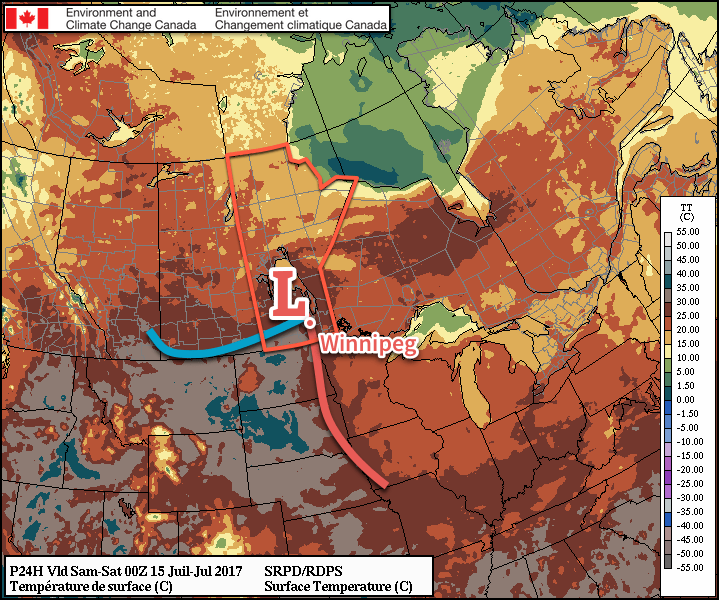 A cold front will slump through the Red River Valley late this afternoon, and as it does so there will be the threat for severe thunderstorms. With MLCAPE1 values climbing up to 2000 J/kg and 45-50 kt of deep shear2, the potential for explosive thunderstorm development exists. The biggest questions that need to be answered are:3
Does nocturnal convection develop Thursday night, producing more cloud cover and delaying heating over the Red River Valley and/or eat up some of the instability over the region?
What exactly is the expected strength of the capping inversion and will it be strong enough to prevent any thunderstorms from developing?
The first question we'll know the answer to by the time you read this. If there is some thunderstorm activity overnight, it doesn't necessarily rule out thunderstorms later today, just makes it more dependent on the clouds clearing out in time to get enough heating. The second question is much more difficult to answer, and we'll just have to see how things go. If there happens to be an intermediate sounding available from Winnipeg later today, that should give a much better idea of how much of a thunderstorm threat there is.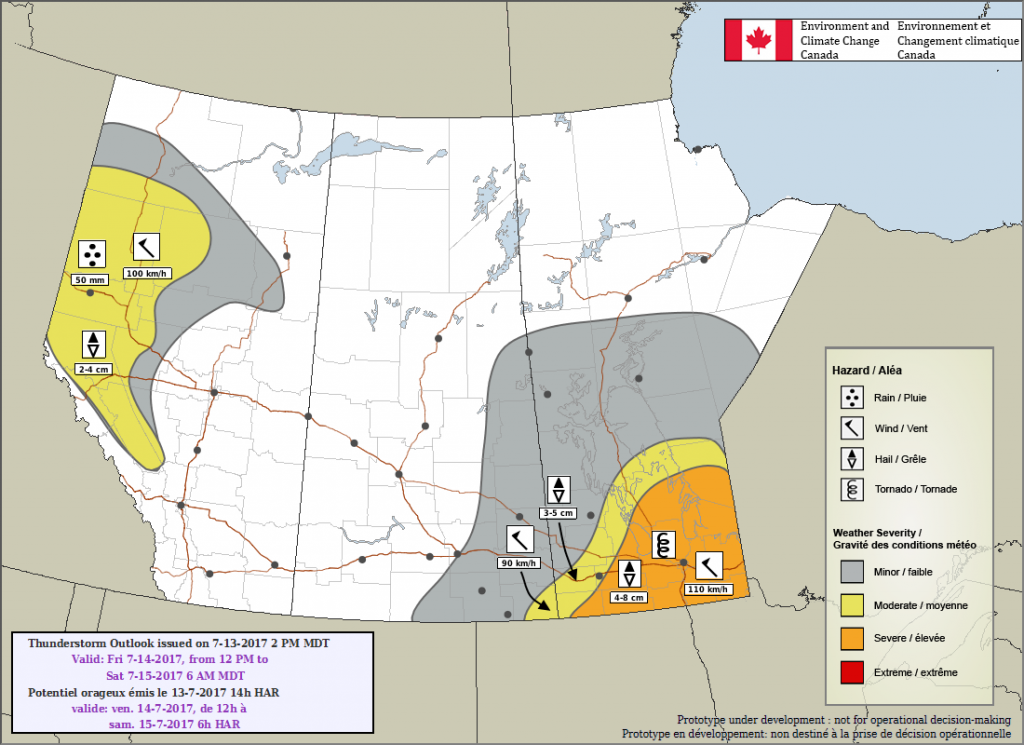 That said, if thunderstorms do develop, which I think is likely, they will be bad. All hazards will be possible with these storms: large hail, damaging winds, torrential rainfall, and tornadoes. Rain may be the least of the concerns as the storms will be moving fairly quickly to the southeast at around 40 km/h. Tornadoes will be a threat with these storms, so make sure you stay aware of any severe thunderstorm or tornado watches and/or warnings issued by Environment Canada. The best chance for thunderstorms will be between 6PM and 11PM.
Rest of the Weekend
One the cold front passes, winds will switch around to the northwest and Winnipeg will be set for a great weekend. Saturday will see a high near 25°C with a bit of morning cloud clearing out for the afternoon. The humidity will flush out through the day, making for quite a comfortable afternoon. Temperatures will drop to a low near 12°C on Saturday night. Sunday will bring partly cloudy skies to the region with temperatures climbing back up to a high near 28°C with southerly winds increasing to 20-30 km/h. A disturbance looks set to move through on Sunday night which would bring the chance for some showers or thunderstorms and a return of the humid conditions for Monday. Expect a mild low near just 18°C on Sunday night.
Long Range
The beginning of next week looks hot and humid once again, but then temperatures return to near-seasonal values. It looks like there will be occasional chances for showers or thunderstorms through the week.
Winnipeg's seasonal daytime high is currently 26°C while the seasonal overnight low is 13°C.
---
MLCAPE stands for "Mixed Layer" CAPE and is an estimate of the amount of energy a thunderstorm has to work with. ↩
Deep shear refers to how the winds change with height between the surface and 6km up. Under 20 kt would be considered very low, while in excess of 50 kt is extremely high. ↩
And to note, I'm writing this late Thursday evening… ↩