Temperatures will be well below-normal today as Winnipeg and the Red River Valley remain entrenched under a cool northeasterly flow behind yesterday's low that moved through the region. Temperatures will rebound quickly, though, with well above-normal temperatures return for the end of the work week.
Today will see high temperatures some 10°C below typical seasonal as cool, cloudy weather hangs over the Red River Valley as northeasterly winds tap cooler air underneath a cold upper-level low crossing over the region. Skies will remain cloudy much of the day — there's a slight chance we might see some sunny breaks late this afternoon — and there will be a chance for some light rain or drizzle, particularly in the morning hours. Temperatures will reach a high of only around 16°C1 with winds out of the northeast at 15-25 km/h.
Skies will begin to clear tonight as temperatures dip to a low near 11°C with light winds.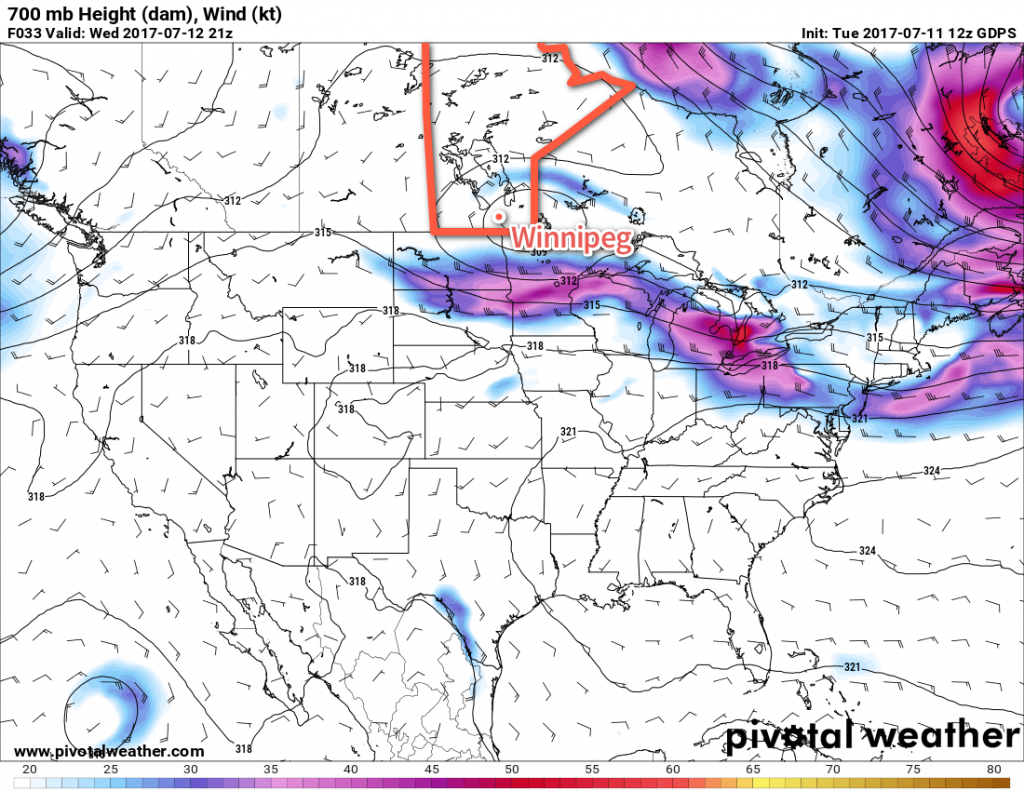 Thursday will be a much nicer day as the remaining cloud cover clears out and temperatures climb to a high near 23°C under light winds. There may be some scattered clouds in the afternoon, but nothing that will spoil the sunshine. Expect clear skies on Thursday night as temperatures drop to a low near 13°C.
On Friday, the upper-level ridge that brought scorching hot weather to B.C. and the western Prairies last week begins building back into the region. Under sunny skies, temperatures in the Red River Valley will climb into the lower 30's. Areas in the southwest corner of the province will be even hotter, with high temperatures climbing into the mid- to upper-thirties. Southerly winds at 20-30 km/h will be in place as a low pressure system slumps towards the region from the northwest. These winds will draw humid conditions northwards; by the end of Friday dew point values will climb into the low 20's, making it feel positively muggy out there.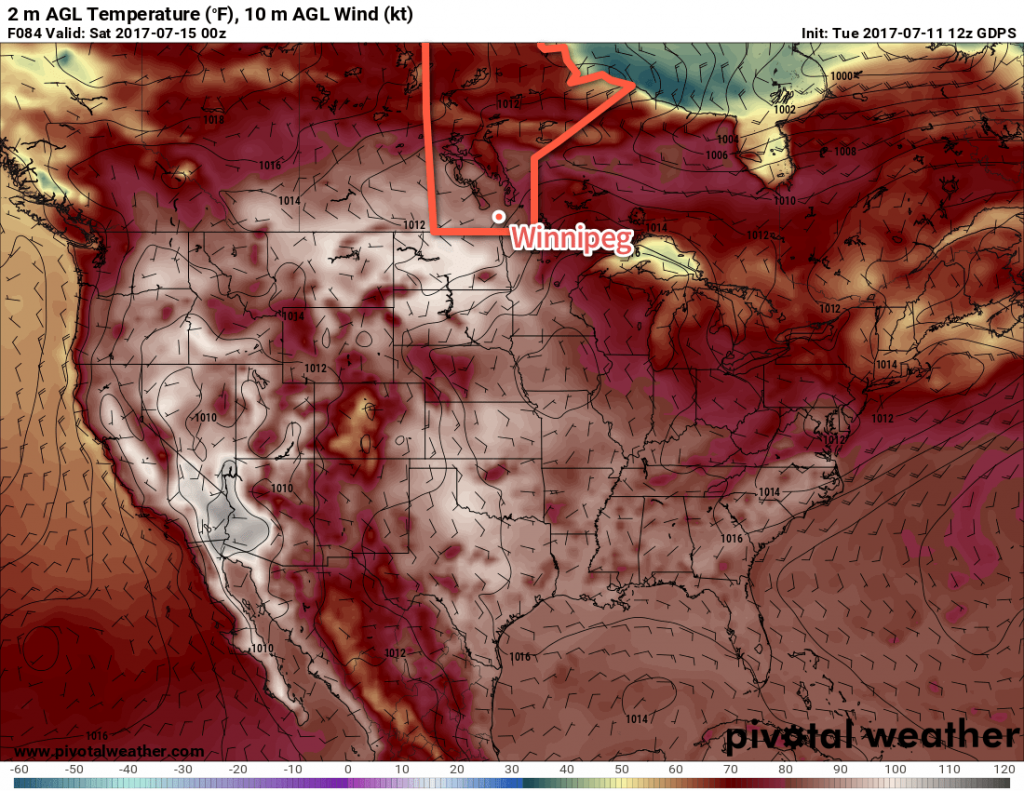 Friday night will continue to be warm with lows dropping only to around 18°C.
Long Range
Northerly winds will move into the region on Saturday, flushing the humidity southwards and making for more comfortable conditions. Daytime highs will still remain in the upper 20's or low 30's throughout the weekend under mainly sunny skies. With the warm air still in place, overnight lows will still be quite warm, likely bottoming out in the upper teens.
The hot weather continues next week, but there are signs that there may be some unsettled weather to begin the week before things settle down again. No significant widespread rainfall is expected in the next week.
Winnipeg's seasonal daytime high is currently 26°C while the seasonal overnight low is 13°C.
---
Although if more clearing were to develop than expected, temperatures would quickly reach closer to 18 or 19°C. ↩