An upper-level ridge slowly building eastwards across the Prairies will bring generally sunny and increasingly warm weather to Winnipeg and the Red River Valley. For those who like summer weather, the next 5 days will be pretty much perfect!
The upper-level ridge that has been anchored over British Columbia over the past week will begin pushing eastwards, shifting the omega block pattern from the west coast to over the Prairies. This will spread mild weather over the Prairies and, eventually, break the persistent northerly winds that have been in place over the province and return a southerly flow that will bring humid conditions back to the region next week.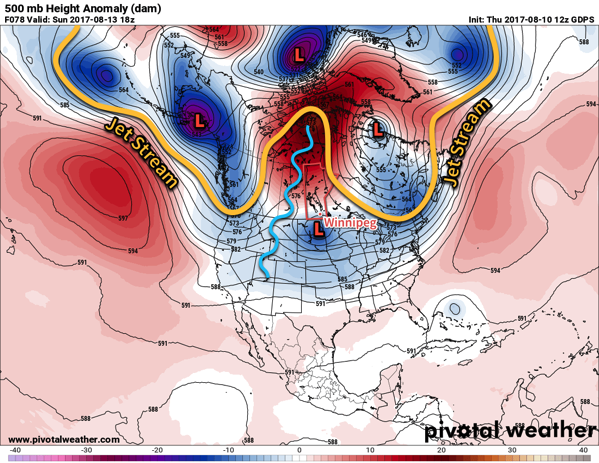 So, for the coming few days, the forecast will be straightforward with daytime highs of 26 or 27°C and overnight lows in the 13-15°C range. Winds will be light over the next 3 days and there will be plenty of sunshine. Sunday may bring a few more clouds as an upper-level low passes by to our south, but even then we expect things to remain dry.
Long Range
Looking into the beginning of next week, things start off quite warm with highs climbing into the upper 20's and overnight lows creeping up into the high teens. A trough of low pressure will begin building across the Prairies Monday night, bringing southerly winds into the region on Tuesday that will gradually ramp up the humidity. As it stands now, it appears that by the end of Tuesday dew points will climb to around 17°C, bringing slightly muggy weather back to the region.
A chance of showers or thunderstorms then returns to the region on Tuesday night into Wednesday and marks the transition into a few days of potentially unsettled weather. Temperatures will remain warm, though with highs continuing in the mid- to upper-twenties.
Winnipeg's seasonal daytime high is currently 26°C while the seasonal overnight low is 12°C.