A disturbance moving through Southern Manitoba today is bringing showers and thunderstorms across many areas this morning, and will be the focus for the redevelopment of more significant thunderstorm activity this afternoon. Once the disturbance leaves the region tonight, it's nothing but beautiful weather ahead for Winnipeg & the Red River Valley.
A frontal wave collapsing southwards through the region is bringing scattered showers and thunderstorms to the region this morning, and will continue to for much of the day. The focus for most of the thunderstorm activity will be a shortwave spinning up along the international border. This feature will support an area of slow-moving thunderstorms this afternoon; these storms will potentially be capable of producing significant rainfall totals due to their slow speed.1 Where exactly these thunderstorms develop will depend exactly on the track o the shortwave; at this point though it looks like the most likely area is south of the Trans-Canada Highway between Pilot Mound and Emerson.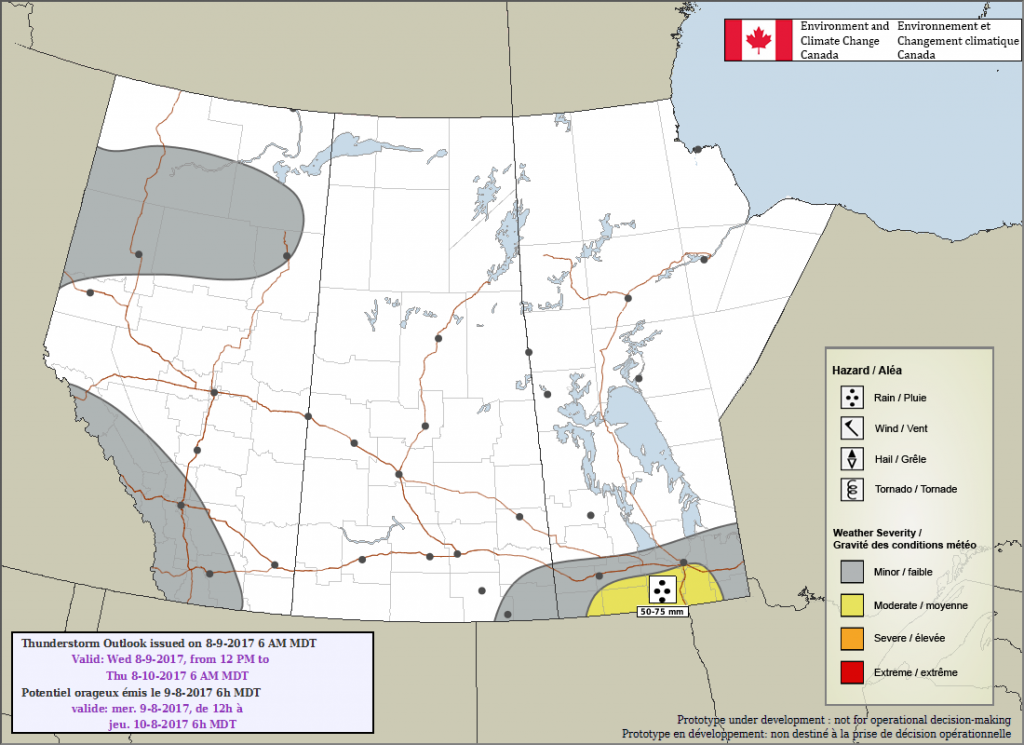 Other than the rain, today will see temperatures climbing to a below-seasonal high near 20°C with winds out of the northeast at 20 gusting to 40 km/h.
The showers and thunderstorms will head out of the province to the southeast later this afternoon into the evening. Skies will clear as temperatures head to a low near 10°C with light winds.
Thursday and Friday will bring pleasant weather back to the region with plenty of sunshine, highs near 25 or 26°C, and lighter winds. Expect a low near 11°C on Thursday night and near 14°C on Friday night.
Long Range
Looking further ahead, the general trend will be for the upper-ridge over B.C. to gradually work its way eastwards, bringing mild and dry weather to the region. Expect to see seasonal to above-seasonal temperature build in through the weekend with the potential for more humid weather to arrive next week. It also looks fairly dry precipitation-wise with little chance of rain until the latter half of next week.
So make it through today and there's plenty more sunshine and summer warmth to enjoy ahead!
Winnipeg's seasonal daytime high is currently 26°C while the seasonal overnight low is 12°C.
Anywhere from 25 – 75 mm seems possible with today's thunderstorms. ↩