Temperatures will rebound back above seasonal values today as southwesterly winds aloft bring warmer air back to the region, but another major low pressure system is heading into the Prairies that will spread rain across southern Manitoba on Tuesday.
Today will be a beautiful day in Winnipeg after a bit of a dreary weekend with plenty of sunshine and a high near 19°C. Winds will be light out of the south to southeast. Through the afternoon hours, a bit of cloud will move through the region, bringing mixed skies to Winnipeg and cloudier conditions to the southeast. Some areas may even see some light showers, but that looks like it will be more confined towards the Whiteshell and Sprague regions. Temperatures will then head to a low near 10°C tonight under a few clouds.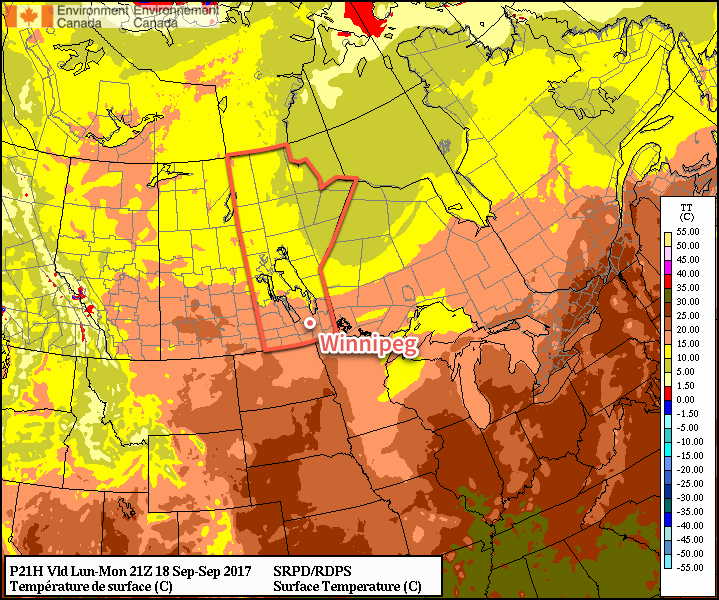 Tuesday will bring the arrival of the next significant low pressure system in Manitoba. Temperatures will continue to be relatively mild with highs near 19°C again, but winds will be breezy picking up out of the southeast to 30-40 km/h. Cloud will spread into the region early in the day, with rain blossoming1 mid-day over southwestern Manitoba and mid- to late-afternoon over the Red River Valley. The winds will then taper off in the evening, with the bulk of the rain pushing off east of the Red River around midnight. Temperatures will dip to a low near 11°C.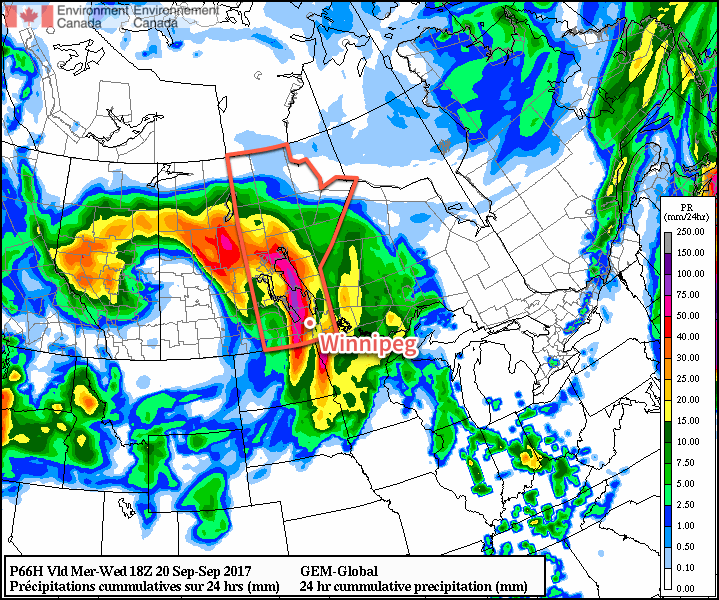 Wednesday will start off with a slight chance of a few lingering showers, but will then transition towards drying out and clearing as the day progresses. Temperatures will be mild with highs near 20°C again with a bit of a breeze out of the west to southwest at around 20-30 km/h. Expect a low near 11°C on Wednesday night under mainly clear skies.
Long Range
Thursday looks to be another nice day with above-seasonal highs near the 20°C mark, but then another major low pressure system will track into the Northern Plains Thursday night through Friday, bringing another chance for rain alongside brisk northeasterly winds and cooler temperatures. Once it passes by Sunday, it appears that Winnipeg will then see a more extended period of near- to below-seasonal temperatures.
Winnipeg's seasonal daytime high is currently 17°C while the seasonal overnight low is 5°C.
There may even be a chance of seeing some thunderstorms! ↩