Although Winnipeg has seen most of the rain the city will receive during this unsettled period, the cool and soggy weather will remain in place for a couple days yet before improving for the latter half of the week.
Skies will remain mostly cloudy1 across the central and eastern Red River Valley today ahead of yet another disturbance that will lift northwards through the American Plains towards southern Manitoba. Under the cloud, there will be a continued chance for drizzle, particularly through the morning hours. The areas that may even see very heavy drizzle or showers will be south of Lake Winnipeg, where the warm lake waters will enhance the intensity of the precipitation. Temperatures will continue cool today with highs near 12°C with winds out of the north at 15-25 km/h. Skies will remain cloudy tonight with a continued chance for drizzle. Temperatures will drop to a low near 7°C while winds diminish to light.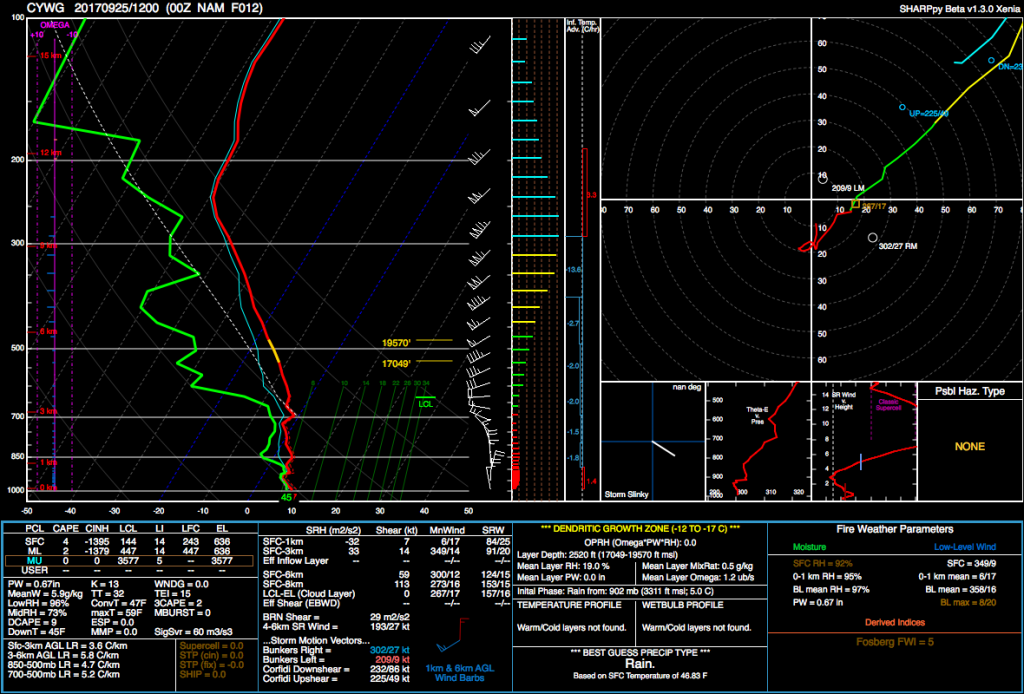 Tuesday will bring more rain to southeastern Manitoba as another disturbance moves through Minnesota. While the rain moves through the southeastern corner of the province, portions of the Red River Valley will see a chance of rain, mainly due to uncertainty about how far west the rain will actually reach. Winds will remain light as temperatures head to a high near 12°C once again.
The rain will taper off by evening as the light winds shift to the west and temperatures drop to a low near 6°C. Skies will clear overnight.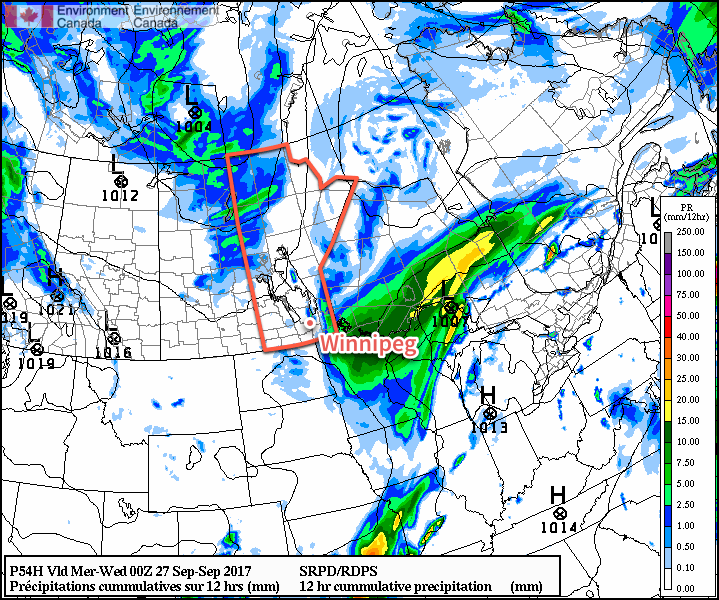 Wednesday will finally bring sunny conditions back to the region with clear skies in the morning giving way to partly cloudy skies in the afternoon. Temperatures will be quite a bit warmer with highs near 19 or 20°C and westerly winds of 10-20 km/h.
Temperatures will once again drop to a low near 6°C on Wednesday night with skies clouding up again. An upper-level disturbance will swing across the Red River Valley from west to east overnight, likely bringing another batch of rain to the region with 5-10 mm possible, although amounts will likely taper off quickly to the south of the line, likely leaving portions of the southern valley with no rain.
Long Range
The latter half of the week looks to return to more seasonal temperatures as northwesterly winds move back into the region behind Wednesday night's disturbance and a large ridge of high pressure moves in. There may end up being a significant frost risk at some point later in the week, but we'll have to just wait and see how cool things are able to get underneath the ridge of high pressure.
There's some indication that more unsettled conditions will move back into the region on weekend or early next week as another upper-level trough digs over the American Rockies.
Winnipeg's seasonal daytime high is currently 16°C while the seasonal overnight low is 4°C.
Some sunshine will likely work into the western Red River Valley; if it manages to push further east, Winnipeg may end up seeing a bit more sun. ↩