Winnipeg will see mixed to cloudy skies over the coming days as near-seasonal temperatures return to the region. The milder weather will continue until the end of the week, brought to an end by a low pressure system moving through that will usher Arctic air back into the southern Prairies.
Today will bring more cloud to Winnipeg as warmer temperatures move into the region. Highs will climb to around the freezing mark today as south-southeasterly winds pick up to 20 km/h. A few sunny breaks may show up later in the day, however southeasterly winds tend to keep the low cloud stuck in the Valley until a westerly component can develop, so we may see the cloud stick around all day. Winnipeg should see variable cloudiness overnight with winds continuing out of the south near 20 km/h. Temperatures will dip to a low near -3°C.
On Tuesday, a low pressure system will cross through the province, bringing with it variable cloudiness and winds that gradually diminish while shifting more westerly. No rain or snow is expected for Winnipeg and temperatures will climb to a high near +1°C. More cloud will move into the Red River Valley on Tuesday night as winds shift northwesterly behind a cold front and winds pick up to around 30 km/h. Temperatures will dip down to a low near -7°C.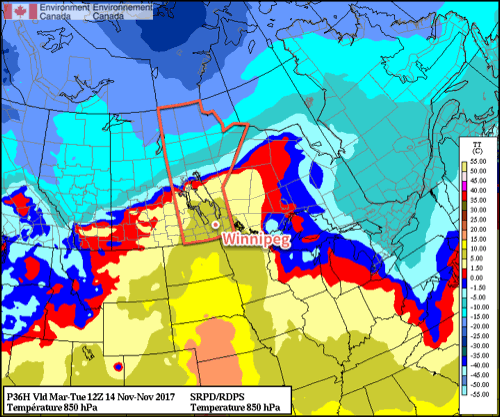 Wednesday will bring cooler temperatures to Winnipeg alongside cloudy skies. Highs will climb back to just around -5°C as northerly winds gradually taper off through the day. There will be a slight chance of flurries, but it looks like there's no significant chance of accumulating snow. Winds will continue to taper off on Wednesday night as a ridge of high pressure moves into the province, sending temperatures down to lows around -9 or -10°C.
Long Range Outlook
Temperatures will climb back towards seasonal values for Thursday and Friday as another low pressure system begins working it's way into the western Prairies. Thursday night into Friday looks to bring the chance of some snow as the low passes, then much cooler weather will move back into the province once again, sending highs back down to the -8 to -10°C range with overnight lows dipping back into the mid-minus teens.
Winnipeg's seasonal daytime high is currently -1°C while the seasonal overnight low is -9°C.