A pair of low pressure systems tracking across the Prairies over the next few days will bring a couple bouts of flurries to Winnipeg, separated by a slightly warmer, but much windier, Thursday.
Winnipeg will see cloudy skies today as breezy northwesterly winds up to around 30 gusting 50 km/h move into the region behind a cold front that passed through overnight. The clouds will likely bring scattered flurries to the Red River Valley, but no accumulating snow is expected.1 Temperatures will be cooler than Monday or Tuesday were, with highs topping out around -5°C today in Winnipeg. The gusty winds will taper off later this afternoon. Tonight, temperatures will dip to a low near -11°C under variable cloudiness as the cloud cover from one system departs as the next area of cloud moves in from the west.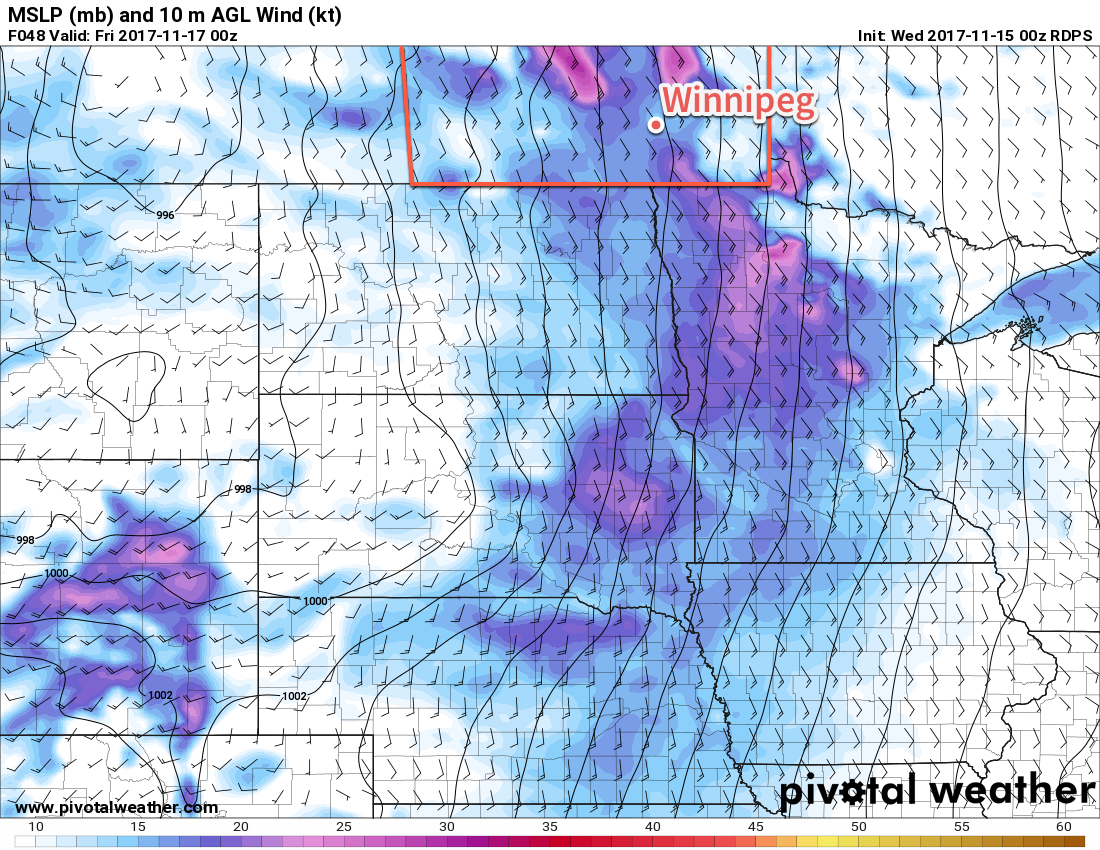 Thursday will be a warmer day in Winnipeg, but strong south-southeasterly winds will make it feel not nearly as pleasant. A low pressure system approaching from the west will increase winds out of the south up to 40 gusting 60 km/h as overcast skies spread across the Red River Valley. While temperatures will reach a high near -2°C, the strong winds and lack of sunshine will make it feel rather cool. Winds will taper off on Thursday evening as the low pressure system moves into Manitoba. It will bring light snow to Winnipeg for Thursday night as a cold front slowly slides through the Red River Valley. At the moment, it appears snow amounts will be low, with up to around 2 cm expected. Temperatures will remain steady near -1°C through the night.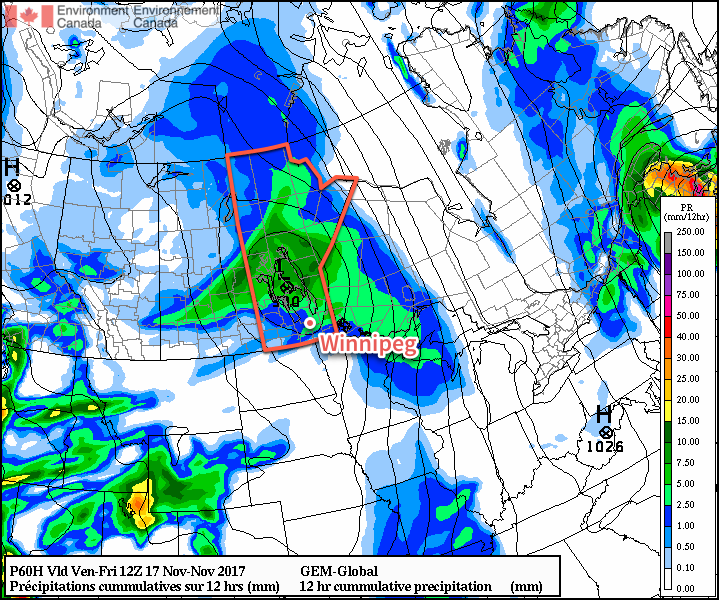 Friday will bring cooler temperatures to Winnipeg. Any remaining snow will quickly exit the region in the morning, leaving behind mostly cloudy skies and light northwesterly winds that usher in a cooler air mass. Temperatures will drop through the day to around -6°C with some sunny breaks developing in the afternoon. Temperatures will dip down to a low near -11°C again with variable cloudiness overnight and a slight chance of a few scattered flurries.
Long Range Outlook
Temperatures look to be on a bit of a roller coaster through the weekend into the first half of next week, oscillating between seasonal temperatures and below-seasonal temperatures. No significant weather systems are on the horizon in the next 7-10 days.
So in general, near to slightly below-seasonal temperatures with no significant snowfalls. It appears the cold snap that began November has moderated towards seasonal, and a stretch of relatively benign weather lies ahead for Winnipeg.
Winnipeg's seasonal daytime high is currently -2°C while the seasonal overnight low is -10°C.
Snowfall amounts will generally be 0 to 2 cm. ↩