Tuesday offered brief relief from the cold, but with the passage of a cold front late in the day, cooler air has returned to the region sending daytime highs back into the -20s.
Over the next couple days, the weather for Winnipeg and the Red River Valley will be a result of an Arctic high slumping southwards through the province. This will produce partly cloudy skies both Wednesday and Thursday, with daytime highs in the -21 to -19°C range. Tonight will be the coldest night in the remainder of the week with lows dipping down to around -28 or -29°C, while Thursday night will bring a slightly warmer overnight low in the mid-minus 20s.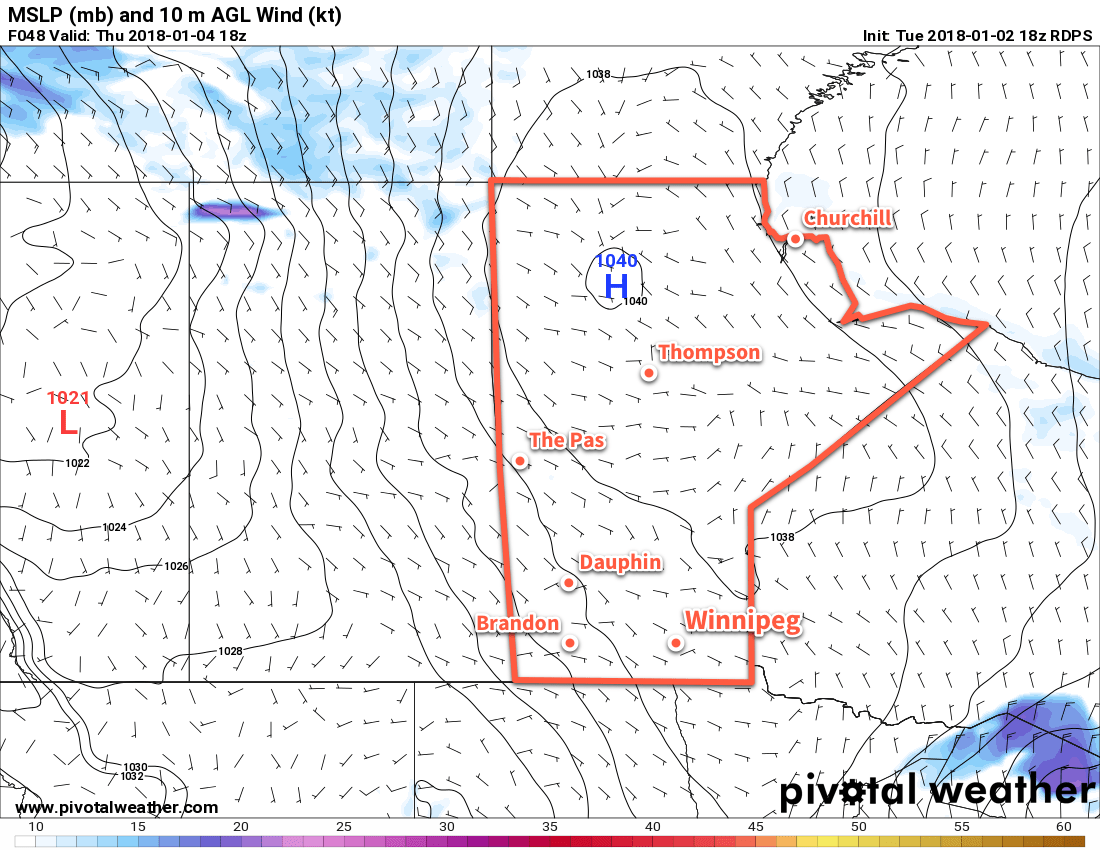 Friday will bring mainly sunny skies, but winds will pick up out of the south-southeast later in the day to 20-30 km/h as the high centre moves towards Lake Superior and milder air starts to work in from the west. Winnipeg should see a high near -19°C, with cloud cover beginning to increase in the evening hours. Temperatures will climb overnight as the clouds thicken up and milder air begins working into the region, reaching around -16°C by Saturday morning. Some light snow will be possible over southwestern Manitoba, but at this point it seems unlikely that it would manage to push eastwards into the Red River Valley.
Long Range Outlook
This weekend has the potential to bring seasonal to slightly above-seasonal temperatures with daytime highs climbing into the -11 to -8°C range and overnight lows in the mid-minus teens. This is thanks to a low pressure system that will move through northern Manitoba; while there may be a chance for some light snow as it moves through, the accumulating snowfall will likely remain through northern and central Manitoba.
Winnipeg's seasonal daytime high is currently -13°C while the seasonal overnight low is -23°C.