This weekend, Winnipeg will see temperatures climb to the warmest values seen since mid-December, but along with the warmth will come wind and a chance of flurries.
Today will, notably, not be warm. Evident by the chilly temperatures this morning, southern Manitoba is still under the influence of a large Arctic high that's slowly slumping south-southeastwards near the Ontario border into Minnesota. This high will bring mainly sunny skies to the Red River Valley today, but daytime highs will be cool at around -20°C. Fortunately, winds will remain light for much of the day.
Temperatures will dip to a low near -25°C this evening, then gradually warm overnight as the Arctic ridge moves off into Minnesota and a warm front begins pushing eastwards into Manitoba. Skies will cloud over late overnight as the wind picks up out of the southeast to around 30 km/h.
Saturday will bring cloudy skies to the region and be a fairly windy day as southerly winds of 40 gusting to 60 km/h remain in place until the evening when the warm front finally moves through the Red River Valley.1 Temperatures will climb to a high near -13°C late in the afternoon, but wind chill values will remain in the -20 to -30 range for much of the day. There will be a chance for some flurries through the day, but no accumulating snowfall is expected.
Temperatures will continue to rise Saturday night as warmer air continues to move into the Red River Valley; Winnipeg should wake up on Sunday to a temperature near -9°C. Skies will remain cloudy overnight.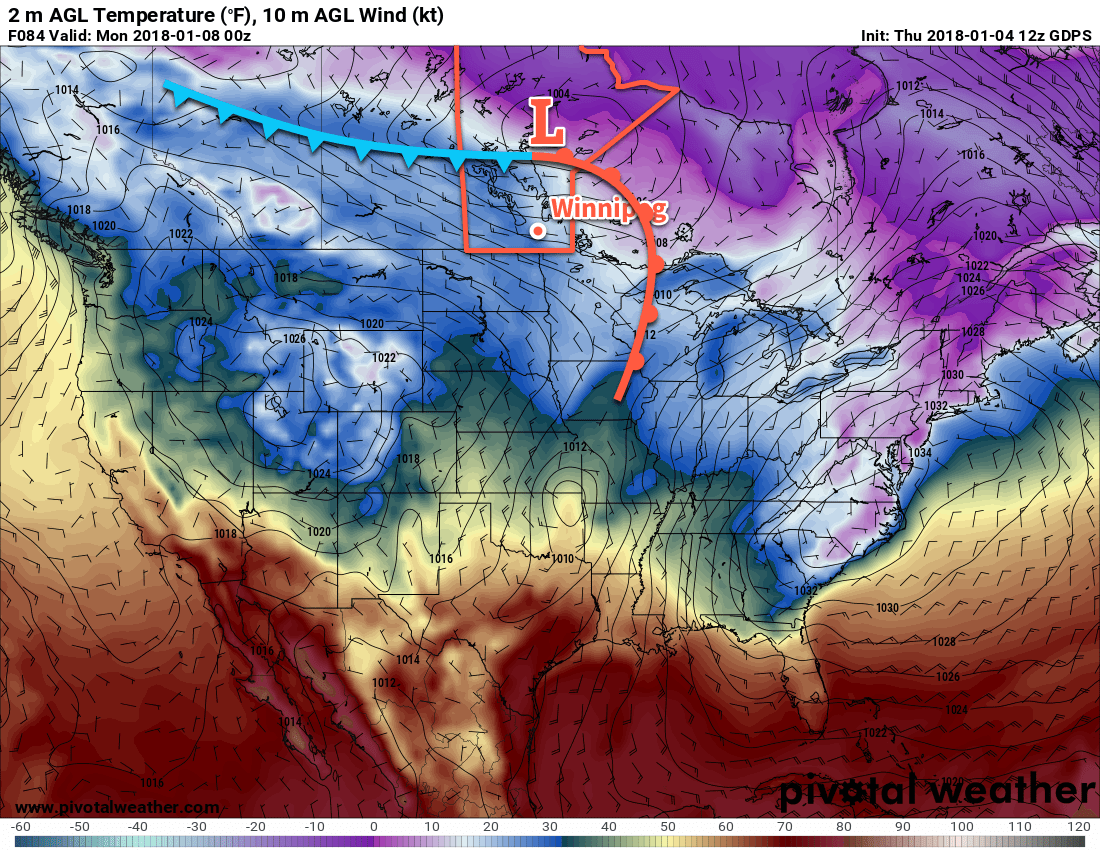 Sunday will, again, bring cloudy skies to Winnipeg, but temperatures will be quite mild with a high near -4°C. Winds will be fairly light out of the southwest in the morning, but then pick up out of the west at 20 to 30 km/h for the afternoon. Temperatures will dip to a low near -9°C on Sunday night.
Long Range Outlook
The relatively mild weather will continue into the beginning of next week as daytime highs hover in the low minus single digits for another day or two. A cold front will see through mid-week, bringing a chance of snow and a return to cooler temperatures with lows returning back into the -20s and daytime highs around the -20 to -15°C range.
Winnipeg's seasonal daytime high is currently -13°C while the seasonal overnight low is -23°C.
The warm front is being pushed eastwards by a developing low pressure system over the northern Prairies that will move across central Manitoba on Sunday. ↩