Winnipeg will see variable cloudiness over the coming days with temperatures inching ever so slowly back towards warmer, more seasonal values.
Today will bring increasing cloudiness to Winnipeg as a weak warm front drops southwards through the province.1 Temperatures will climb a fair amount from today's chilly start to a high near -6°C. The northwesterly wind will be unpleasant, though, strengthening even further to 40 gusting 60 km/h. This moderate wind will create wind chill values near -25 to -30 this morning and -15 to -20 this afternoon.2 There may be a slight chance of some light flurries, but they would be unremarkable if they happen. The wind will taper off quickly this evening as skies clear and temperatures drop to a low near -17°C.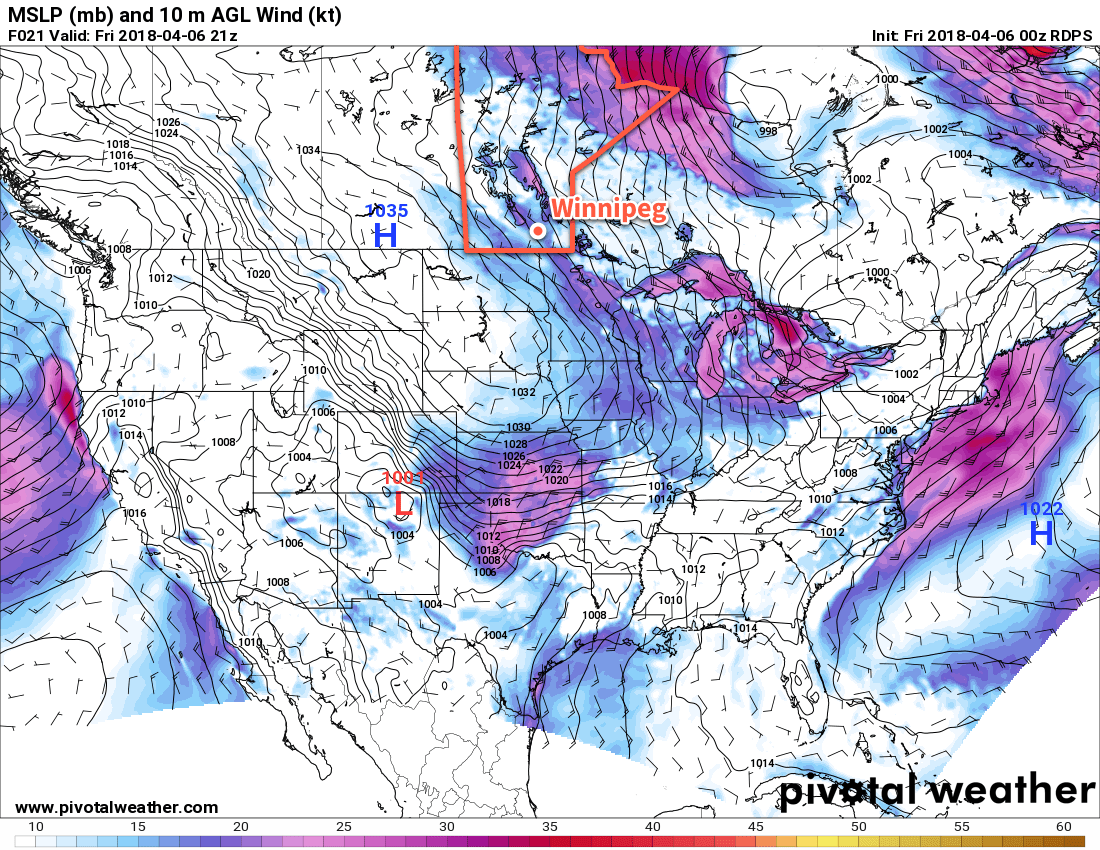 A ridge of high pressure will move over the province for Saturday and bring mainly sunny skies and light winds. Temperatures will climb to a high near -4°C, then drop down to a low near -13°C as cloud cover begins to move in on Saturday night.
Sunday will bring more cloud to the region, largely spreading across southern Manitoba from a low pressure system tracking across the Dakotas. Conditions look dry and winds will be relatively light out of the northeast. Temperatures will inch a bit warmer yet again with a high temperature around -2°C. Sunday night will bring gradual clearing to Winnipeg and the Red River Valley with temperatures falling to around -13°C.
Long Range Outlook
Next week is looking like a bit of a mixed bag. Temperatures will continue to climb towards seasonal, but the trend is still looking like slightly below-normal temperatures. Perhaps there's some solace that daytime highs should climb above 0°C for the week. Heading into the end of the work week, the chance for precipitation ramps up with most models suggesting some rain or snow on Friday into Friday night.
Winnipeg's seasonal daytime high is currently 7°C while the seasonal overnight low is -4°C.
Yes, we're in such a depressing weather pattern that warmer air has made it all the way from the Atlantic westwards across the Arctic and is now dropping southwards into Manitoba from Nunavut. ↩
I really don't want to be talking about wind chill values near -30 in April… ↩