Temperatures will finally climb above 0°C this week, but sadly more snow is on the way.
Winnipeg will see temperatures finally climb above the freezing mark today as the high climbs to around 0 or +1°C under sunny skies. Once the sun burns off the morning chill, it will actually be a fairly nice day with light winds as a ridge of high pressure moves across the province. A bit of cloud cover will begin moving into the region tonight as temperatures dip to a low near -7°C.
Tuesday will bring mixed to mostly cloudy skies as thicker cloud cover builds into the province ahead of the next low tracking across the Prairies. Temperatures will reach the closest to seasonal they've been since March 28th with a high near +4°C expected. Unfortunately, this will still be a fair amount below the seasonal high of 8°C. Winds will pick up out of the west to around 15 to 25 km/h in the afternoon. Skies will become overcast Tuesday evening with temperatures falling to a low near -4°C.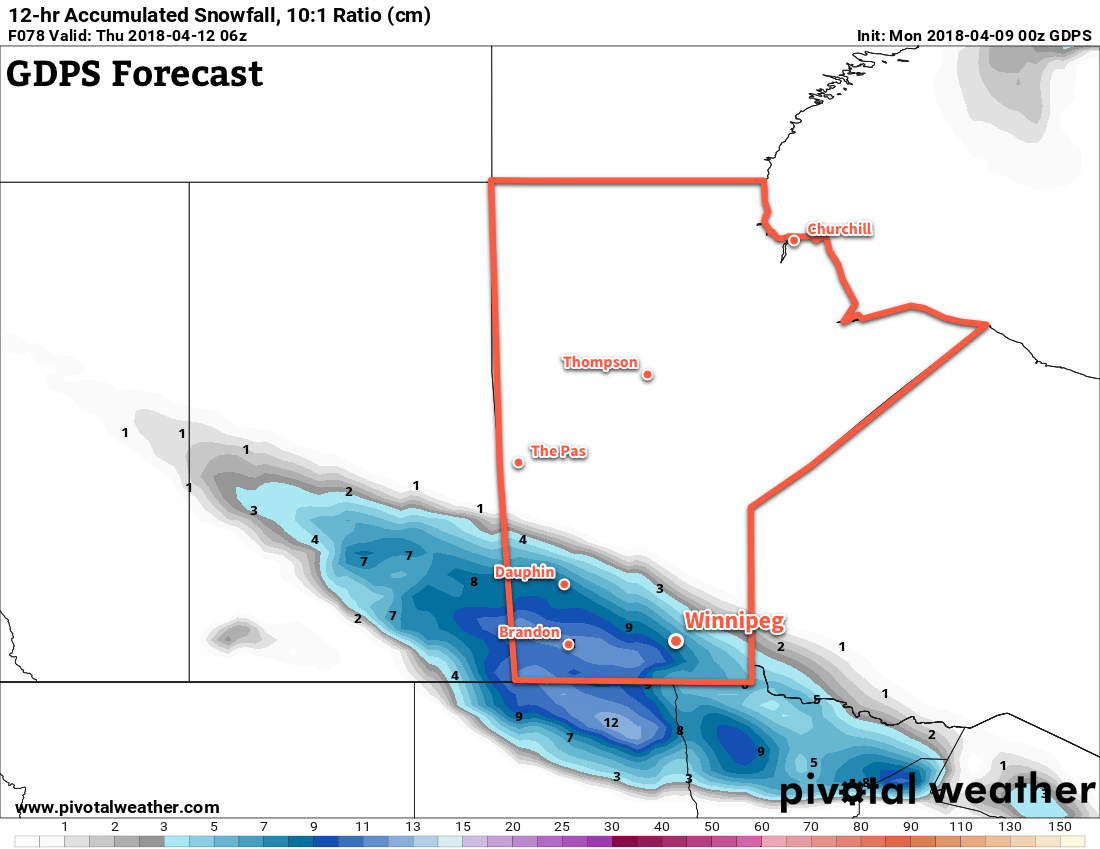 A weak low passing through Saskatchewan into North Dakota will spread a narrow swath of snow southeastwards across the Canadian Prairies. It will spread snow across Manitoba through Wednesday, however where the snow exactly falls is a bit in question and depends precisely on the track the low ends up tacking. In general, it looks like this low will produce a swath of snow from western Manitoba into North Dakota. Around 5 to 10 cm of snow looks likely along the centre of the swath with amounts quickly tapering off into the 2 to 4 cm range to the north and south. Isolated pockets of higher amounts are possible under the heaviest band.
Winnipeg will likely end up under or just north of this band. It looks like 2 cm would be a likely low-end forecast for Winnipeg, with 3 to 6 cm looking likely through the day. That said, with temperatures near or just above freezing, some of that snow may melt, shaving a bit off the measurements.
The snow will taper off in the afternoon/evening, with winds picking up out of the north-northeast to around 20 to 30 km/h. Temperatures will head to a low near -6°C under cloudy skies on Wednesday night.
Long Range Outlook
Attention then turns to Friday, where weather models are picking up on the development of a potent storm in the United States but have strongly diverging opinions on where it will go. There may be a good chance that it remains south of the border as a strong deformation zone develops south of the 49th as the cooler outflow from the northern Prairies is pinned against the developing Wyoming/Colorado low.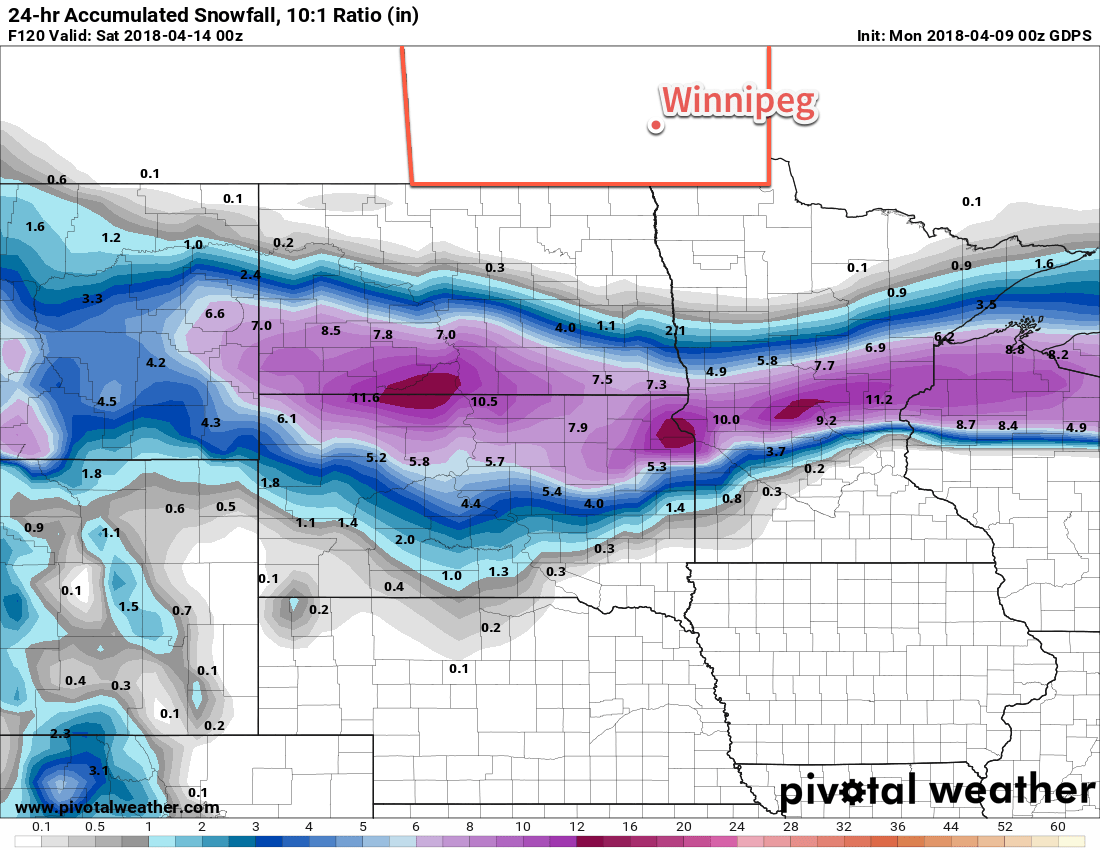 Earlier model runs had this system pushing into southern Manitoba, which is something we'll definitely keep an eye on. It will be a very potent storm, likely producing significant snowfall with totals of more than 25 cm across its heaviest bands, so wherever it ends up will have to deal with a return of treacherous winter travel conditions. We'll be keeping an eye on things as they develop and have updates later in the week!
Winnipeg's seasonal daytime high is currently 8°C while the seasonal overnight low is -3°C.