Snow moving through the region today will give way to more sunshine, but below-seasonal temperatures remain.
Winnipeg will see another day with high temperatures above the freezing mark with cloud cover spreads eastwards into the Red River Valley. Winds will remain light, which should help make a relatively pleasant day. Skies in Winnipeg will become cloudy by late afternoon with light snow spreading into the region this evening. This system will bring 2 to 4 cm of snow to the city1, but higher amounts will fall to the west and southwest. 4 to 8 cm of snow is likely through Parkland and southwestern Manitoba, extending into the southwestern Red River Valley. The snow will ease to a few flurries overnight as temperatures dip to a low near -6°C.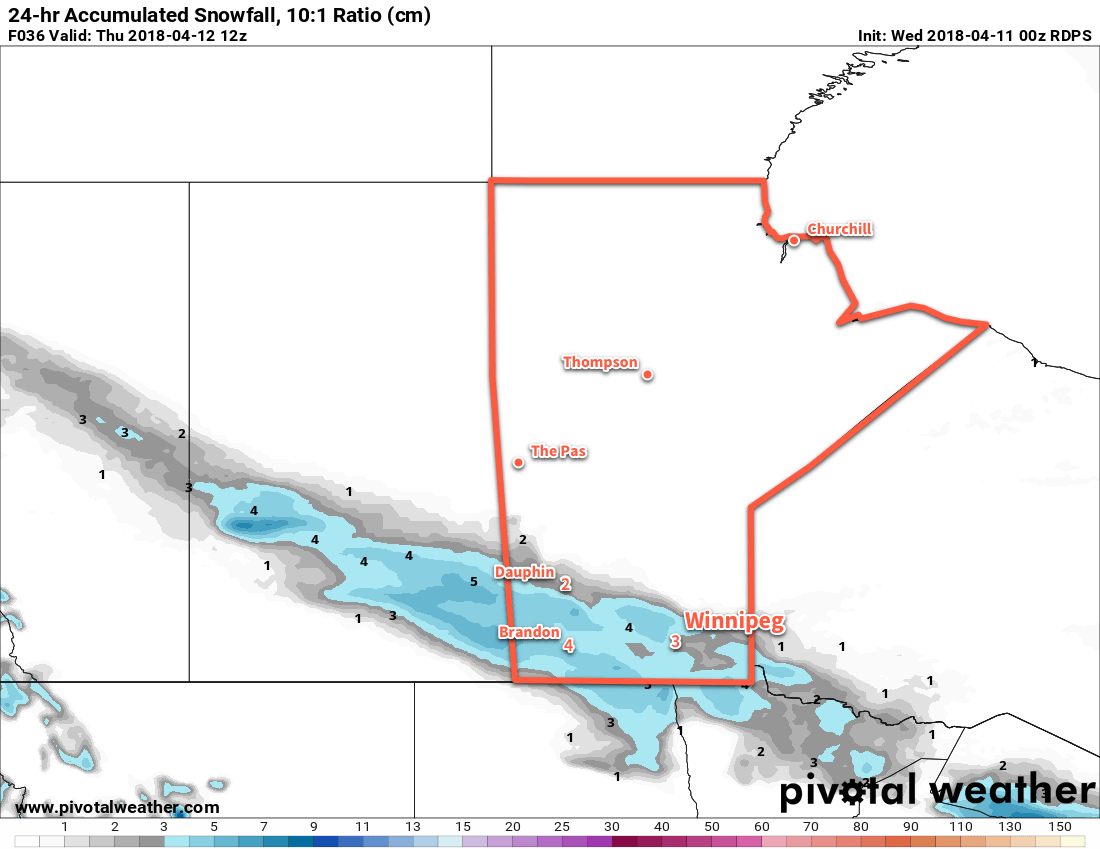 Any remaining flurries will taper off on Thursday morning as skies gradually clear. Temperatures will be similar to Wednesday with a high near +1°C, but northerly winds of 15 to 25 km/h will be more prominent in the afternoon. While Winnipeg will have more sun than cloud by the afternoon, the southern Red River Valley will likely have to wait until evening to see the cloud cover move out. Winds remain out of the north at 10 to 20 km/h on Thursday night as temperatures dip to a low near -11°C.
Friday will bring mainly sunny skies to Winnipeg as a ridge of high pressure builds in from the north. Winds will continue out of the north at 20 to 30 km/h. Temperatures will continue to be cool with a high near +1°C. Winds will ease on Friday night as temperatures dip to a low near -12°C.2
Long Range Outlook
The weekend is actually looking quite pleasant with plenty of sunshine and daytime highs climbing back into the mid-single digits.3 Winds look to remain light out of the east.
The next chance for precipitation looks to come mid-week with increasing cloud as a Colorado Low develops over the Northern Plains. On the bright side, it looks like a gradual trend towards seasonal temperatures through the course of the week!
Winnipeg's seasonal daytime high is currently 9°C while the seasonal overnight low is -3°C.
Amounts could end up a bit less due to snow melting on contact with the ground early in the event. ↩
With the incoming ridge of high pressure, it's possible that temperatures could reach even a few degrees colder if the conditions are right. ↩
It has to be noted, though that this is still well below seasonal normals. ↩