Calmer conditions will settle over the Red River Valley in the wake of last night's widespread thunderstorm activity. Winnipeg will see seasonal temperatures with increasing cloudiness through the weekend.
Winnipeg will begin the day with some cloud cover lingering from last night's thunderstorms, but a cold front sweeping through midday will usher in drier air and bring clearing into the Red River Valley. It will still be quite warm today, though, with Winnipeg's high expected to reach 28°C. Winds will also be light, expected to remain out of the west-southwest at 10 to 20 km/h. All in all a pleasant afternoon to follow the rather active evening across the Red River Valley last night.
Skies should remain partly cloudy to mixed tonight with a low near 15°C in Winnipeg.
Saturday will bring more cloud back to southern Manitoba as it streams into the region from the northern United States. Despite that, it will still be a fairly nice day in Winnipeg. A seasonal high near 24°C with light north winds will make for comfortable conditions to be outside. Skies will remain mixed to mostly cloudy on Saturday night with a low near 14°C.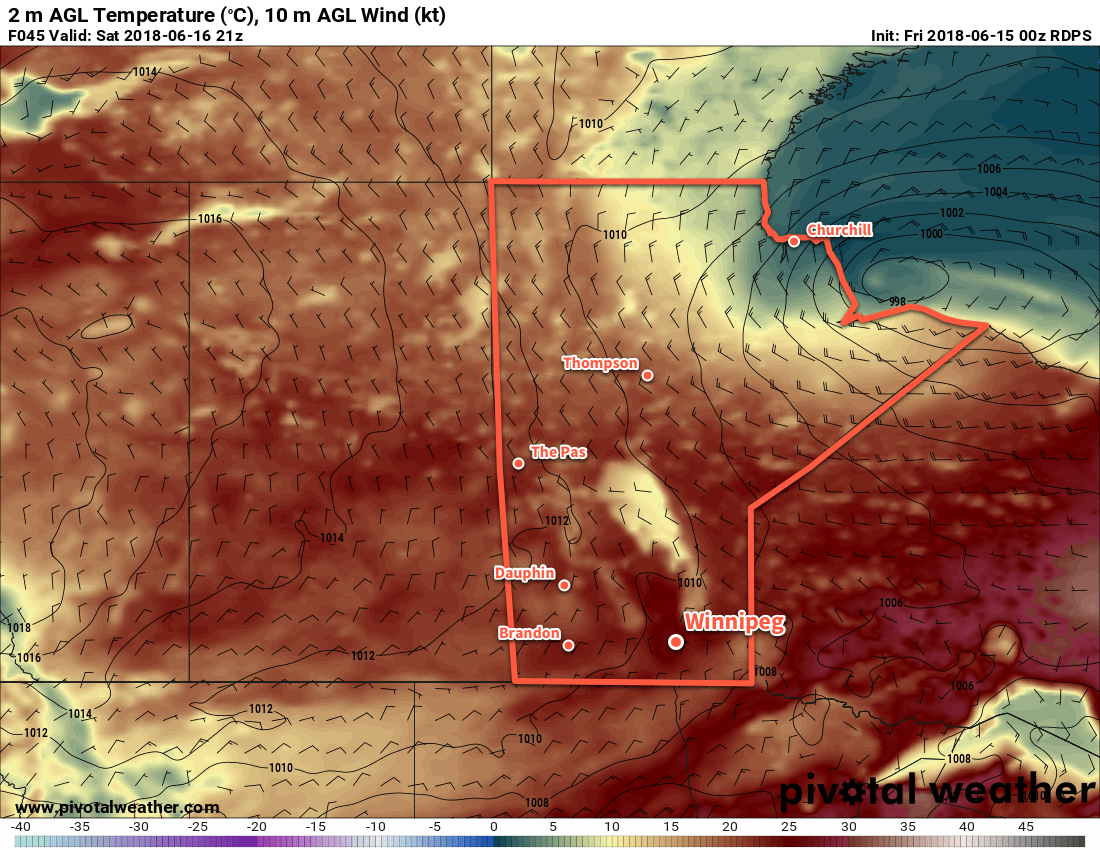 A ridge of high pressure pushing towards the province on Sunday will keep the weather fairly quiet with another day of seasonal highs and light north winds. Skies will be mostly cloudy as the region continues to see cloud cover spread northeast from the United States.
Throughout the weekend, there will be a slow-moving weather system moving through the northern United States. At this point it looks like all the rain associated with them should remain south of the border, held back by the ridge of high pressure over the southern Prairies.
Long Range Outlook
Next week looks fantastic for those who love summer! Skies should clear for Monday, bringing plenty fo sunshine back to the region. An upper-level ridge is forecast to build into the Prairies through the week, bringing plenty of sunshine and temperatures that climb back into the upper 20s or low 30s.
The upper ridge should also keep things dry throughout the week.
Winnipeg's seasonal daytime high is currently 24°C while the seasonal overnight low is 11°C.