The battle between Arctic and Pacific air will continue over southern Manitoba this week, bringing more cool and cloudy weather.
With a series of Arctic high pressure systems moving through southern Manitoba and a persistent west-southwest flow aloft, Winnipeg will continue to see below-seasonal temperatures and plenty of cloud cover.
Today Winnipeg will see temperatures reach a high near 8 or 9°C with a southeasterly wind near 20 km/h. Skies will remain mostly cloudy, but the day should stay dry. The city may see a light rain shower or two overnight as temperatures head to a low near +4°C.
Tuesday will bring another day of cloudy skies to Winnipeg. A warm front lifting northwards into the region will bring warmer temperatures than much of the last week with a high near 11°C. An area of rain will move across the province north of the front, likely remaining north of Winnipeg as it tracks across the Parkland and Interlake. Keep an eye on this one, though; if the warm front ends up a tad further south, it could end up being a rainy day for Winnipeg.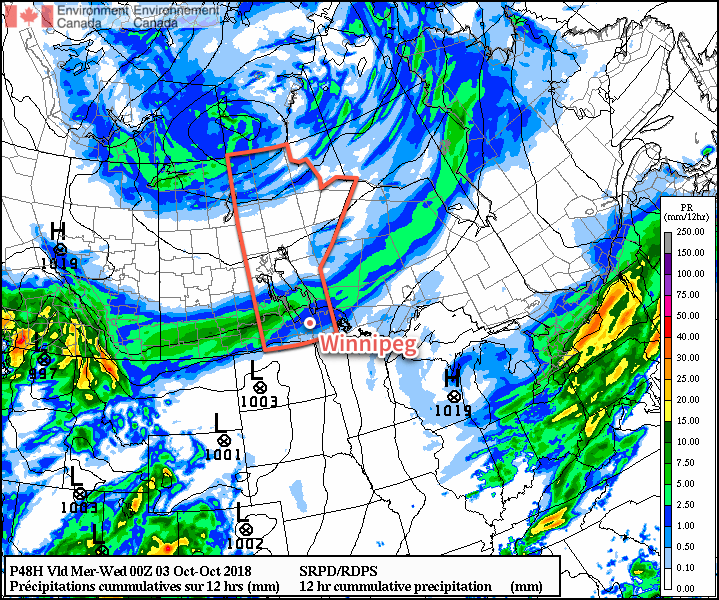 Temperatures will dip to a mild low near 8°C on Tuesday night. The chance for rain will steadily increase overnight as a low pressure system strengthens over South Dakota.
Wednesday will bring period of rain to the region as the South Dakota low lifts northwards towards Lake of the Woods. The Red River Valley will likely see 5 to 15 mm of rain through the day. Most notable will be the winds that develop behind a cold front that will sweep through in the afternoon. Behind the front, northwesterly winds up to 40 gusting 60 km/h will usher Arctic air back into the region. The rain will taper off in the evening, but a chance of snow will persist overnight as a lake-effect snow band likely develops off of Lake Manitoba. Temperatures will dip to a low near -2°C by Thursday morning.
Long Range Outlook
Absolutely no improvement is in sight in the long-range outlook. Winnipeg will likely see sunshine on Thursday with a cool high near 5°C, but then the cloud moves back in and will likely remain in place all the way through much of the weekend. More rain is possible on Friday followed by the potential for rain or snow to start next week.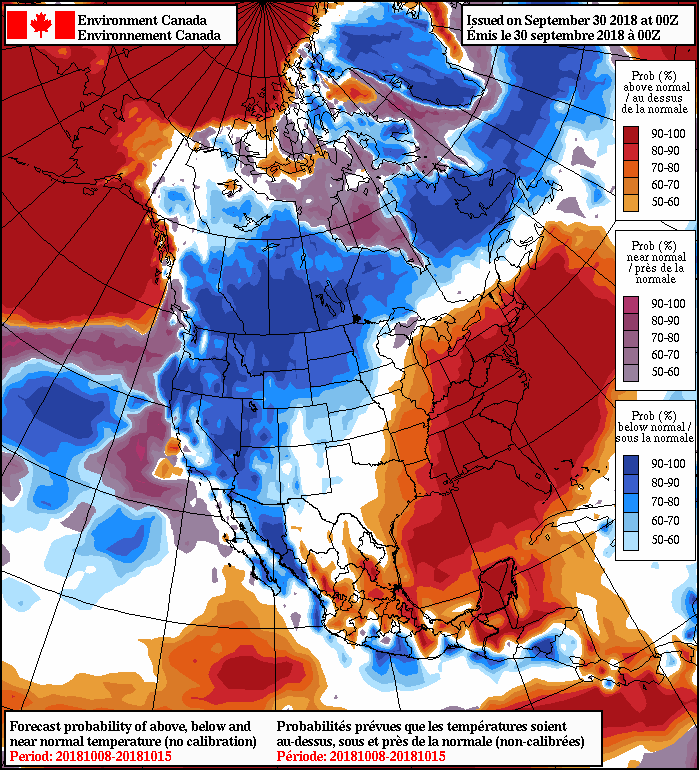 It looks like October will be kicking off in much the same way September ended: with remarkably cool weather running several weeks ahead of schedule.
Winnipeg's seasonal daytime high is currently 15°C while the seasonal overnight low is +3°C.