It's more of the same for Winnipeg as temperatures remain below seasonal under mostly cloudy skies.
Winnipeg will see cool, cloudy conditions over the next few days as the city remains caught between a large Arctic ridge to the northwest and a developing Colorado Low to the south. Today Winnipeg will see a high near 6°C under mostly cloudy skies. There's a slight chance of drizzle or light rain over Winnipeg and the Red River Valley, particularly this morning and then later in the day.
Winds will be light out of the north at 10 to 20 km/h. Temperatures will head to a low near +2°C tonight. Tomorrow will bring more cloud to the region and a high near 5°C. Winds will begin picking up, though, out of the north to around 30 km/h. Skies remain cloudy Tuesday night as temperatures head to a low near 0°C.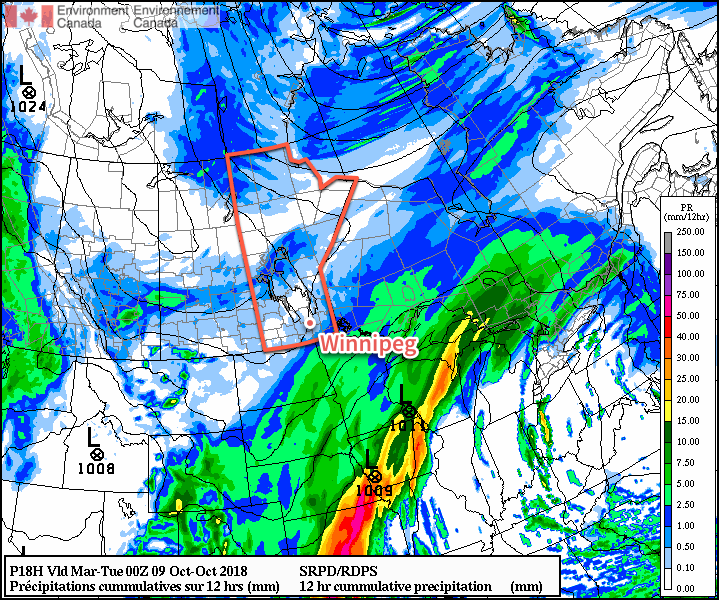 Wednesday will bring the chance for rain or snow back to the region as an inverted trough extending from a Colorado Low over Wisconsin pushes into the region. There's a lot of uncertainty associated with this right now due to a variety of unknowns. Perhaps on of the biggest contributors of uncertainty is an Arctic high parked over northern Manitoba as the system approaches.
The northerly winds in place over the southern half of the province will be tapping into the very dry air from the high over the northern half. This dry air will slide underneath the precipitation as it tries to push northwards out of the Dakotas. Exactly how significantly this dry air will impact the precipitation as it tries to push northwards is unknown; often it can reduce or eliminate the precipitation by evaporating it before it reaches the ground. That said, if there is enough support, Winnipeg may see some snow or rain on Wednesday at some point.
With a northerly breeze at 20 to 30 km/h tapping into that Arctic high, temperatures will be cool. Winnipeg will see a high near +2°C and a low overnight near -3°C.
Long Range Outlook
Winnipeg may see some sun in the second half of the work week, but cool temperatures will remain. The chance for rain or snow will return on Saturday, but by the start of next week, a large-scale pattern change begins! Temperatures are forecast to gradually increase back into the upper single digits by the middle of next week. By next weekend, Winnipeg may actually see a return to seasonal temperatures!
Winnipeg's seasonal daytime high is currently 13°C while the seasonal overnight low is +2°C.