It will be a cold start to the week in Winnipeg, but moderation is on the way with a return to seasonal temperatures mid-week.
Winnipeg will see variable cloudiness today as a ridge of high pressure builds into the province. This Arctic ridge will keep temperatures quite cool with a high of only -8°C. The wind will start the day out of the northwest at 20 to 30 km/h and gradually diminish as it turns westerly by evening. Expect another cold night with a low near -14°C under partly cloudy skies.
Winnipeg will see slightly milder temperatures on Tuesday as the ridge pushes past. With light winds, the city should manage to climb to a high temperature near -5°C; this is still well below-seasonal for this time of year, though. It will be another day of variable cloudiness, but an approaching warm front will thicken cloud up towards the evening hours and bring with it a slight chance for some flurries. Winds will increase out of the south to around 20 km/h by Wednesday morning.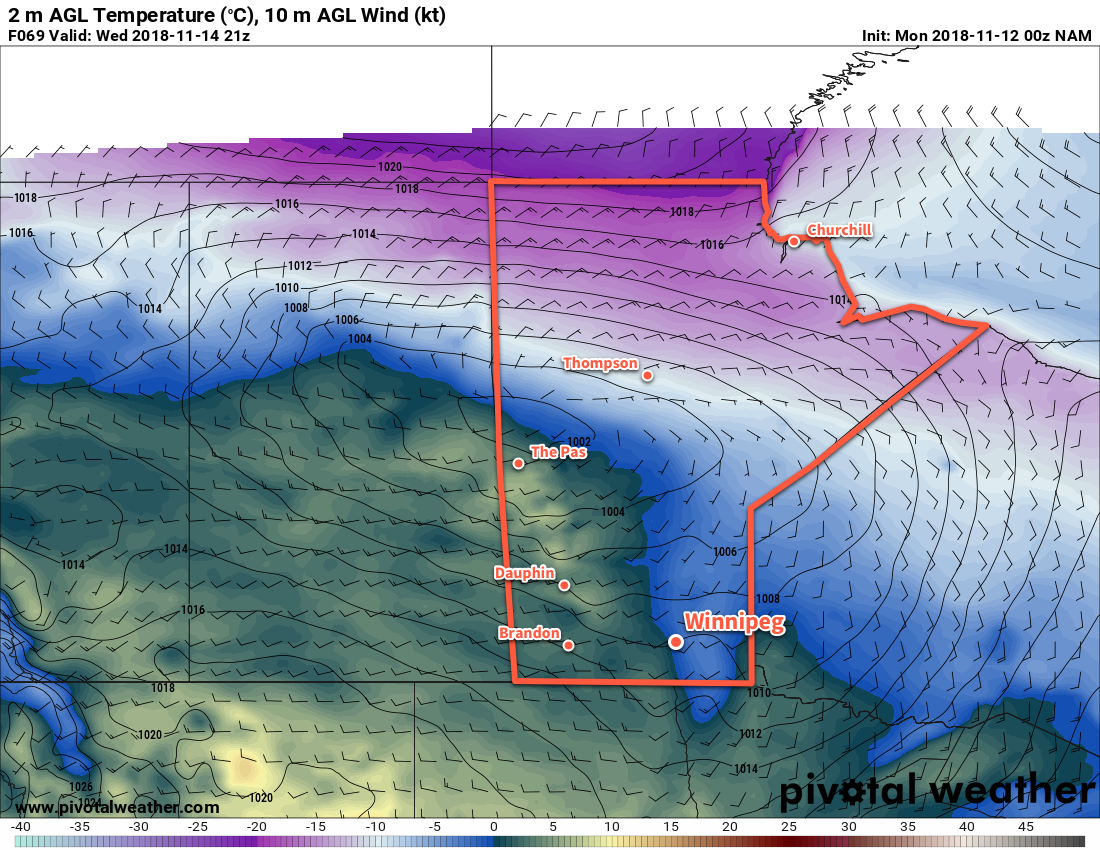 Temperatures will finally return to seasonal values on Wednesday courtesy the warm from that pushes through on Tuesday night. Winnipeg will climb to a high near +1°C under mostly cloudy skies while winds continue out of the south-southwest at 20 to 30 km/h. The winds will ease heading into the evening and Winnipeg will head to a low near -4°C with variable cloudiness overnight.
Long Range Outlook
Unfortunately, the warm weather won't be around for too long. A cold front will slump southwards through the province on Thursday, bringing more flurries and cloud cover with it. Temperatures will head back below seasonal for the weekend as a large Arctic high plows through the Prairies. Some moderation in temperatures is forecast by early next week.
Winnipeg's seasonal daytime high is currently -1°C while the seasonal overnight low is -9°C.