Winnipeg will continue to see unseasonably cold weather right through the weekend as Arctic air remains entrenched over Manitoba.
Some sunshine will reappear in Winnipeg today as the city sees a mix of sun and cloud. Any time clouds are around, they'll likely be producing some flurries. Temperatures will beis cool with a high near -7°C, held down by an approaching Arctic high. Temperatures will plunge to a low near -18°C – or perhaps even a bit colder – unless the city ends up manages to find itself underneath some cloud cover.
Slightly milder temperatures begin pushing into the province on Saturday ahead of a low pressure system moving across Saskatchewan. With increasing cloud cover, temperatures will climb to a high near -4°C in Winnipeg. Winds will pick up out of the south-southeast to 30 to 40 km/h by midday. Winnipeg shouldn't see any precipitation during the day, but light snow should move into the Red River Valley on Saturday evening from the west. Periods of light snow will persist Saturday night as temperatures fall to a low near -9°C. Those breezy southeasterly winds should taper off roughly coincident with the snow pushing into the Red River Valley.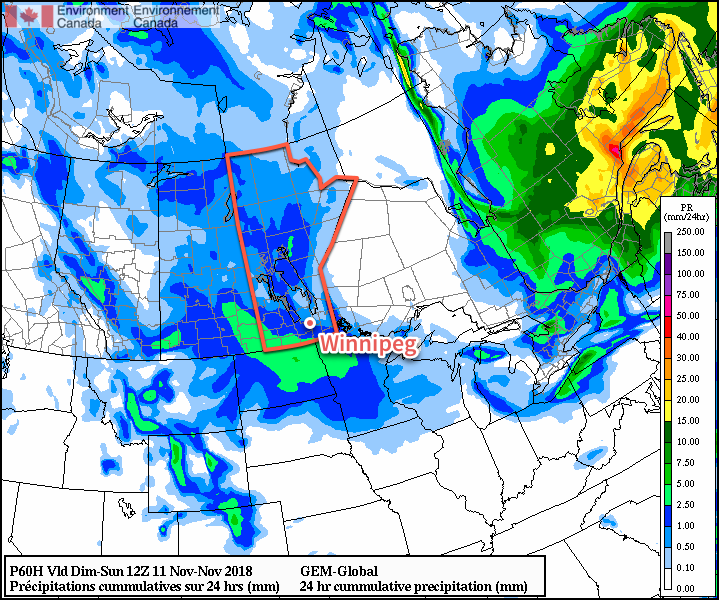 Sunday will bring plenty of cloud and breezy northwesterly winds to Winnipeg and the Red River Valley. Temperatures will once again climb to a high near -5°C. Snow squalls will redevelop off of the Manitoba Lakes as the broad area of light snow leaves the province. By Sunday evening, another 2 to 5 cm seems likely through the Red River Valley with higher amounts in areas affected by the squalls.
Skies will remain mostly cloudy on Sunday night with a chance of snow in Winnipeg depending exactly where the lake squalls set up. Temperatures will dip to a low near -12°C.
Long Range Outlook
The below-normal temperatures will continue right through next week with variable cloudiness. Winds don't look as favourable for squalls through a portion of the week, however some more snow looks possible sometime in the second half of the week.
Winnipeg's seasonal daytime high is currently +1°C while the seasonal overnight low is -7°C.