Below-seasonal temperatures continue in Winnipeg as a slow-moving Arctic ridge moves across the region. Milder temperatures are forecast to return mid-week, bringing cloud and, likely, widespread snow.
Today and tomorrow will be similar days in Winnipeg. Temperatures will remain below seasonal values with daytime highs a degree or two on the colder side of -10°C. Winds will remain out of the northwest around 20 km/h for both days. A mix of sun and cloud will develop today alongside a chance for some light flurries. Slightly more cloud will be in place on Tuesday, but flurries look less likely. Temperatures both nights will fall into the mid- to low minus teens.
On Wednesday, a low pressure system will work its way across southern Saskatchewan into North Dakota. As it progresses eastwards, it will support an area of snow along its northern flank, slowly spreading across southwestern Manitoba into the Red River Valley. Along with breezy east-southeasterly winds, milder temperatures will push into the region. Winnipeg should see a high temperature near -6°C.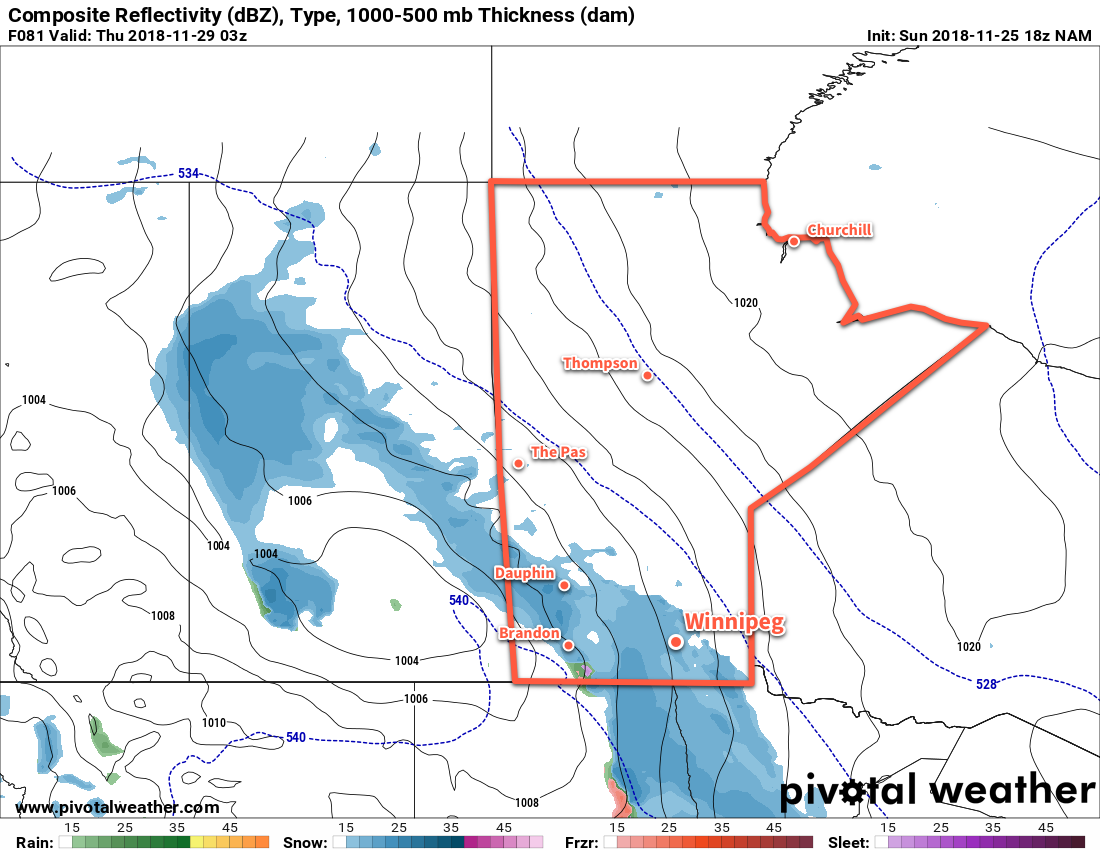 The one uncertainty associated with this system will be its track. Early indications are that it will produce a swath of 5 to 10 cm of snow across southwestern Manitoba with amounts diminishing quickly into the 2 to 4 cm range north of the Trans-Canada highway. If the low ends up taking a track just a bit further south, much of the snow could end up in North Dakota. We'll be keeping an eye on this system and have more details in Wednesday's forecast. At this point, it seems likely that the heaviest snow will remain southwest of Winnipeg with around 5 cm possible in the SW Red River Valley. Winnipeg itself may see a couple cm of new snow on Wednesday evening into the night.
Long Range Outlook
The remainder of the work week will continue to bring plenty of cloud alongside mild temperatures. Daytime highs should sit around -3°C both Thursday and Friday with overnight lows in the low minus single digits. Winds will also ease through Thursday and remain light on Friday. Near-seasonal temperatures will be in place for the weekend, and then a cold front slumps southwards on Sunday night. This will bring another chance for organized snow and the return of slightly below-seasonal temperatures.
Winnipeg's seasonal daytime high is currently -5°C while the seasonal overnight low is -14°C.