Winnipeg will endure the first major cold snap of 2019 as the Red River Valley remains entrenched under an Arctic high right into the weekend.
Get the long johns out and plug in the heaters, bitter Arctic cold has arrived in Winnipeg. Conditions over the next few days will be stagnant as an Arctic ridge remains entrenched over the region. Daytime highs will climb to around -20°C over the next couple days, but a surge of even colder air will cause Friday's high to dip towards the mid-minus twenties. Overnight lows will hover close to -30°C through the remainder of the work week.
Winnipeg will see plenty of sunshine over the next few days. The only exception will be a bit of cloud that will move through on Thursday morning, bringing with it a chance of flurries. Winds will remain light right through the remainder of the week, up to around 15 km/h.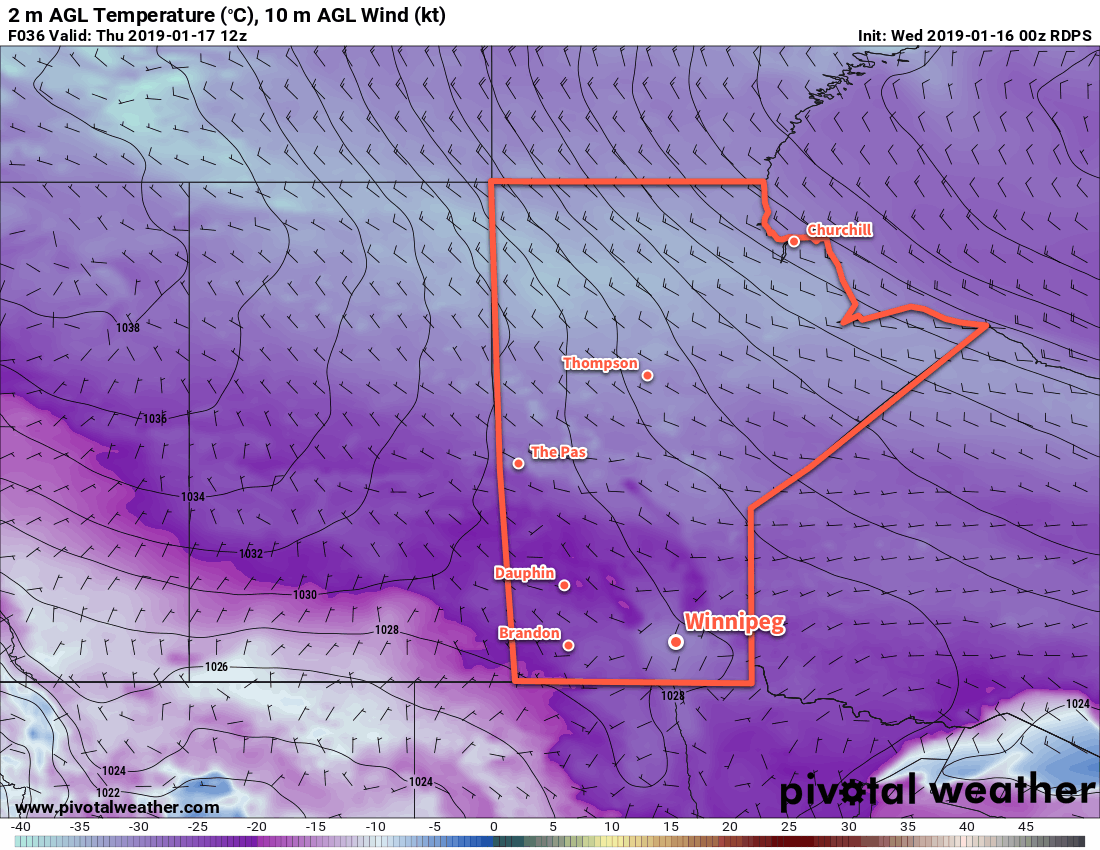 Wind chill values will generally dip into the -30 to -40 range over the next few nights, but the weak winds make extreme wind chills below -40 a bit uncertain. There is a potential for extreme cold warnings on Thursday and Friday nights.
Long Range Outlook
The cold weather continues this weekend with daytime highs in the mid-minus twenties on Saturday and near -20°C on Sunday. The city will continue to see a fair amount of sunshine. Looking into next week, forecasts show the polar vortex breaking down and shifting northwards. This would bring a return to near-seasonal conditions, however more cold outbreaks will be possible through the remainder of the month.
It's taken a while, but it seems like winter has finally arrived in full force. Bundle up, plug the car in, and keep warm!
Winnipeg's seasonal daytime high is currently -13°C while the seasonal overnight low is -24°C.