The first widespread rainfall of the season will move into southern Manitoba this weekend.
Winnipeg will wrap up the work week with another seasonably cool, mostly cloudy day. A weak Arctic ridge moving through in the region today will keep temperatures down. The daytime high should be around +4°C, but it might get a couple degrees warmer if more cloud cover burns off a bit earlier than expected this afternoon. The city should see some clearing this evening, but more cloud will begin moving back in overnight. Temperatures will dip to a low near -4°C.
Saturday will see a complicated system developing over the Northern Plains and eastern Prairies. A weak low pressure system will develop over central Alberta on Saturday while a stronger low develops over Nebraska. As the southern low strengthens, the Alberta system will weaken to a broad trough. A broad south-easterly flow will then develop from the warm sector of the southern low into the northern Prairies.
For Winnipeg, this will result in cloudy skies on Saturday seasonal high near 7°C. Northeasterly winds will be in place much of the day at around 20 km/h. On Saturday night, the surface trough will push into southern Manitoba, bringing a broad area of rain into the region. Winnipeg should see some rain begin overnight and persist into Sunday morning. Temperatures will dip to a low near +1°C with light winds.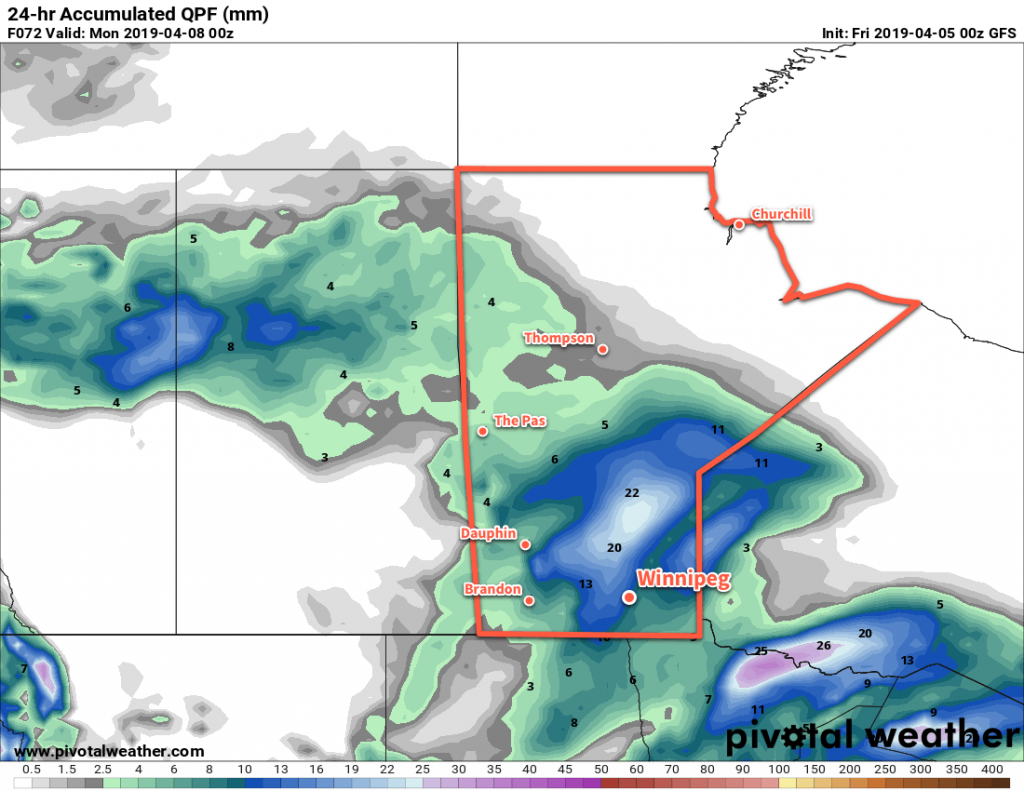 Rain will taper off sometime midday Sunday in Winnipeg. The city is forecast to receive around 10 mm of rain which looks like a reasonable value right now. Once the rain ends, cloudy skies will stick around for the rest of the day. Temperatures will remain seasonal with a high around 6°C. The chance for some rain showers will return Sunday night into Monday morning as temperatures dip to a low near +1°C.
Long Range Outlook
The city will continue to see mixed to mostly cloudy skies of much of the coming week, but temperatures will remain near to above-seasonal. No significant precipitation is forecast through the week.
Today's seasonal daytime high in Winnipeg is 7°C while the seasonal overnight low is -4°C.