After one more cool day, breezy southerly winds develop and usher seasonal temperatures back into the region.
A ridge of high pressure moving through southern Manitoba today will keep winds light and temperatures cool. In Winnipeg, the high will sit near 5°C. With so much moisture stuck in the region, skies should remain mostly cloudy through the day. A light southeasterly wind will develop tonight with temperatures dipping to a low near 0°C.
A warm front will move across Manitoba on Thursday, bringing breezy southerly winds. Warm air will push eastwards into the region as the wind increases into the 30 to 40 km/h range. Temperatures will climb to a high near 11°C in Winnipeg, continuing to rapidly melt the remaining snowpack. Winnipeg will see a bit of sun through the day as the clouds giving way to mixed skies. On Thursday night, the cloud cover will thicken back up with breezy winds continuing. This combination of cloud and wind will keep temperatures warmer with a low near 6°C in Winnipeg.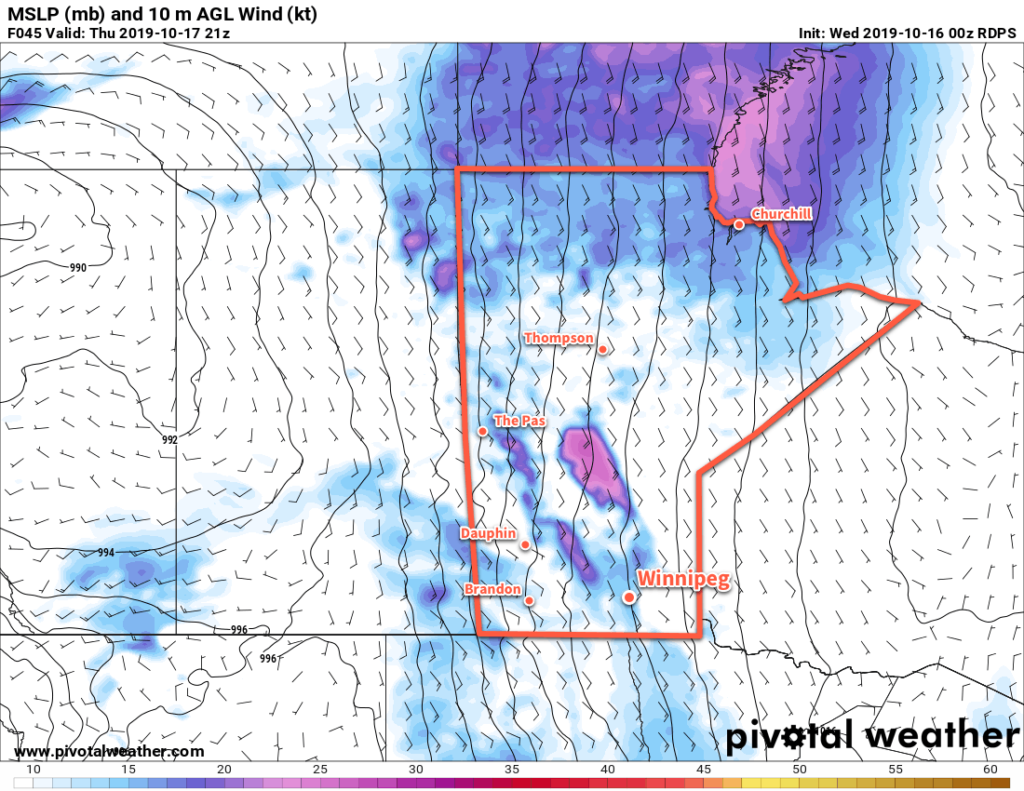 On Friday, a broad trough of low pressure will move across the region. With cloudy skies, temperatures will continue at near seasonal values. Winnipeg should see a high near 11°C again with the southerly winds gradually easing. No significant precipitation is expected, but some scattered light rain is possible. Skies will become mixed again on Saturday night as a westerly wind builds into the region behind a weak cold front. Temperatures will dip down to a low near 5°C.
Long Range Outlook
Seasonal conditions will continue into the weekend with highs in the low teens and overnight lows in the low to mid-single digits. The region should see some sun return for Saturday, but another disturbance moving into the region on Sunday will bring more cloud with a chance of light rain, particularly overnight into Monday.
Today's seasonal daytime high in Winnipeg is 10°C while the seasonal overnight low is 0°C.