More rain will move through the region today, followed by northwest winds and much cooler conditions.
Rain will move through the region today as a Colorado Low moves into NW Ontario. The rain will spread from southwest to northeast across the Red River Valley and have a sharp edge on the northwestern side. This will result in rainfall accumulations dropping from around 5 mm to nothing over a short distance. Winnipeg should see around 5 mm of rain, although the city could see a bit more if the band ends up shifting a bit west or east.
Generally speaking, the eastern Red River Valley into the southeast corner of the province will see 5 to 10 mm of rain. Narrow convective banding could result in localized accumulations of 10 to 20 mm. The western Red River Valley will see amounts generally around 5 to 10 mm in the southwest diminishing to nothing near Portage la Prairie.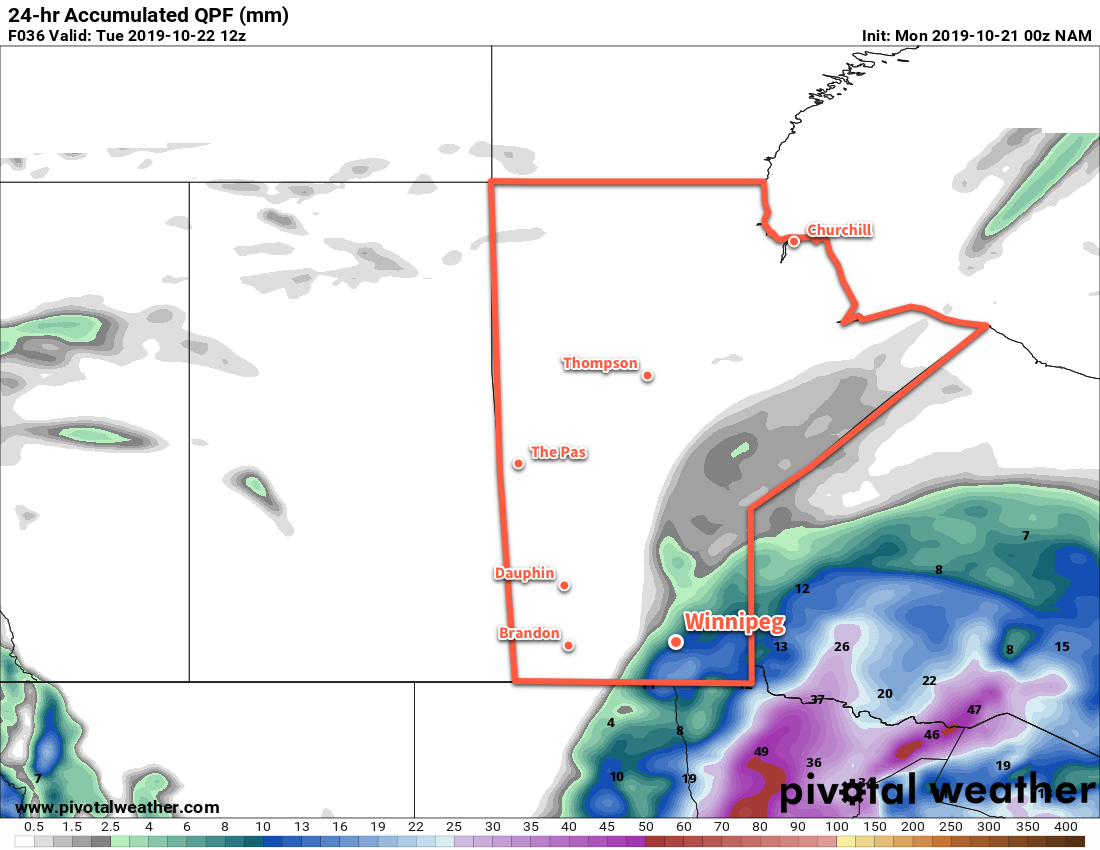 Aside from the rain, highs today will be a seasonably cool 7°C in Winnipeg. A brisk northwest wind will develop through the day, picking up to 30 gusting 50 km/h this afternoon. The wind will then increase to 40 gusting 60 km/h this evening. While the rain will taper off later today, the chance for showers (or eventually flurries) will persist overnight. Temperatures will dip to a low near +2°C.
Cloudy skies will continue in Winnipeg on Tuesday with a continued chance for some scattered showers or flurries. The moderate northwest winds will continue and temperatures will cool with a high of only 5°C. Skies will stay cloudy on Tuesday night with winds beginning to ease as temperatures head to a low near 0°C.
The sun might be able to poke out on Wednesday, but Winnipeg will likely continue to see mainly cloudy skies. The cold air will continue to push into the region, keeping highs cool at just +3°C. Winds, while lighter than Tuesday, should still persist out of the northwest at 20 to 30 km/h. The cloud cover will begin to break up a bit on Wednesday night as the winds finally ease. Winnipeg will see a low near -3°C on Wednesday night.
Long Range Outlook
The rest of the week should bring mixed skies to the city and dry conditions. The cool weather will persist on Thursday, but seasonal temperatures may return (alongside some cloud) for the end of the work week into the weekend.
Today's seasonal daytime high in Winnipeg is 8°C while the seasonal overnight low is -2°C.