Winnipeg's cool weather will stay for a couple more days, then warmer weather arrives for the end of the week.
A couple cool days are coming up for Winnipeg as an Arctic air mass remains entrenched over the region. The city will see a high of only 3°C today as northwest winds of 30 gusting 50 km/h continue. Skies will stay cloudy for much of the day as a combination of system1 and lake-effect cloud moves through.
As the day progresses and cooler air aloft pushes into the area, both Lake Winnipeg and Manitoba will likely begin to produce some lake-effect snow. Winnipeg may see some of this snow or rain in the morning. By the afternoon, the precipitation will mainly fall in the lee of the lakes. With a northwest wind, this will likely mean that Winnipeg will end up between a band of snow or rain showers to the west and to the east.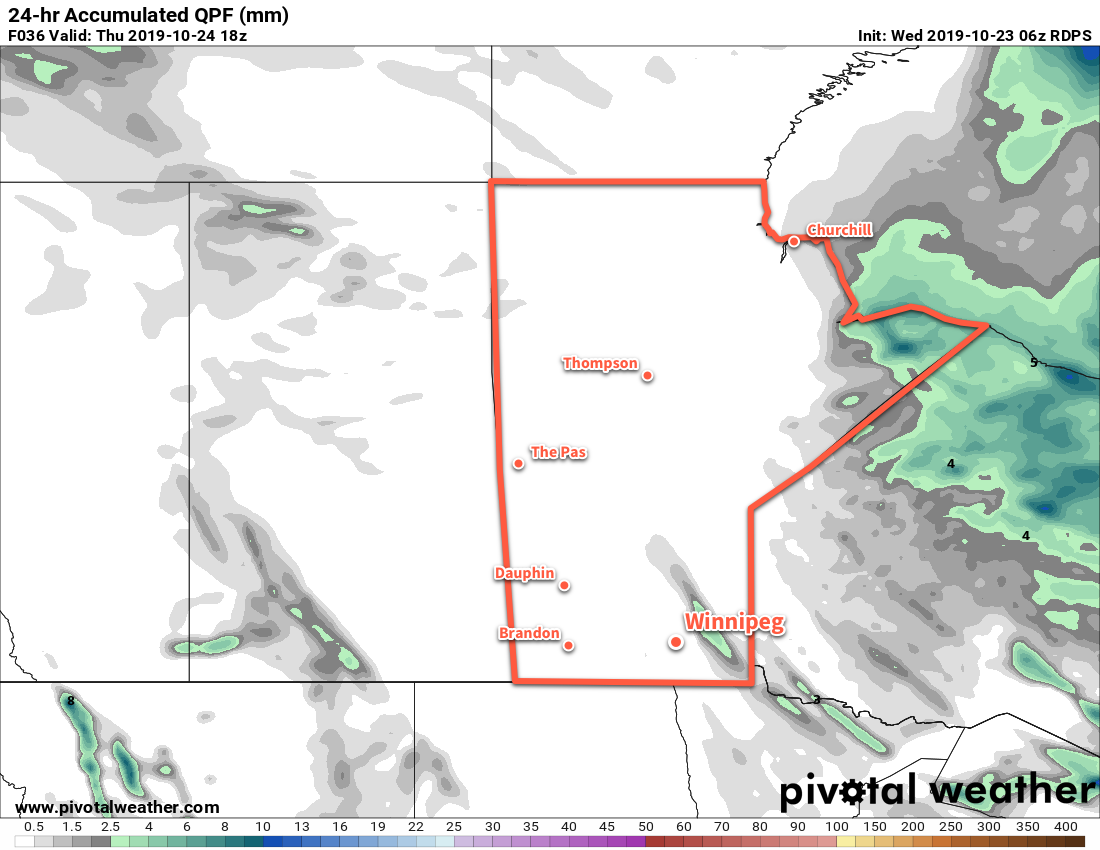 The lake-effect precipitation will taper off overnight as the winds ease and turn westerly. The city will see a low near -2°C as the cloud cover begins breaking up.
Thursday will be a cool day with a high of just +4°C. A ridge of high pressure moving through will keep the winds light, but skies will remain partly cloudy to mixed. A warm front pushing eastwards across the Prairies will spread a southerly wind into the Red River Valley on Thursday night along with a bit of cloud. Winnipeg's low will sit somewhere around the freezing mark.
A return to seasonal warmth arrives on Friday as temperatures climb to a high near 10°C. The region will likely see a fair amount of cloud as the warmer air pushes as well as a strengthening southerly wind into the 30 to 40 km/h range. These breezy winds will persist through the night, keeping the low relatively mild at around 6°C.
Long Range Outlook
Seasonal warmth will stick around for Saturday, but a passing low will send a cold front sweeping through the region on Saturday night. While the Red River Valley won't see much precipitation, it will plunge the region into an extended stretch of below-seasonal temperatures. There isn't much rain or snow in the extended forecast, but with the cooler temperatures it's likely that lake-effect flurries will be relatively common in the coming week.
Today's seasonal daytime high in Winnipeg is 7°C while the seasonal overnight low is -3°C.
"System" cloud is the cloud associated with a low pressure system. ↩