Southern Manitoba will see snow today and northwest winds that usher in cooler temperatures for Thursday. The dip in temperatures will be short-lived, though, returning to seasonably mild values on Friday.
A disturbance tracking along the international border will spread light snow across southern Manitoba this morning. The snow will taper off to flurries through the afternoon, leaving behind 2 to 4 cm in Winnipeg and 5 to 10 cm closer to the U.S. border into southwest Manitoba. Temperatures will hover near the -3°C mark through the day with northerly winds of 20 to 30 km/h.
The winds will persist overnight out of the northwest ahead of an Arctic ridge moving through Saskatchewan. Temperatures will dip to a low near -11°C with some of the cloud cover breaking up overnight.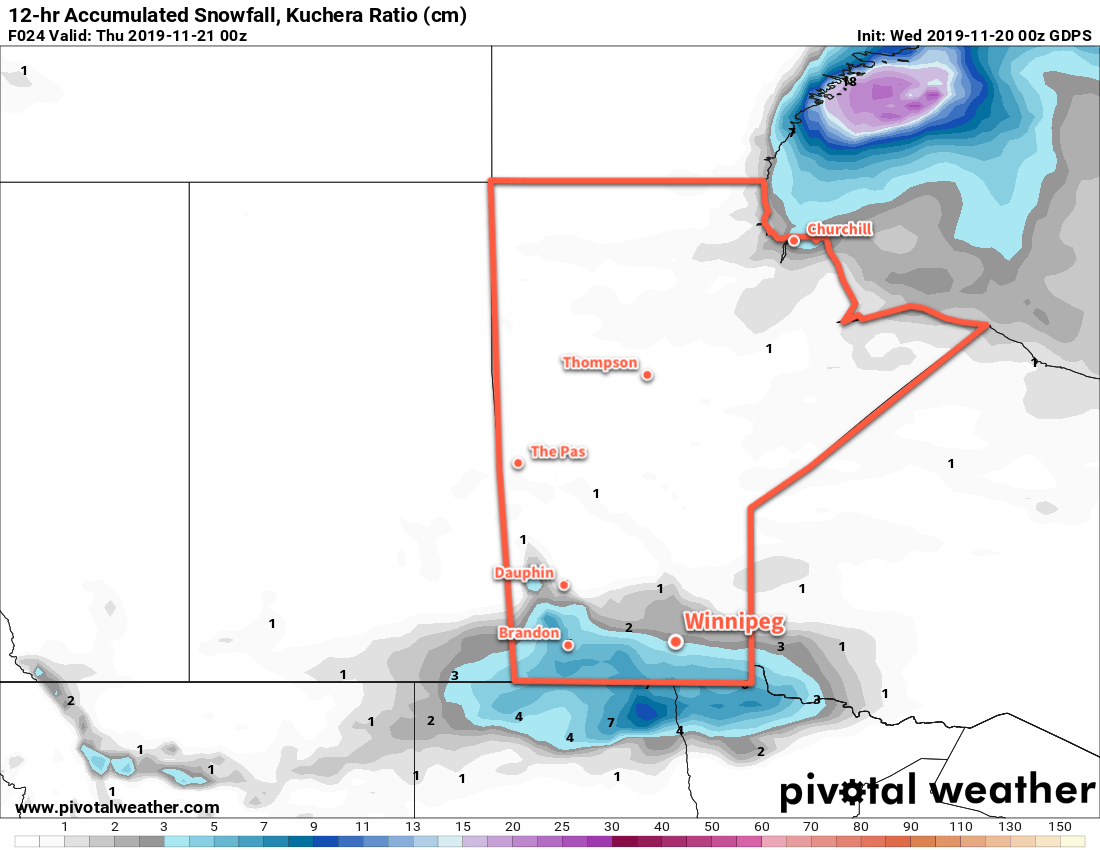 Thursday will bring mixed skies to the region as the ridge gradually moves into the Red River Valley. Breezy northwest winds of 20 to 30 km/h will keep temperatures cool through the day; Winnipeg will see a high near -8°C. The wind will taper off for the evening, leaving the region with light winds and mostly clear skies for the night. Temperatures will dip to a low near -10°C on Thursday night.
A warm front pushing through early Friday will spread milder air back into the region. Southwesterly winds will pick up to around 30 km/h for the afternoon, sending temperatures to a high near 0°C. Skies will be partly cloudy through the day. Temperatures will dip to a low near -4°C on Friday night with winds easing a bit and shifting westerly.
Long Range Outlook
A [mostly] zonal flow aloft will keep temperatures mild with variable cloudiness right into next week. The main storm track will sit across the northern Prairies and keep things further south dry. The pattern will begin to break down next week as an upper low moves into the Prairies and begins spreading cooler air southwards.
Today's seasonal daytime high in Winnipeg is -3°C while the seasonal overnight low is -11°C.