Cloudy skies will stay entrenched over Winnipeg through the rest of the work week with on-and-off flurries. Organized snow will move through the city on Friday.
Winnipeg will see little change in the weather over the next two days. Over the next 48 hours, a weak ridge extending from an Arctic high over northern Manitoba will move across the Red River Valley. It will keep skies mainly cloudy with a persistent chance of flurries like those seen on Tuesday. Highs over the next couple days will climb to around -4 or -5°C with north winds of 20 to 30 km/h today diminishing to light for Thursday. A few breaks in the cloud look likely tonight, which will allow temperatures to dip to a low near -10°C. If those breaks don't materialize, then lows will be a bit warmer in the -6 to -8°C range. On Thursday night, a low pressure system moving into the Northern Plains of the U.S. will keep lows warmer, hovering around -5°C.
The aforementioned low will spread light snow across southern Manitoba on Friday. Temperatures will climb to a high of -2°C with a breezy easterly wind near 20 km/h. Winnipeg will likely see 2 to 5 cm of snow by Friday evening. Temperatures will hover near -3°C on Friday night with a chance of flurries.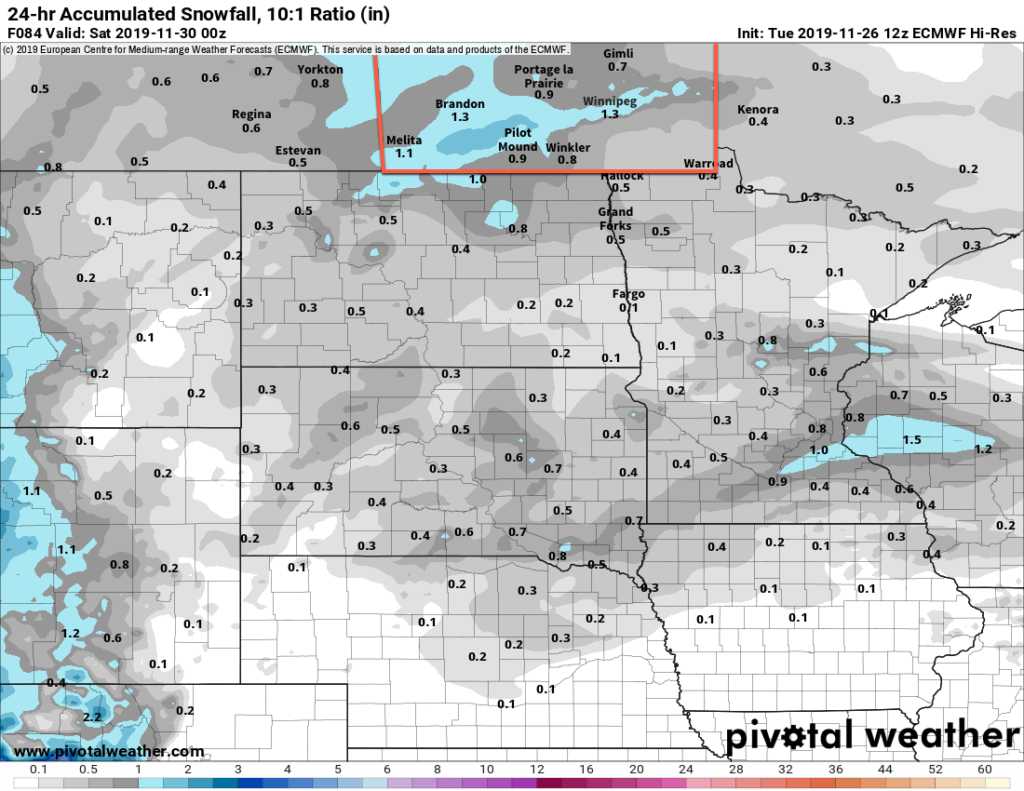 Long Range Outlook
Saturday will bring more cloud with a brisk northeasterly wind near 30 km/h. Temperatures will stay seasonably mild with a high near -1°C. Cooler air will push in for Sunday, bringing a return to near-seasonal temperatures and, perhaps, a bit of sunshine.
Today's seasonal daytime high in Winnipeg is -6°C while the seasonal overnight low is -14°C.