Winnipeg will get one more seasonably mild day before a cold front brings cooler temperatures back to the region.
Mild temperatures will stick around for one more day in Winnipeg with the city seeing variable cloudiness and light westerlies. A cloudy morning will give way to mixed skies with a high near -1°C. A cold front pushing into the region this evening will bring more clouds and a chance of flurries. Winds will shift to the northwest behind the front overnight as temperatures dip to a low near -9°C.
Thursday will bring north-northwest winds of 30 gusting 50 km/h to Winnipeg as an Arctic ridge builds in from the northern Prairies. This push of cooler air will keep temperatures steady through the day around -9°C. Skies will be cloudy through the morning and some clearing will gradually push towards the region through the afternoon.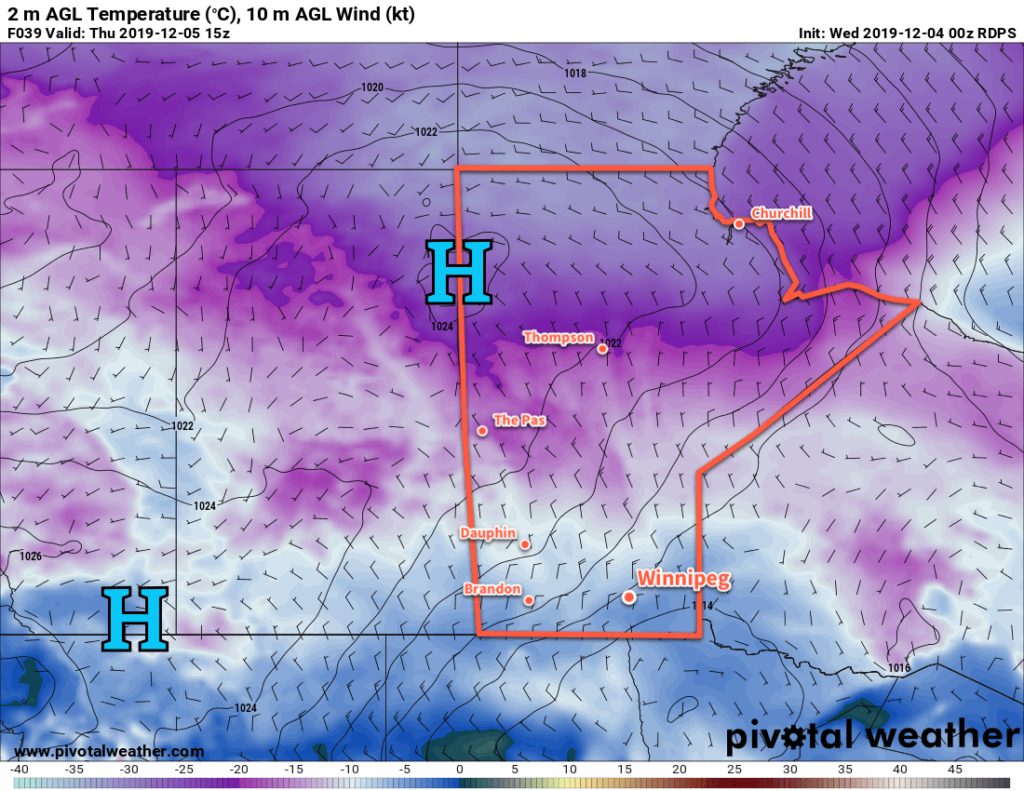 The city will see a chance of flurries through the day but little to no accumulation. Winnipeg will see mainly clear skies for a bit on Thursday night, allowing temperatures to drop to a low near -16°C. More cloud will push back into the Red River Valley overnight.
Winnipeg will again see mostly cloudy skies on Friday with a stiff southerly wind increasing into the 30 to 40 km/h range. The cloud and southerly wind coming out of the Arctic ridge will keep temperatures seasonal with a high near -7°C. Winds will ease on Friday night with temperatures dropping a degree or two.
Long Range Outlook
A more organized low pushing into the region on Saturday will bring warmer temperatures to the region with daytime highs climbing back to around -2°C. As it crosses on Saturday afternoon there will be a good chance for some snow, then a potent shot of cold air follows.
By Monday, daytime highs will dip into the -15 to -20°C range, with daytime highs of -20°C possible on Tuesday and Wednesday. Yikes! These cold temperatures will stick around at least until the end of the week.
Today's seasonal daytime high in Winnipeg is -7°C while the seasonal overnight low is -16°C.