Winnipeg will kick off the new decade with mild temperatures, cloudy skies, and a couple more chances of light snow.
A low pressure system will move through the province today, bringing mild temperatures and plenty of cloud cover. Temperatures will climb to a high near -2°C in Winnipeg today with even warmer highs of 0°C near the U.S. border. Snow will spread southeastwards through the Interlake into southeastern Manitoba today. The band of snow will pass north and east of Winnipeg, but flurries are possible this afternoon and evening. Further south, a second area of light snow will track near the American border, but mostly fall south of the border.
Northwest winds up to 20 km/h will develop tonight behind the low, as temperatures fall to around -10°C. Skies will stay mostly cloudy.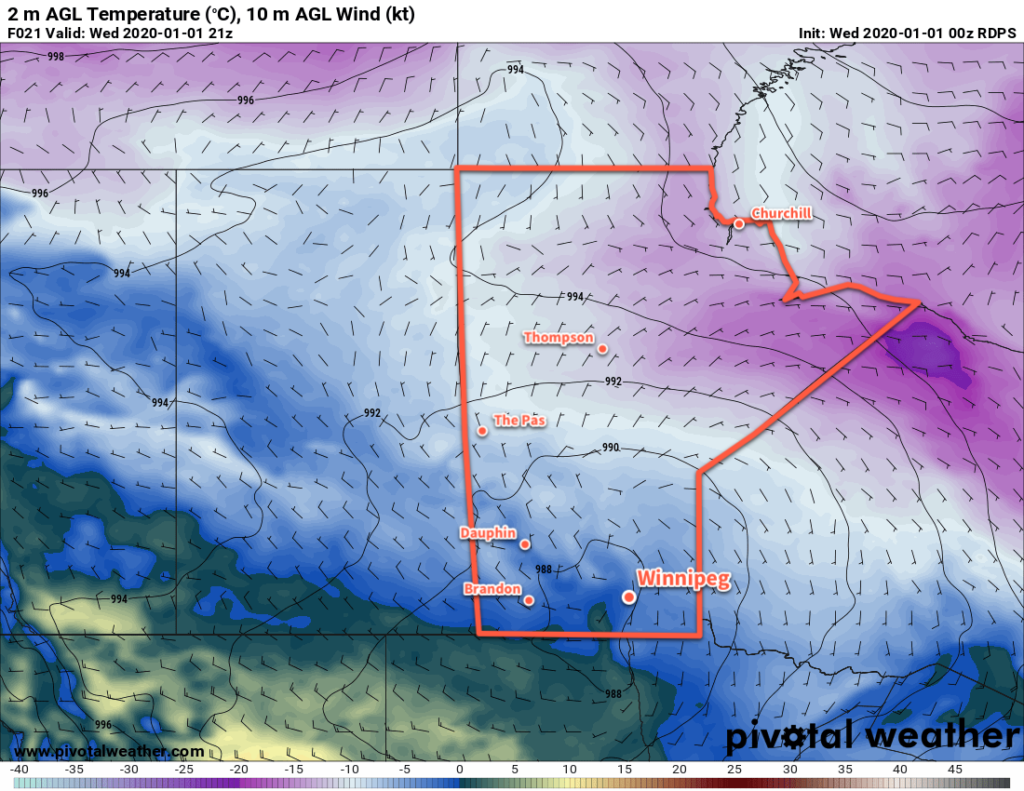 Thursday will bring pleasant weather to the region with a high near -7°C under mostly cloudy skies. The chance for flurries will continue through the morning into the afternoon. No notable features will over southern Manitoba, leaving the region with calm winds. Temperatures will dip to -11°C on Thursday night under mostly cloudy skies.
A more organized low will move from SE Saskatchewan into the Dakotas on Friday. As it does, a second low will move into central Manitoba from northern Saskatchewan. The southern low will support an area of snow that will extend some distance northwards along a trough connecting the two. How far north that snow is able to run up the trough is the unknown that will make the biggest difference on Friday. For now, there's nothing more to say other than that there's a chance of snow in Winnipeg, but the likelihood increases heading south towards the U.S. border.
Aside from the snow, it will be another seasonably warm day with a high near -6°C and light winds. Any snow that developed would likely be out of the region for the afternoon. Skies stay cloudy on Friday night with a low near -10°C.
Long Range Outlook
Another low pressure system will move through the province this weekend, likely bringing snow to many parts of the province. Behind this low, colder air will begin working its way into the region again. To start off next week, temperatures are forecast to return to seasonal values with variable cloudiness.
Today's seasonal daytime high in Winnipeg is -13°C while the seasonal overnight low is -23°C.