Winnipeg will see cloudy skies and warm temperatures for one more weekend before cooler temperatures return.
Winnipeg will see cloudy skies with a chance of flurries as another disturbance moves through the region today. Temperatures will be mild with a high near -2°C with light winds. A weak ridge of high pressure will cross the province tonight, keeping skies on the cloudier side and winds light. The city will dip to a low near -9°C.
The major weather maker for the weekend will move into the Prairies on Saturday. A rather strong low pressure system will begin pushing into central Saskatchewan on Saturday, bringing with it a strong push of mild Pacific air. Winnipeg will see more cloud on Saturday with increasing south-southeast winds to 30 gusting 50 km/h. Temperatures will climb to a high near -5°C, then continue to climb overnight to around -2°C. The winds will ease for a short period on Saturday night, then pick up out of the northwest to 40 gusting 60 km/h early Sunday morning as the low passes.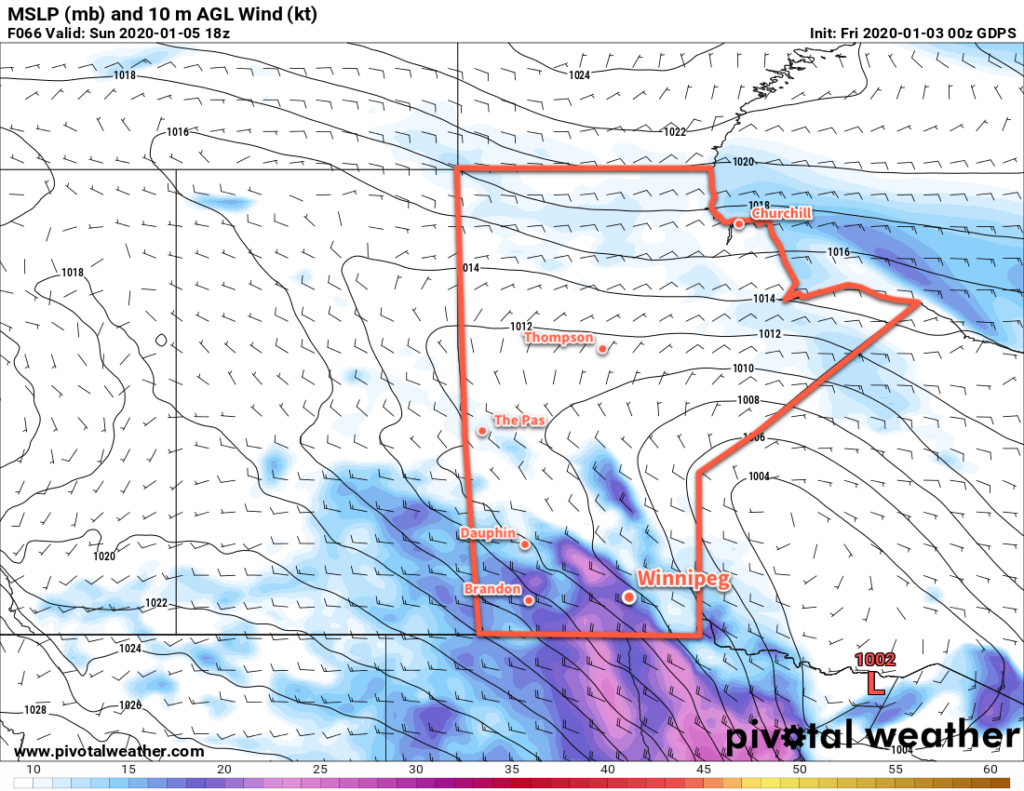 Sunday will be a windy day with winds gradually easing to 30 gusting 50 km/h as temperatures stay steady near -3°C. There will be a chance for a few flurries as the clouds finally begin pushing off to the east. The departure of the low will usher in a significant pattern change for our weather, bringing an end to the persistent seasonably mild conditions that have been in place for a while now. Temperatures will dip to a low near -12°C on Sunday night and continue to cool into next week.
Long Range Outlook
Winnipeg will likely see a fair amount of sunshine through the first half of next week, but daytime highs will slip from around -10°C into the mid-minus teens. A weak low is forecast to pass through mid-week, which will then usher in another push of colder air, sending highs even cooler towards -20°C for the end of the week. No significant snowfall is forecast.
Today's seasonal daytime high in Winnipeg is -13°C while the seasonal overnight low is -23°C.