Winnipeg will see bitter cold settle over the region for the next couple days, but milder temperatures will quickly move back into the region alongside snow on Friday.
Cold air will continue to build into Winnipeg today with highs climbing to a seasonably cold -19°C. Winnipeg and area will see mostly cloudy skies through the day with some light snow likely. By the evening, around 2 to 4 cm of snow will have fallen in Winnipeg with amounts climbing closer to 5 cm along the International border. Winds will pick up to around 20 km/h this morning and then diminish this evening. A potent Arctic high will continue to push into Manitoba from the west tonight, sending temperatures plummeting to a low near -30°C with clearing skies.
Thursday will be a cold day across the region as that Arctic high slides across the region. Temperatures will top out at just -23°C with light winds and sunny skies. Then on Thursday night, the next low pressure system will begin forming over the southern Prairies and Northern Plains. This system will develop as a low pressure centre crossing the Dakotas with a broad inverted trough extending northwards into southern Manitoba. As it approaches on Thursday night, winds will pick up out of the southeast to around 20 km/h. Cloud cover will spread into the region through the night with temperatures rising to around -17°C by Friday morning.
On Friday, milder temperatures will spread into the Red River Valley as the inverted trough slides through. Winnipeg will see a high near -8°C with a southeast wind continuing at 20 to 30 km/h. More snow will develop over the region on Friday afternoon and continue through the night.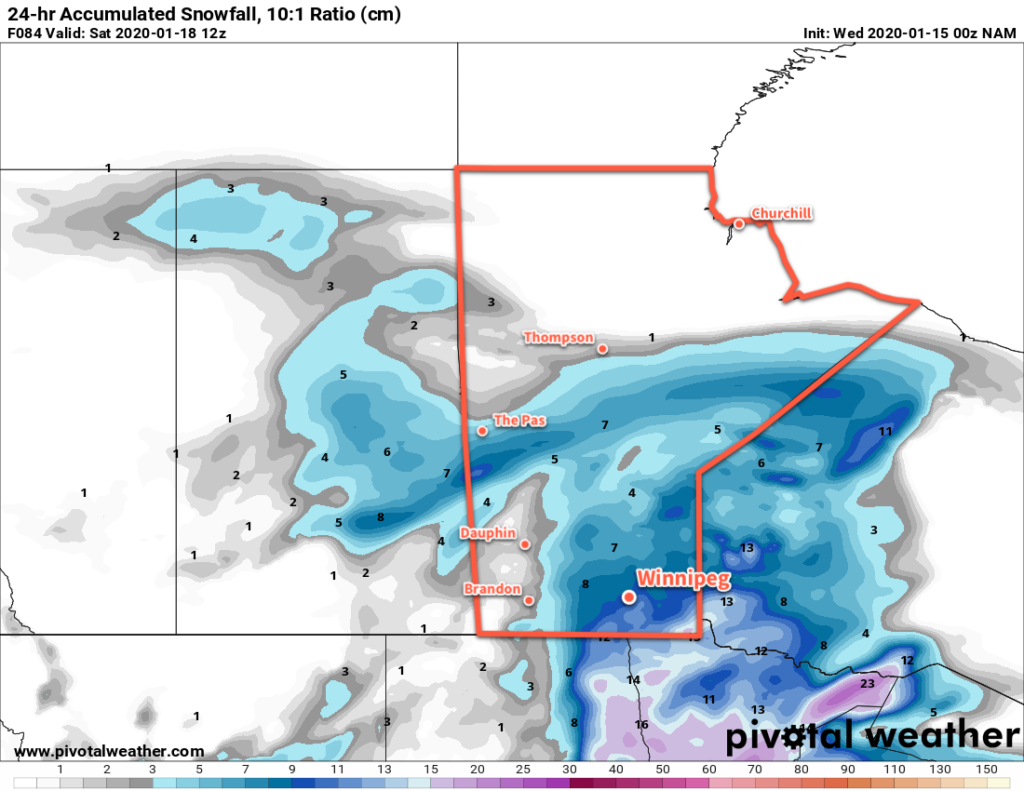 The wind will switch to the northwest on Friday night with temperatures dipping to a low near -17°C. Close to 10 cm of snow is possible in Winnipeg by Saturday morning from this system.
Long Range Outlook
The snow will taper off on Saturday with more seasonal temperatures returning to the region. Sunshine will return for Sunday and the start of next week as temperatures dip with highs dropping into the low minus teens. The cold will be short-lived, though, with near-seasonal temperatures expected to return mid-week.
Today's seasonal daytime high in Winnipeg is -13°C while the seasonal overnight low is -24°C.