A passing low will delay Winnipeg's upcoming cold snap for the weekend, but the coldest weather of the season arrives next week.
An approaching Arctic ridge will bring sunny skies and seasonably cool temperatures to the region today. Winnipeg will see a high near -18°C with westerly of 20 to 30 km/h will result in wind chills near approaching -30 for much of the day. The winds will drop off this evening followed by temperatures dropping to a low near -30°C.
Hot on the heels of the Arctic high, another low pressure system will begin crossing the Prairies on Saturday. This system will spread cloud into the Red River Valley through the day alongside southeasterly winds of 20 to 30 km/h. Temperatures will climb slightly higher than Friday to around -16°C, but that wind will still make it feel rather cool with a wind chill near -25. The winds will persist through the night near 20 km/h with temperatures hovering near -15°C.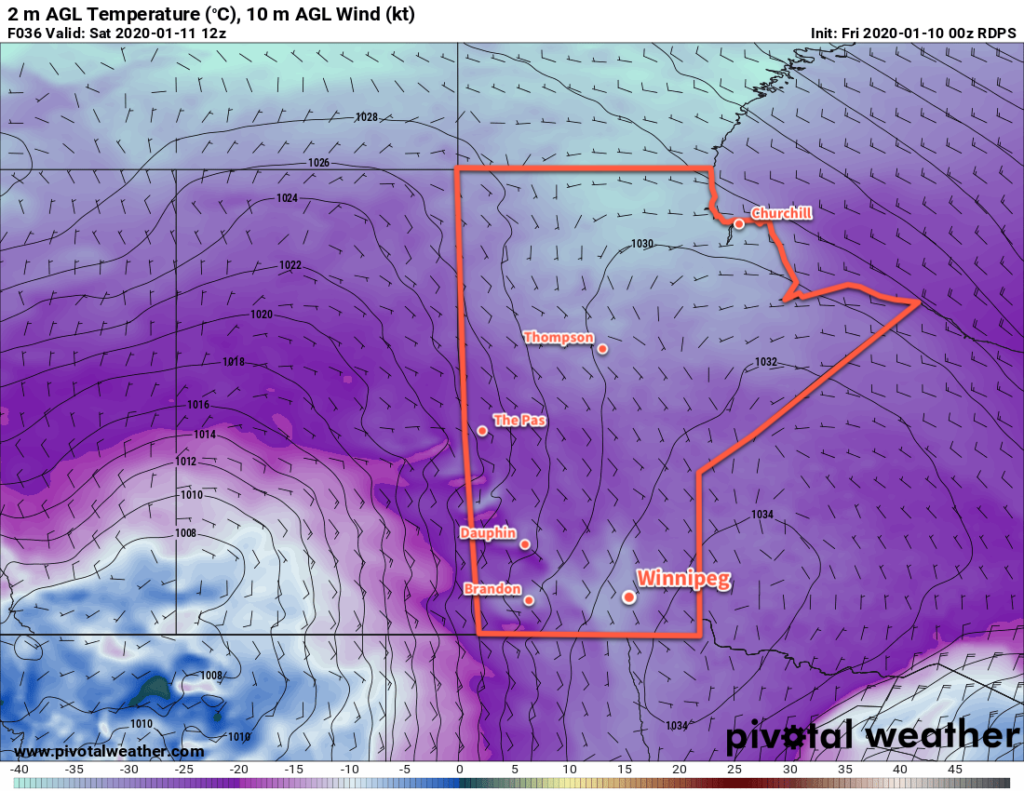 Skies will stay cloudy on Sunday with temperatures climbing to a high near -12°C as the southwesterly winds slowly taper off. There will be a chance of flurries through the day, but by the time this low is arriving here it will be increasingly cut off from any moisture sources and be in the process of snowing itself out. The winds will die off in the evening as temperatures head to a low near -15°C.
Long Range Outlook
The seasonably mild conditions will stick around for Monday as another disturbance rolls through the region, possibly bringing some light snow. After it passes on Monday night, a potent Arctic high will slide south along the Rocky Mountains with broad ridging extending eastwards across the Prairies.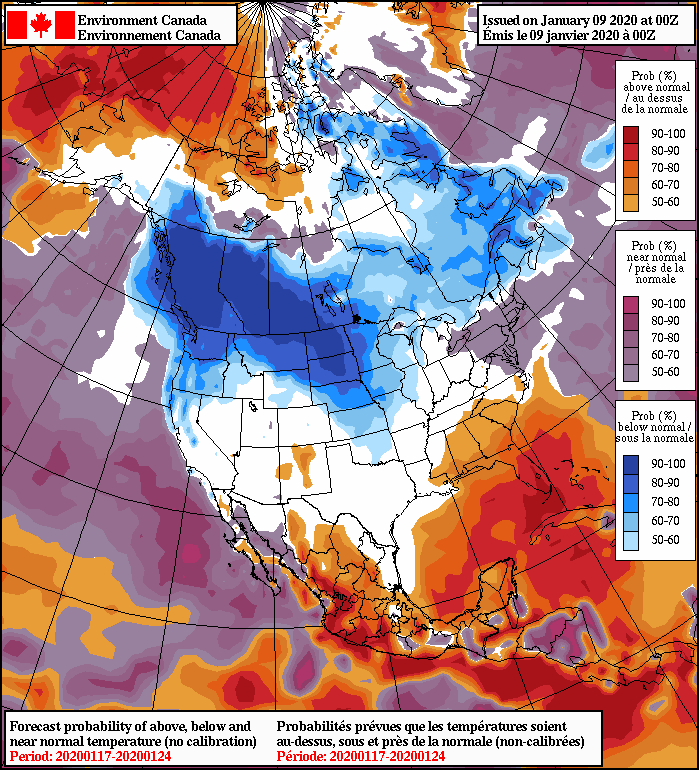 While Manitoba may avoid the coldest temperatures – they will be further west closer to the Rockies – it will still be a pronounced cold snap. Daytime highs will drop into the -20s (possibly even the low minus 20s) for much of the week. Some moderation looks possible with a low passing to the south on the weekend, but an even stronger push of cold air will likely move into the eastern Prairies after it passes. It'd be a good time to make sure your vehicle's block heater is working and that your long johns are ready to go! Stay warm out there.
Today's seasonal daytime high in Winnipeg is -13°C while the seasonal overnight low is -24°C.