Cooler temperatures return to start Winnipeg's week as an Arctic high moves through the Prairies. The cold will be short-lived, though, with milder temperatures expected to return mid-week.
Winnipeg will see partly cloudy skies with a seasonably cool high near -14°C today. The colder weather is moving into the region with an Arctic high that's building across the Prairies behind a low that moved through overnight. These cooler conditions will also be joined by a northwesterly wind of 20 to 30 km/h today. This will produce wind chill values in the -20 to -25 range through the day, so it'll feel noticeably chillier than just the temperature might make you believe.
Some cloud cover will move through tonight as temperatures drop to a low near -23°C with light winds. This will be the coldest night since the temperature dipped to -28.7°C on January 20th. There will be a chance of some light, non-accumulating flurries as the cloud moves through overnight.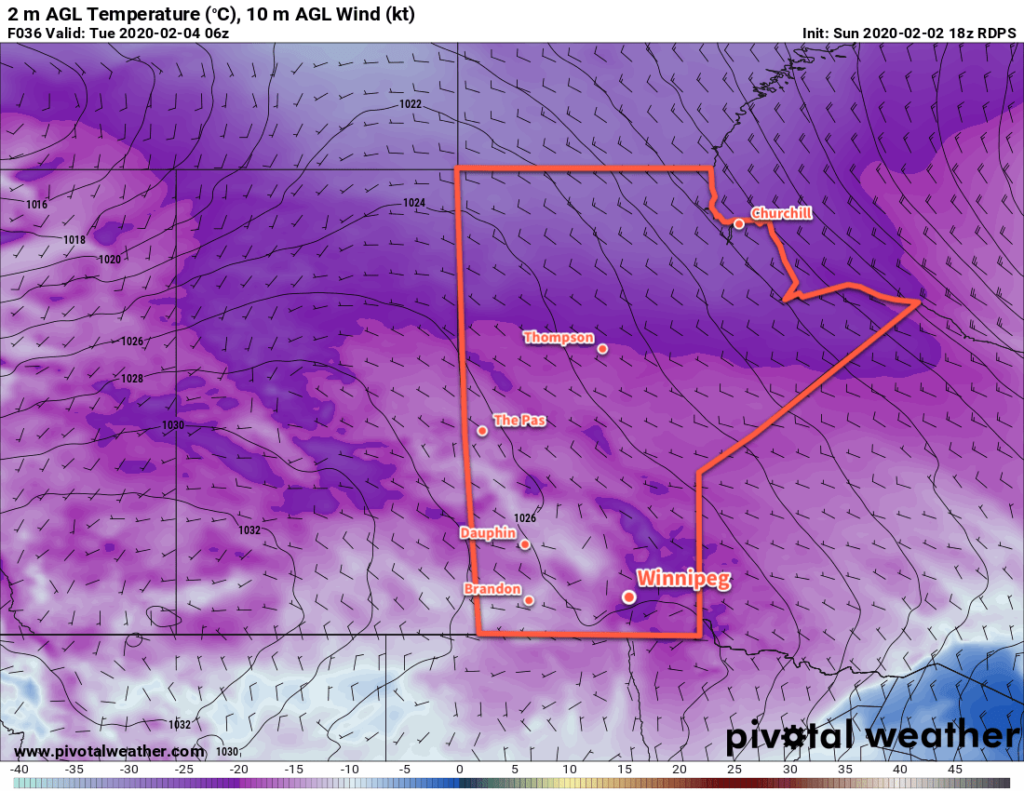 Tuesday will see the Arctic high dropping to our south with a ridge extending northwards through the province. This will keep temperatures cold with a high of just -16°C and – as soon as the overnight cloud clears out – plenty of sunshine. With the ridge over the region winds should stay light through the day out of the west-southwest.
A low pressure system will move across northern Manitoba on Tuesday night, spreading slightly warmer air across the southeastern Prairies. Winds will pick up out of the south overnight to 20 to 30 km/h as temperatures rise to around -12°C by morning.
Wednesday will bring increasing cloud to Winnipeg with a mild high near -6°C. The southerly winds will be quite noticeable to star the day at 30 gusting 50 km/h, but will ease heading into the afternoon. Skies will become increasingly cloudy through the day with a chance of light snow in the evening and overnight as a cold front pushes into the region. Temperatures will dip to a low near -10°C on Wednesday night with northerly winds of 10 to 20 km/h.
Long Range Outlook
It looks like seasonal conditions with variable cloudiness will stick around for the rest of the work week and the weekend. Temperatures will hover around seasonal values and other than the occasional chance of flurries, there is no notable snowfall in the next 5 to 7 days.
Today's seasonal daytime high in Winnipeg is -10°C while the seasonal overnight low is -21°C.