Winnipeg will see mild temperatures today give way to cooler temperatures and light snow as a cold front drifts southwards.
The city will enjoy a mild high near -6°C today as sunny skies slowly give way to increasing cloudiness in the afternoon. Winds won't be too much of an issue either with morning southerlies of 20 to 30 km/h easing off through the morning. Temperatures will begin to fall as the cold front moves into the region this evening and skies fully cloud up. Winnipeg will see a low near -15°C with some light snow beginning overnight.
Thursday will bring cloudy skies to the city with flurries as temperatures recover only a couple degrees to a high near -13°C. Winds will persist out of the north in the 20 to 30 km/h range through the day. The snow will taper off sometime midday into the afternoon as drier air pushes in. It won't pile up too much, but the city could see a couple centimetres by the time it ends. Heading into the evening, winds will ease as temperatures head to a low near -23°C.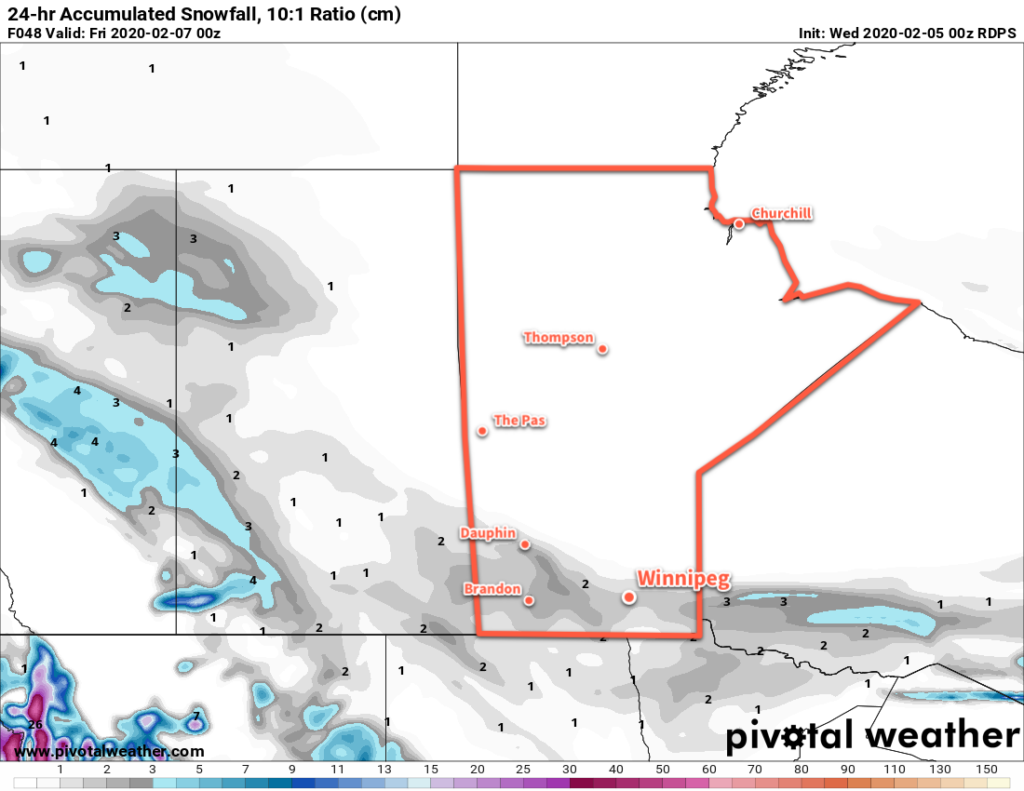 A ridge of high pressure will slump through the Red River Valley on Friday, bringing gradually clearing skies and cool temperatures. Winnipeg will see a seasonably cool high near -15°C and light winds. Temperatures will dip to a low near -20°C and then warm as some cloud moves in with an approaching warm front.
Long Range Outlook
Winnipeg will see variable cloudiness this weekend with a chance of flurries on Saturday. Temperatures will hover around seasonal values, then see a brief warm-up on Monday. The rest of next week looks to bring the chance of occasional flurries as temperatures gradually cool.
Today's seasonal daytime high in Winnipeg is -10°C while the seasonal overnight low is -21°C.