Temperatures will warm dramatically through the second half of the work week, reach near-freezing values on Friday.
Before the warm weather arrives, though, is one more cold day. Winnipeg will see a seasonably cool high of -17°C today as an Arctic ridge exits the region. Skies will be sunny and winds will be light out of the west. Warmer temperatures will begin working into the region tonight with southerly winds picking up into the 20 to 30 km/h range. Temperatures will dip to a low near -25°C.
Thursday will be a breezy day with south-southwest winds near 30 gusting 50 km/h. The wind will be even stronger near the western escarpment of the Red River Valley where downsloping winds will reach 40 gusting 60 km/h. Winnipeg may see a bit of cloud in the morning as some passes by mainly to the north of the city, but overall the city will see mainly sunny skies through the day.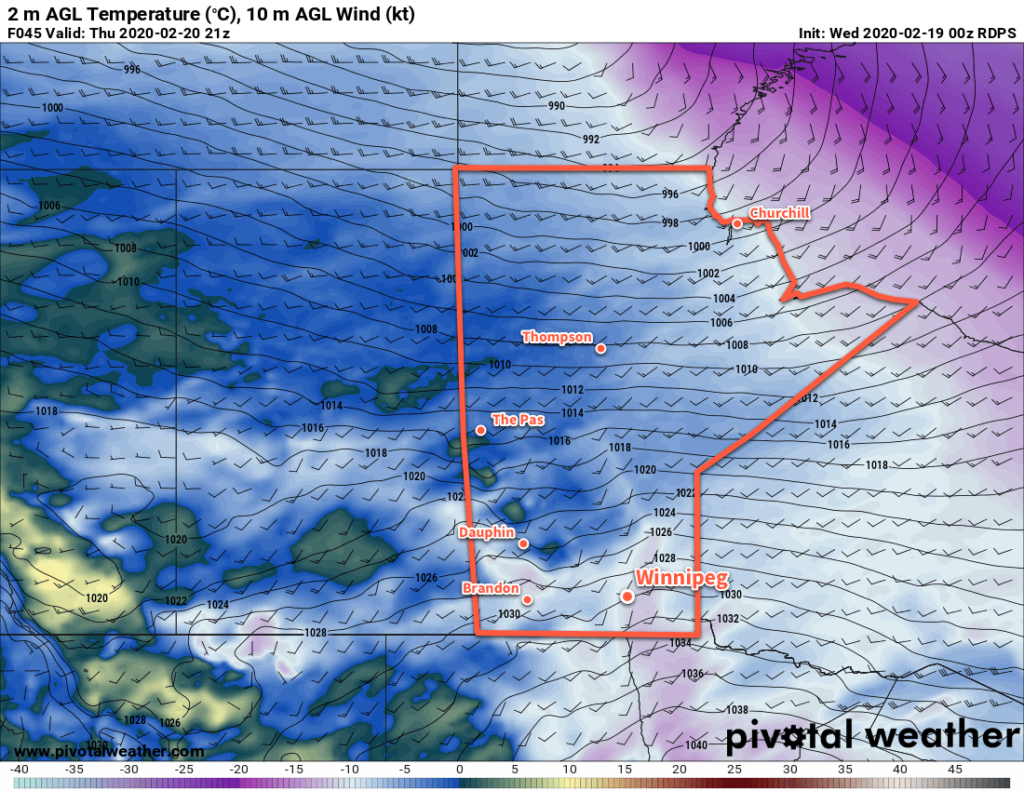 Temperatures will climb to a high near -9°C by the end of the day, held back slightly by cold air in the return flow from the high. Winds will remain breezy and shift slightly more westerly overnight. As soon as that westerly component to the wind shows up, temperatures will rise up to around -6°C.
Winnipeg will see plenty of sunshine on Friday with winds gradually tapering off. Temperatures will warm a bit more with a high near -2°C. Skies will stay clear on Friday night with temperatures dipping to a low near -8°C.
Long Range Outlook
More warm weather is ahead for the weekend with temperatures near the freezing mark and partly cloudy skies. The warm weather will stick around for Monday, then increasing cloudiness will accompany a cold front that will move through the region later in the day. Temperatures will return to slightly cooler than seasonal values for the rest of the week with highs around the -10°C mark.
Today's seasonal daytime high in Winnipeg is -7°C while the seasonal overnight low is -18°C.