Winnipeg will see temperatures climb into the 20's this weekend as the Arctic grip on the region finally ends.
The city will see one more cool day as a ridge of high pressure moves through the region behind yesterday's rain. A cold front will push through this morning, ushering in northerly winds near 20 km/h. Skies will stay mainly sunny as temperatures climb to a high near 15°C. Winds will ease this evening with a low tonight near +4°C. A few clouds will move into the region overnight as warmer air begins moving into the region.
On Saturday, temperatures will climb to around 21°C with partly cloudy skies. There may be a slight chance of a shower early Saturday morning as some nocturnal convection moves across southern Manitoba. While it's always difficult predicting where exactly nocturnal convection will develop, it looks likely that any showers will stay north of Winnipeg. With light winds through the day, it will be a great day to get outside and enjoy the weather! Skies will clear on Saturday night as temperatures dip to a low near 8°C.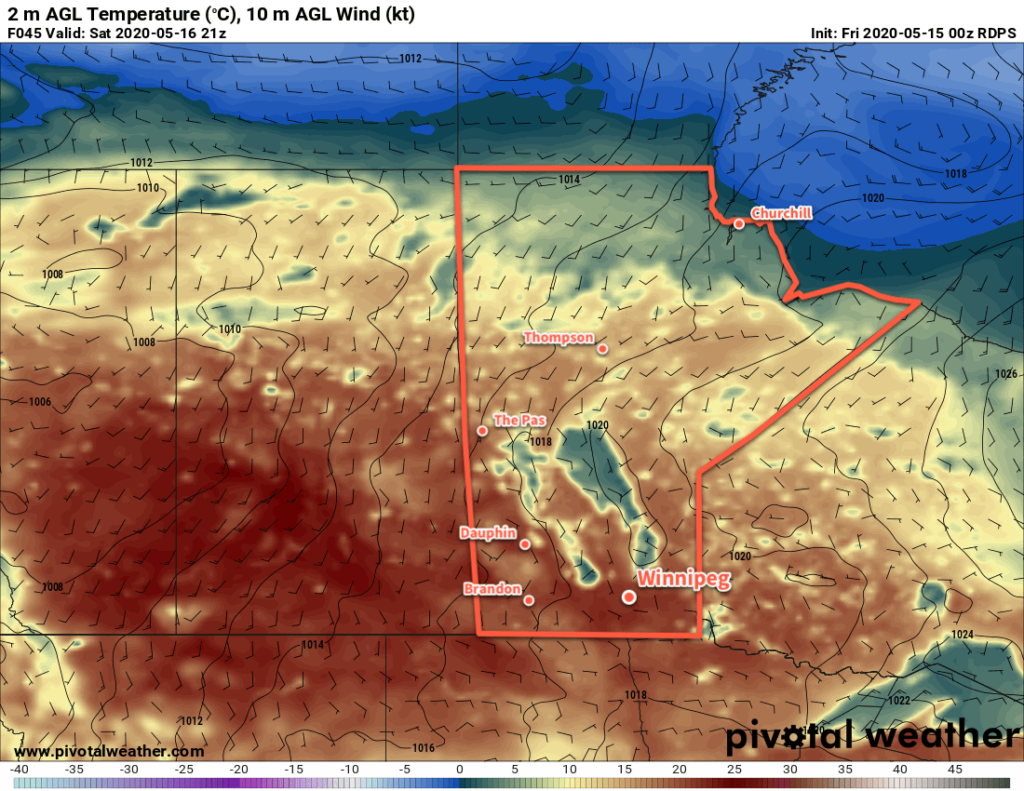 Sunday will bring even warmer weather to the region with a high near 23°C. It will be windier than Saturday with southerlies strengthening into the 20 to 30 km/h range. The region will see mainly sunny skies, but some cloud will likely begin building in from the west through the evening. Temperatures will dip to a low near 11°C.
Long Range Outlook
Next week looks like the first notable surge of summer conditions this year. A warm front is forecast to push northwards through the region on Monday as a persistent southerly flow develops over the eastern Prairies. Temperatures could reach the upper 20's on Tuesday with dew point temperatures climbing above 10°C. Temperatures will stay mild through the rest of the week, but unsettled conditions are likely as a large upper low slowly moves eastwards through the province.
Today's seasonal daytime high in Winnipeg is 20°C while the seasonal overnight low is 5°C.