Scattered showers with the risk of isolated thunderstorms continue this week as summer weather slowly returns to the region.
Conditions in Winnipeg will slowly improve this week as a slow-moving upper low finally begins to exit the region. Before it leaves, the city will see one more mostly cloudy day with a seasonably cool high near 20°C. A few more showers are possible today, drifting southwards from the Interlake through the day. The city will see north winds of 20 to 30 km/h today. Skies will clear out in the evening as winds taper off. Temperatures will dip down to a low near 11°C.
On Tuesday, seasonal temperatures will return to Winnipeg as temperatures climb to 23°C. Skies will be partly cloudy with a light northwest wind. Through the afternoon hours, once again the city will see a chance of a passing shower or thundershower. Skies will again clear up in the evening leaving the city with clear skies as temperatures head to a low near 12°C.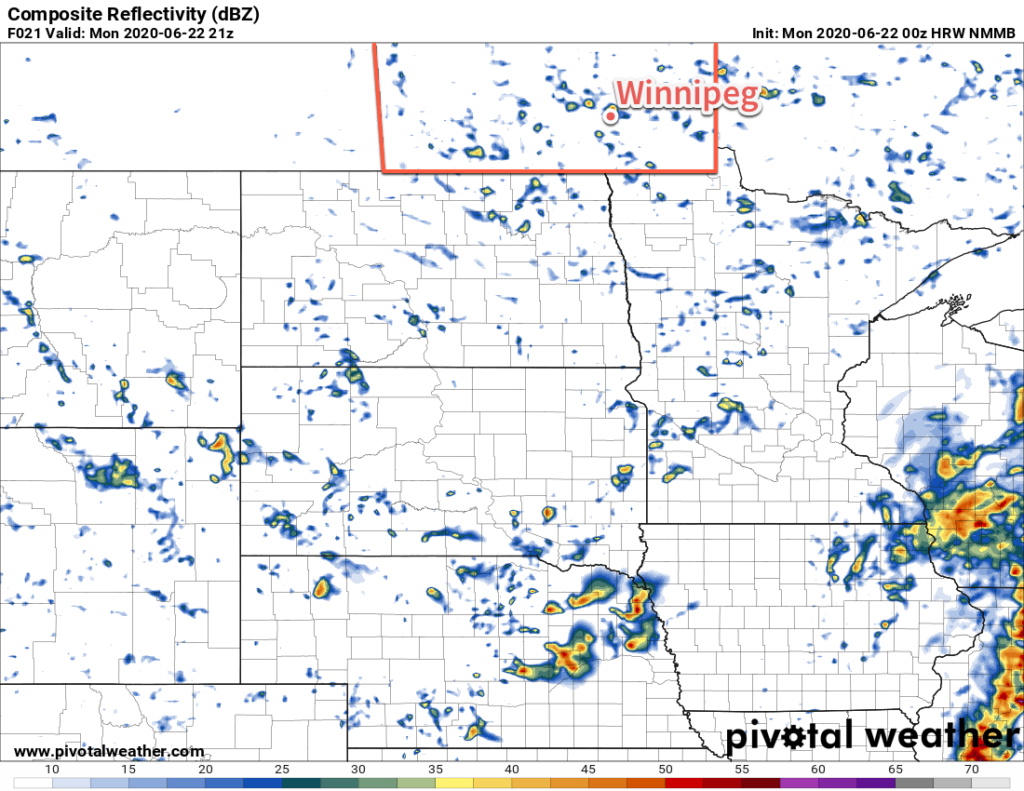 An upper ridge moving into the province on Wednesday will bring beautiful summer conditions to the city. With mainly sunny skies and light winds, temperatures will climb to a high near 26°C. Some cloud cover will work into the region on Wednesday night with temperatures heading to a low near 15°C.
Long Range Outlook
A low pressure system moving across the province in the latter half of the work week will bring unsettled conditions to the region. Scattered showers and/or thunderstorms will be possible Thursday and Thursday night. The system should clear out on Friday morning, leaving southern Manitoba with a beautiful weekend. Highs this weekend will sit in the upper 20's and lows in the upper teens.
Today's seasonal daytime high in Winnipeg is 24°C while the seasonal overnight low is 12°C.