A slow moving upper low over Manitoba will keep temperatures in Winnipeg cool with mixed to cloudy skies through the weekend.
Temperatures will stay seasonably cool right through the weekend for Winnipeg as a cold upper low slowly meanders across the province. Highs will hover around 20°C over the next few days with lows near 10°C. The city will also see a fair amount of cloud cover with mixed to cloudy skies.
Today will be the windiest day of the next few with southwest winds of 20 to 30 km/h in the afternoon. Saturday will bring light southerly winds, then they switch northerly for Sunday up to 30 km/h again.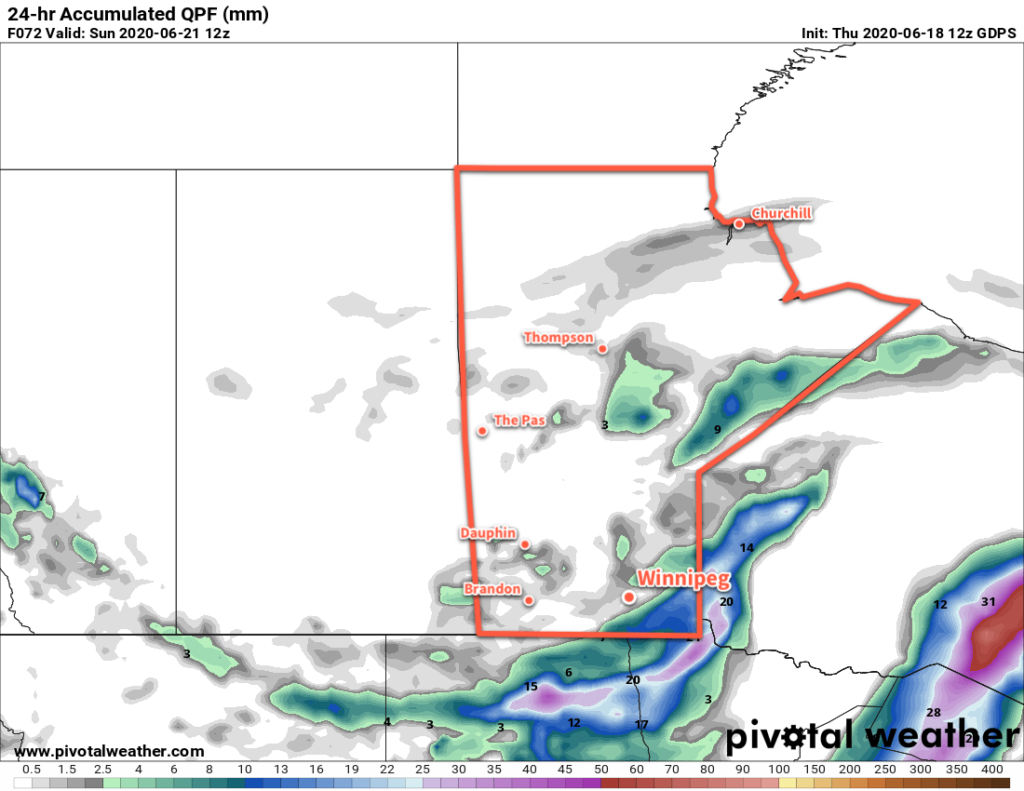 Saturday will bring the only notable organized weather event over the next few days. A low pressure system moving through North Dakota will spread an area of rain across the southeastern Manitoba. The rain will develop midday and taper off through the evening and overnight periods. Regions under the main band of rain will see about 5 to 10 mm. Winnipeg will sit along the northwestern edge of the rain and could see a few hours of showers or, if it develops just a bit to the southeast, nothing but some clouds.
Some scattered showers are possible on Sunday, but will most likely occur over the Parkland and Interlake.
Long Range Outlook
Temperatures should return to seasonal values by the middle of next week with a bit more sunshine. For the second half of the week, Winnipeg should start seeing highs in the mid- to upper 20s again with comfortable humidity. No notable rain or severe weather threats appear in the forecasts through next week.
Today's seasonal daytime high in Winnipeg is 24°C while the seasonal overnight low is 11°C.