Winnipeg will see warm summer temperatures return with a good chance of thunderstorms on Thursday evening.
Before any unsettled weather arrives in Winnipeg, the city will get to enjoy a beautiful summer day. Under sunny skies, temperatures will climb to around 27°C with light winds. Thunderstorms moving into southwestern Manitoba overnight will spread some cloud into the Red River Valley as temperatures head to a low near 11°C.
The city will see mixed skies on Thursday as a low pressure system moves into the Red River Valley. There's a slight chance of an early morning shower or thunderstorm as nocturnal convection weakens heading into the Red River Valley. Through the rest of the day, skies will likely err on the cloudier side. A southerly wind will develop to around 25 km/h as temperatures climb to a high near 28°C.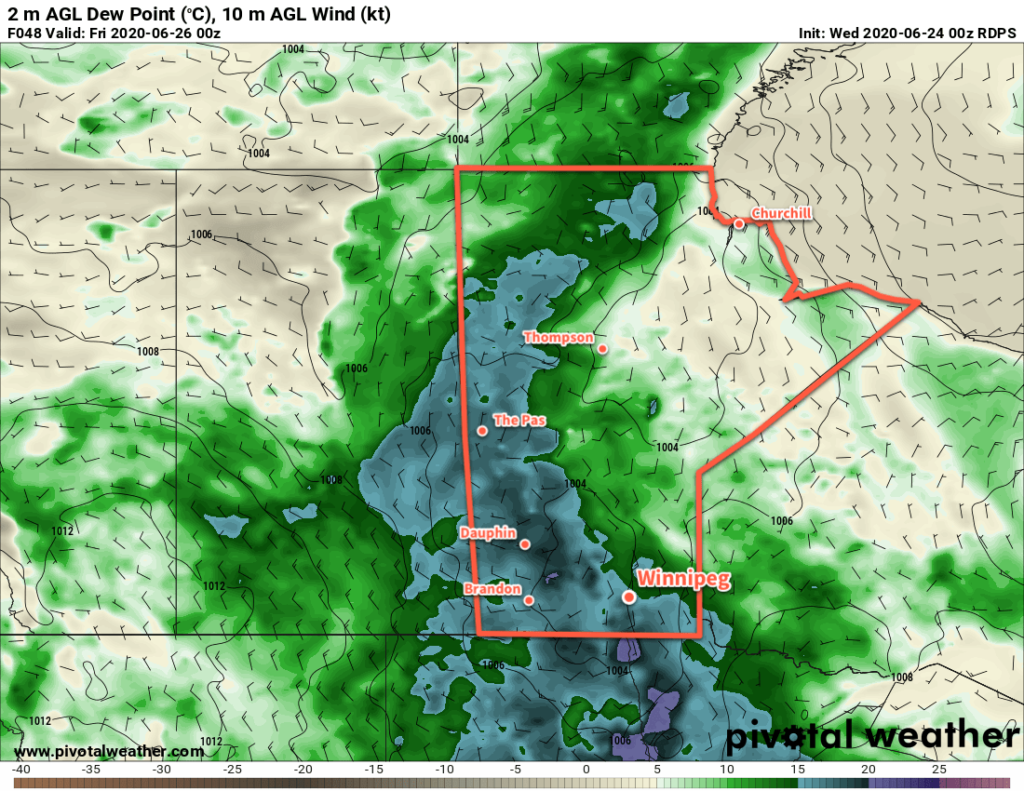 Notably, the humidity will build on Thursday with dew points climbing into the upper teens. This moisture will help support a severe weather threat on Thursday evening as a low moves through. Moderate amounts of instability supported by favourable wind shear will support the development of scattered thunderstorms over western Manitoba in the afternoon. This activity will shift into the Red River Valley through the evening, quickly exiting with a slight chance of a few lingering showers overnight. Strong to severe thunderstorms are possible with primary threats of damaging hail and wind gusts.
Temperatures will dip to a low near 17°C on Thursday night with diminishing winds.
A few lingering showers are possible Friday morning, then Winnipeg will see mixed skies with some clearing later in the day. Temperatures will stay warm with a high near 27°C, but humidity levels will return to more comfortable levels. Winds will pick up out of the northwest into the 20 to 30 km/h range for the day, then ease in the evening. The city will see a low near 14°C on Friday night under clear skies.
Long Range Outlook
Through the weekend, a digging west-coast upper trough will build an upper ridge over Manitoba. As a result, hot weather will develop this weekend with highs climbing back over 30°C alongside gradually increasing humidity. Skies should stay on the sunnier side through the weekend.
Heading into next week, it's looking as though temperatures will stay hot and humid! Unsettled conditions and several chances for showers or thunderstorms.
Today's seasonal daytime high in Winnipeg is 24°C while the seasonal overnight low is 12°C.